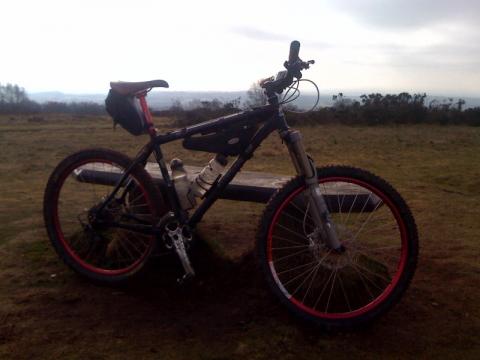 Distance: 58.6 miles
Elevation Gain: 3,976 ft
Over the last year or so I have put together a number of different loops around the bridle ways of South Birmingham. It has been in my mind for a while now to try to string these together into one big leg blitzing bonanza. Over the last few months I have been getting the miles up in my legs and today decided that I would try to put it all together. Unfortunately I had to avoid a few areas as they are just un-ridable at this time of year, so hopefully there will be a true "Big One" in a couple of months time.
The weather was bright and sunny but just enough cloud that it wasn't beating down. The wind was cooling without really effecting forward motion. In short; perfect riding conditions. It did seem to take me longer to get warmed up though today. Its about a 20min ride to the first section of off road and normally by the time I get to the other end of that all the stiffness has gone and I'm ready to tackle the rest of the ride. This was almost the case today but I just wasn't quite there. It took me almost an hour to get into the swing of things and really get my legs loosened up and ready to push. I felt good and strong after this however, which is a good job as the next 20 miles of the route is constant up and down. I cleared 2 particularly encouraging sections; one is like a small rocky stream masquerading as a trail while the other, is a really steep slippery clay hill that just doesn't end and keeps winding its way to the top of the Clent Hills. I had never cleared this section before so I was pretty pleased with myself when I hit the trig point. It had been while since I had got up in to the Clent Hills and I had totally forgotten just how good the single track descent is from the top. No doubt I won't be forgetting it any time soon as I plan to be riding it plenty more this summer.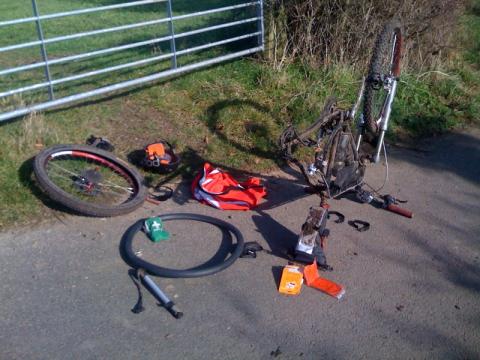 I felt my eating regime has been going from strength to strength of late, keeping me perky and full of energy. I was chowing down every 20-30 mins on flap jacks or cashew nuts and then every hour and half or so getting a hit of a SIS Burner Gel. Taking on fluids was much better today. I think my issues with this have been down to riding in the cold so much and it leaving me less inclined to take regular sips. In fact today it was going almost a little too well and I ran out of liquids. I felt this was mostly because I was trying to ride pack less again, which I find so much more comfortable for these long rides. Today I used a saddle bag for the tools and spares, a frame bag stuffed full of food and 2x750ml water bottles. I would like to get hold of a "feed bag" of some description so I don't have to stop to get food out and I really don't think that the water bottles are going to cut it when the summer roles in. Maybe I can find some sort of container that will go in the frame bag and possibly somewhere else to strap another bottle.
On the whole I was really pleased with my performance today. Almost 4000ft of climbing coupled with trying a new, more "straight backed" climbing technique to take some of the pressure off my lower back really paid off. Not aching one bit at the moment, well not my back anyway. An average speed of 9.4mph (10mph moving speed) is only 0.6mph off my target which considering this was the longest ride with the most climbing I have done has made me pretty pleased with myself. I really feel like I'm making some tangible steps forwards in my endurance performance. I'm going to stick to this distance for at least a few weeks now and get much more comfortable with it as I was hurting by the end. The last hour was a killer if truth be told.
Milage update for the week: 141 miles.