Bit busy last week so only just got around to writing this quick update.
Monday took my Five frame in to be resprayed. Tuesday got the Call it was done. Wednesday picked it up!!!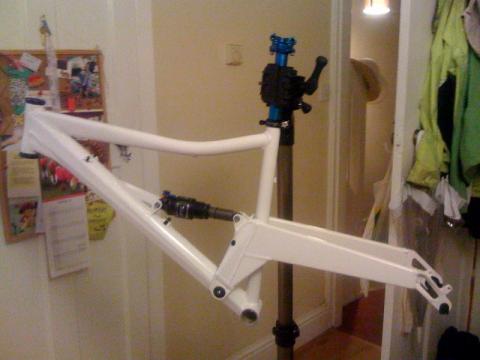 I got it done at Bournes Powder Coaters in Birmingham. It was £45 for the strip, mask and paint. Bit more expensive than other places but as they masked everything very well I didn't need to spend any more on facing etc so worked out fine. The guy who seemed to run the place was a good chap as well, he instantly knew what I was hoping to have masked so clearly knows his stuff. The only bit I had to do any work on was the suspension mount lugs. I happened to have exactly the right size drill bit and drilled them out by hand just slowly twisting bit through the hole. The picture above is it rebuilt, with the shock, headset and seat tube and clamp back on. I did a pivot bearing replacement myself as well which was really easy. Found a great guide on replacing the Five bearings. I got the replacement bearings from KaTec Bikes. There was some problems with delivery but to be fair they sent me 2 sets of the bearings as a sorry for them not arriving a couple times. Great service in the end.
Also went out for a night ride Tuesday with my mate who is just getting into riding. We did 22 miles this time around and he was fine. I think he just over compensated last time and got unnecessary nervous about his fitness. It was a nice ride, on clear night. Pretty mild as well so only a light jacket was needed. Can't wait for the warm evenings to start. Only one more week to wait until the clocks change too so lighter evenings are just around the corner.