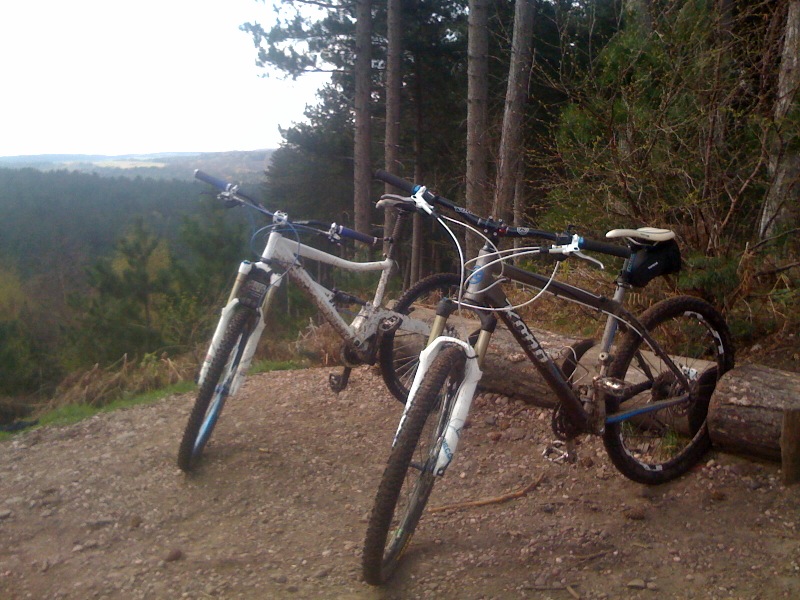 I hadn't been up to Cannock for months, the last few times I had been I hadn't really enjoyed it that much. Not sure why really, no specific complaints it just hadn't ticked my boxes. My mate Roy had never been and as we both had the day off work and I wanted to give the new bike a run at a trail centre we thought we would go.
The weather was just right for riding as it was fairly clear but not too hot and there was no wind to speak off either. It had rained recently so there were  few puddles around but no mud bath so nothing to complain about on that front. It was fairly quiet up there although busier than I expected it to be. Every time I have gone up there midweek it has been dead but I guess that being the Easter holidays and also a Friday meant there were more people around.
One of the stock complaints people have about Cannock is the way it gets so cut up. The mixture of the heavy traffic plus the terrible clay sand mix you find there does no one any favors in terms of the life of the surface. This time around though I really notice it or how bad the braking bumps were. Either they are doing a really good of maintenance or the full suspension really was doing its job. The whole ride felt like it had more flow to it and I can safely say that this was the most enjoyable time I have ridden there. I don't want to be totally disingenuous to the Chase trails team who have done a great job in maintaining the trails but they are a small team and there is no way the whole thing could have been"fixed" since the last time I was there. Massive credit has to go to them though for the reopened section 8. I hadn't ridden it since it was finished and I think they have done a really good job. This section used to be pretty forgettable, just a transition to get from one bit to another, but the adding of lots of small features such as steps and some rocky bits have given it a bit more character. I had hoped that the last section with the rollers was open again as this has had some major repair work done on it but sadly no.
I had a few small stacks which left me a little battered, bruised and bleeding. The small rock gardens on the back leg of monkey seemed to be a bit more exposed than I remember and I took a spill there by clipping a tree with the handle bar. I also had a very near miss with a OTB in that "new" diverted section. Is that a cheeky trail used just for this diversion or a bit of the main trail I had never seen before? It was very wet and muddy in the thick trees there and pretty difficult to keep control.
Anyway I'm going to try to get to Cannock more often this summer. It's the closest trail centre to me so I really should make more use of it.