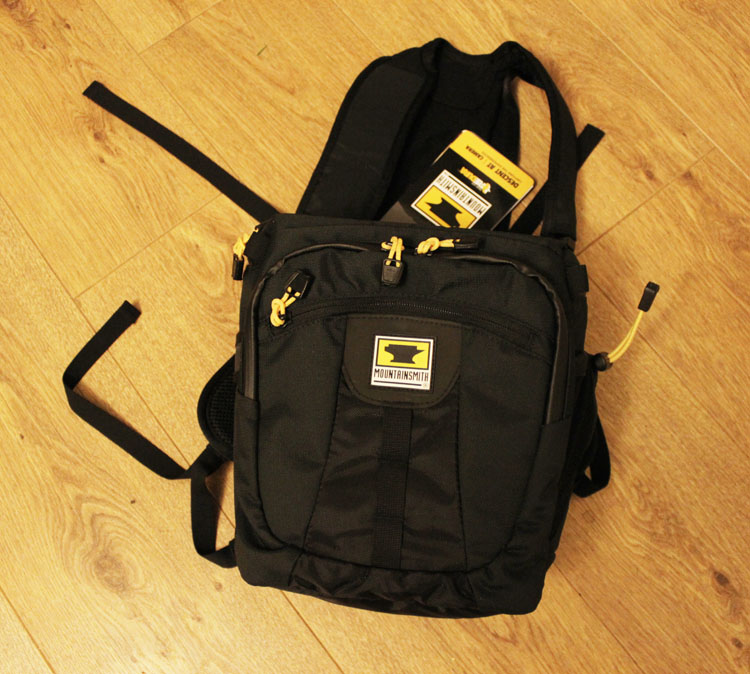 Now that I have a DSLR I have been looking around for a bag that would offer protection to the camera but would be suitable to use while on the bike. When looking at any sort of bag to use while on a bike I think its perfectly natural to instantly think about backpacks. I started to look at camera back packs but initially I didn't see much that would allow me to use a bladder to store water. I always use a hydration pack rather than bottle so this was a pretty important "want" that needed to be satisfied by whatever bag I went for. I kept on looking and eventually stumbled across some chest bags. Initially I thought this would be perfect; I could still use my current ride pack with a bladder and I could carry the camera in a position where I could quickly get to it without having to take off my back pack.
To cut a long story short I found the Mountainsmith Descent AT Chest Pack and went ahead and ordered one. It took a while to arrive, as it seems that One Below Zero's web site went down just after I ordered. To be fair to them they phoned me pretty quickly and gave me the heads up that there was a problem and that they couldn't process orders until it was sorted out. As they kept me up to date and such I decided to decline the offer of cancelling the order and decided to just wait for it to arrive.
And so to the real point of this blog entry, the bag is not really any good for what I want. It seems very well made, sturdy with all the internal pockets and such you would expect. The chest harness seems strong and comfortable but unfortunately I think the bag is just far to big to be worn on the front while riding a bike. I'm not sure that anyone would be into using this bag while riding, so if you are reading this after Googleing and you are a mountain biker like me then keep looking 'cause I really don't think this is what you are looking for. On the other hand if you are into walking/hiking and looking for a bag that gives you very quick access to your camera and would not mean having to get your rucksack off your back then I reckon you have found what you are looking for.