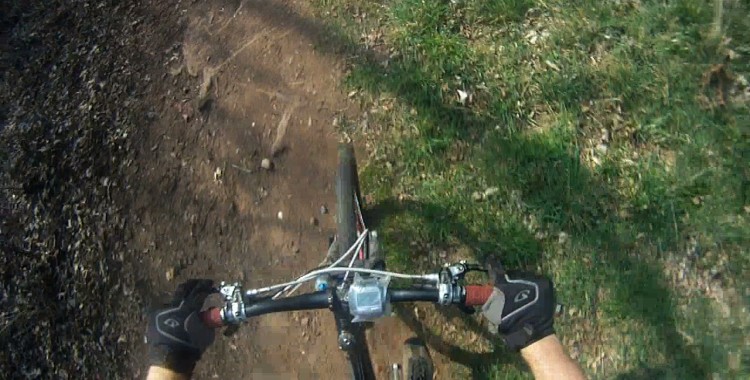 This month has seen a real return to riding for me, so clearly I'm a far happier boy. Still mostly just commuting but have managed a few evening rides with not to much side effect. I was finding that general off road is not to bad but when you get to some particularly bumpy or rooty sections it was causing me some pain. I think it's all the small, sharp adjustments you have to make on that sort of terrain that was taking its toll. Interestingly though the ride at Cwm Carn yesterday passed totally pain free, not even a small twinge. I don't know if the rides over the last weeks have got me over a hurdle or if the particular terrain there just wasn't going to effect it. Anyway whatever the reason it felt good to finish a ride and the only aches be the ones in my legs from pedaling or the ones in my arms from not being used to so much braking.
The Salsa Bend 2 handle bar I have on the Five is really working out for me. Previously I had been finding the 9 degree back sweep on my Sunline bars put to much pressure on my wrists. The Salsa has a 23 degree back sweep but is still 710mm wide so you get the benefit of decent leverage but my wrists are at a much more comfortable angle. However it is essentially a flat bar where the Sunline was a riser so I have been fiddling with the stack to try to get the height relative to the saddle correct. Based on not having any sort of back twinges while climbing yesterday, I think I'm there. It's amazing just how much difference 5mm can make to a comfortable ride position.
On the whole I'm feeling really good about riding at the moment. I'm feeling stronger than ever, even though my endurance is maybe not quite what it was. I'm starting to think that the enforced brake has actually allowed me to maybe get over some built up fatigue that was possibly holding me back previously. I'm have also changed my climbing technique. I'm attempting to not spin quite so much and hit more of a balance between my lungs and legs doing the work. Hopefully I'll be writing in my general update next month that this is still working for me.
August – 207 miles
July – 69 miles
June – 6 miles
May – 129 miles
April – 231 miles
March – 578 miles
February – 406 miles
January – 305 miles