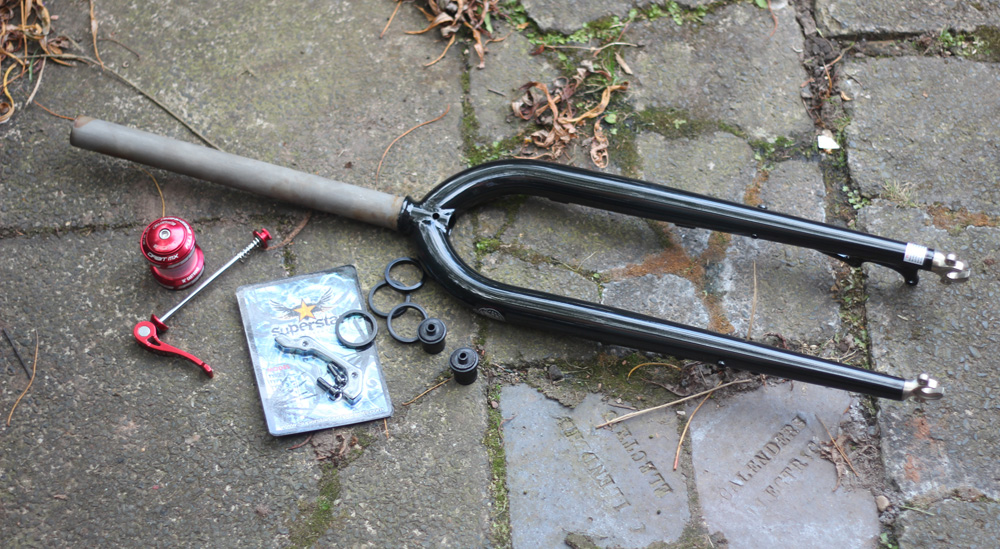 Could I have phrased the title differently? Probably but now I have a chance of attracting a whole new type of reader and every hit is a good hit right?
For the last few weeks I have been putting together the bits I need to turn my P7 into a full rigid commuter/bike packing machine. At the start of the month I met up with a mate who has recently got into riding mountain bikes. For some reason the crazy bastard bought a single speed rigid 29er! I had a quick go on it and was instantly impressed with how light and manoeuvrable the front end felt… this got me thinking.
Since getting the full suspension bike I have used the hardtail very little for anything that requires a 140mm fork. I don't really see this situation changing much as quite frankly the Five is just so much fun to ride. I have used the P7 mostly for commuting so began to wonder if swapping the fork out for a rigid might make it a little more appropriate for what I was using it for. I started idly "just having a look about" at what is available.
I remembered that Salsa did the Fargo bike packing/tourer bike with a rigid fork and after a little scout about on their web site stumbled across the Fargo V2. I decided to go for this fork for 2 reasons. Firstly it has mounting bosses on the back on the stanchions that allow you to attach a cage and being a Salsa fork they have put the 3 points on making it perfect for the Anything Cage. I thought the extra option for somewhere to put something when bike packing would always come in handy. Secondly being a 29er fork there was a decent axle to crown length meaning that it I would be able to retain a similar geometry to my 26er 140mm fork. For the geeks among you my Fox Fork with an approximate sag of 25% is roughly 480mm axle to crown where as this rigid is 468mm, so a couple of extra spacers should give me the same ride position.
Last night I headed down to Birmingham Bike Foundry for tool club to get the job done. I don't have a crown race persuader nor a head set press so I once again got my monies worth from my member ship fee; £10 a year!!! A big thanks has to go to Nancy and Fin who once again showed what decent folk they are giving me a hand and throwing a few bolts and spacers my way when I realised I was lacking. Not just that but it's a great environment down there, that they have fostered to just have a bit of a chat about bikes and fettle until your heart is content.
Over the next few hours I replaced my old FSA headset with a spanky new FSA Orbit Headset; of course in red. That was actually the last component left from the original build that I bought 2 years ago. The cups didn't look in too bad a condition although they were certainly on their way out. I got the new crown race on the fork, as well as getting the steerer cut. Always a nerve racking moment, putting hack saw to metal, and I took the precaution this time of massively over estimating leaving myself some wiggle room. I think I will probably be popping back in a week or two to trim it down again but I wasn't taking any chances after my near miss last time. I also decided to go with using the star nut for the pre-load. I haven't set one before as my previous forks have used a Gusset bolt. It was surprisingly painless though, I suspect mostly because once again Tool Club came to the rescue with the correct bit of kit to get the job done.
I had a little pootle down the road to check everything felt OK before embarking home and to be fair it felt a lot better than OK. I'm not going to go into how it rides here as I need to give it a week or two and fettle with the stack height which as you can see in the picture above is a bit over the top at the moment but I'm very confident that I'm going to be loving it.