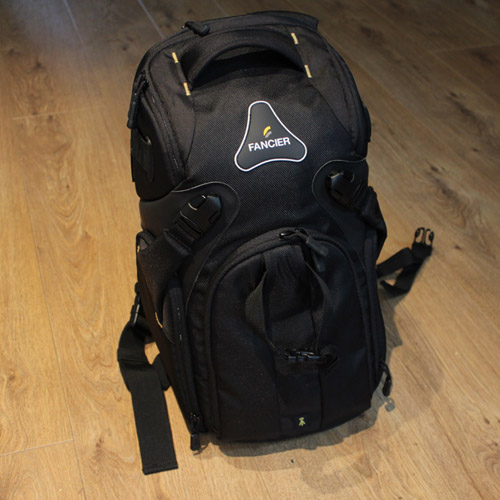 Since sending back the Mountainsmith Descent AT Chest Pack Camera Bag I decided to take a different route to finding the right bag for me. After looking at other chest bags and "holsters" I realised that for the kind of riding I do they were all either to big or going to get in the way. This meant that if I was going to have to go for a back pack of some kind then the only option I liked the look of was the Lowpro Photo Sport 200AW. It has the spot for a hydration bladder and would give me enough space for not only the camera but also all the other bike related guff like tools and spares. As an added bonus it also has a side access panel which would make it a touch quicker to get to the camera when out on the trail. The one major draw back of this bag however, is it's price. Coming in at roughly £150 its no small investment and I was in no rush to pay out that kind of money for a bag I couldn't even get a look at first.
At this stage I started looking for any sort of camera ruck sack as I just needed a bag whether or not it was going to be suitable for riding with. The bit of bubble wrap I had been using just wasn't going to cut it for much longer. I started looking on Ebay for second hand bags that would at least give me something to put the camera in but wouldn't cost the earth. During my searches however I came across the Fancier KingKong 10 DSLR Bag. It is essentially a sling pack rather than ruck sack and has a side access panel very similar to the Kata Sling Packs. It will allow a decent sized DSLR body along with several lenses and accessories. It also has a tripod attachment point. The thing that surprised me most however was that it was priced at a mere £27 a good 50% cheaper than any of the similar bags that I had seen by the more established brands. I ordered it via Ebay from cameraextras_uk. I also ordered a water proof cover for the camera as well but I haven't really had a chance to use that at all yet. Expect a review of that to come.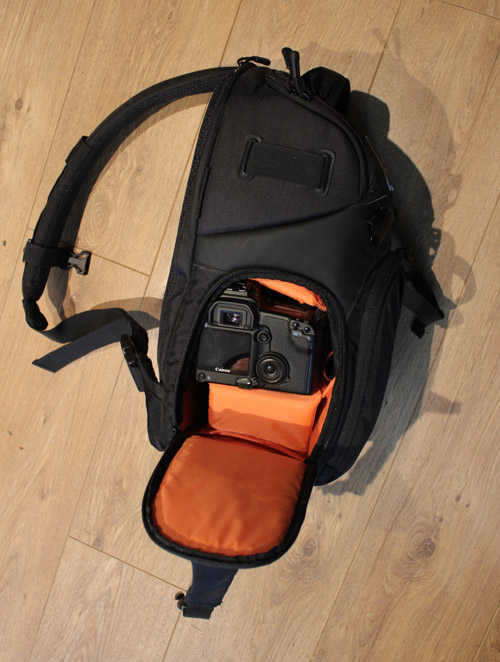 I have had the bag a couple of weeks now and I'm very satisfied so far. I have only used it for light duties and haven't had it packed full yet, but so far I have absolutely no complaints. It's comfortable to wear, even though all the weight is taken one shoulder and the customisable positions of the internal padding were easy to rearrange for my kit. There is also a front mounted pocket perfect for small items like batteries, memory cards and other bits and pieces. The construction seems very sturdy and comparable to the other big brand bags that I looked at in my local Jessops.
Surprisingly I think this bag might actually be suitable for riding with. There is sufficient space for the 3 litre bladder I have from my Ospray bag and the main rear access panel opens in a way that allows the drinking tube to be accessible. I really like the way that the top compartment of the bag is actually just a divided off section from the main bag and not a separate pocket. This will allow me to fit my hand pump the length of the bag. This area should also provide enough space for tools and spares. My water proof cover from my Ospray also fits and as chance would have it there are even some bits of Velcro in the right places to help secure it.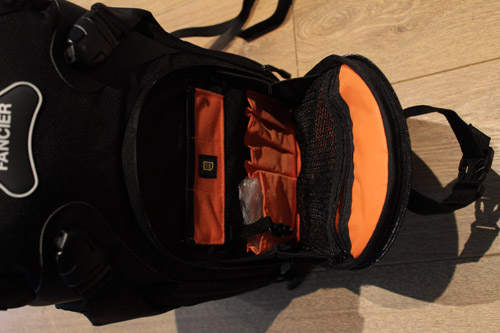 The one reservation I have is related to the fact that it' doesn't have straps for both shoulders like a rucksack. Although there is a securing strap that should help the stability, I'm not yet convinced it won't move around too much when the going gets bumpy. Only time will tell of course and by the looks of it it could still be some time until I'm hitting the trails as my arm is sadly still in a bit of a state.
Update 20/10/2012
Now I have used this bag for while I thought I should update my review with some quick points.
I suggested earlier that this bag might be suitable as a bag for when I'm on the bike. I would say that this is not really true. It's fine when riding on roads and I have done that quite a few times now, although any very long riding (over a few hours) and I think it could start to get a bit uncomfortable. Off road however the bag simply moves around to much and becomes annoying and uncomfortable. I have used it for some long days walking and it was perfectly fine for that.
I said that the dividers where easy enough to move around, which is true, but actually I feel there could be a little more Velcro on the inside of the bag to make them a bit studier. It's not that its a huge problem and when the bag is full its not an issue at all, it just feels like the difference between a £60 and £27 bag.
If you use the tripod attachment that is attached to the front pocket, make sure that you have the 2 zips of that pocket meeting at one of the bottom corners not at the top. The weight of even a light tripod can cause the zips to pull apart and the pocket open, if they are position at the top. Thankfully I only experienced this when I was walking and not when I was on the bike and it was only a plastic GoPro accessory that fell out.
Due the configuration of the single shoulder strap you can only gain access to the left hand side entrance, by sliding the bag round under your arm. To get to the other side entrance you would have to slide the bag up and over your shoulder which doesn't work at all. This should be obvious form the design but if getting to both sides using the "sling technique" is important to you then this would be a show stopper.
I bought a Rode Video Mic fairly recently and wondered how it might fit in the bag. You can see in the pictures below that I was able to fashion an area of this bag that allowed it to fit perfectly, using the sponge that came in the box for the microphone. It also meant that I could make use of the right hand entrance as I don't really see myself ever needing to get to the microphone out in that much of a hurry. I'm sure that this is not unique to this bag but I thought it was worth a mention.
On the whole I'm still very happy with this bag and even knowing what I do now I would still buy one. The value for money is incredible and that really does make up for the slight short comings I have mentioned. If however you have the extra burning a hole in your pocket the Kata Sling Packs do seem to be that bit more polished.