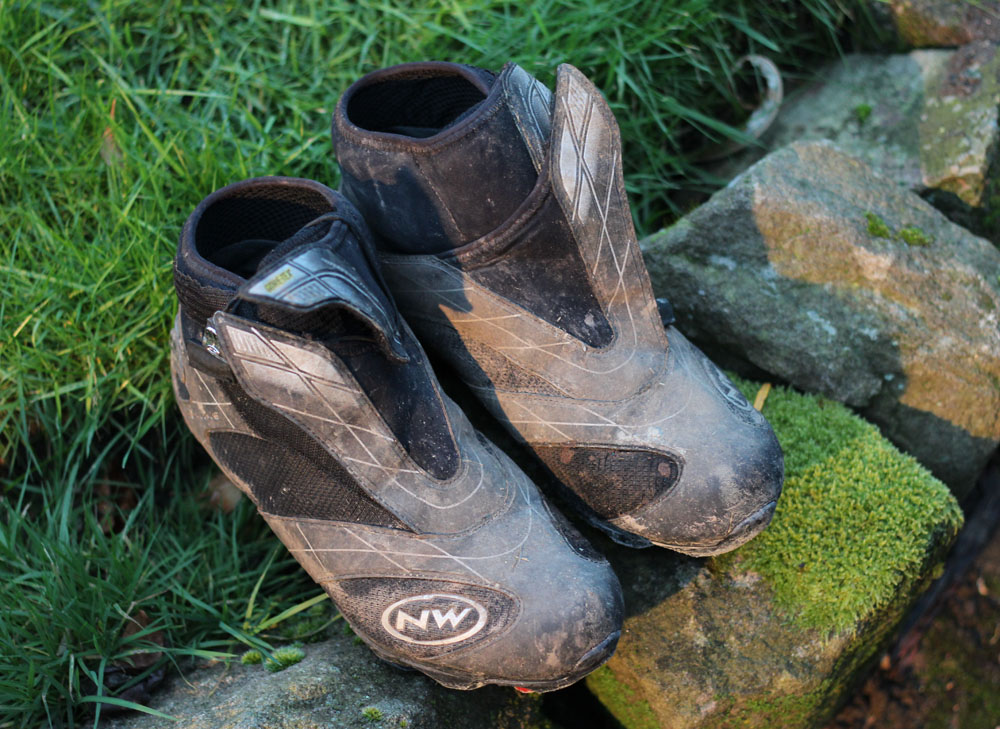 For the last few winters I have always just worn my "summer" shoes with a pair of BBB over shoes. They did an OK job at providing an extra layer for warmth and in terms of keeping the water out they were fine in light rain or just stopping splash water soaking through my shoes. However towards the end of this summer and the start of autumn the rain was far heavier and the mud that bit deeper than they could cope with. I found myself coming home with wet feet almost every ride which in it's self is not always a problem but I only had one pair of shoes and I was often struggling to get them dry again to use for my commute the next morning. It really doesn't take many times of pulling on cold, damp shoes in the morning for you to get pretty bored of it.
I started looking around for some water proof winter boots and came across a lot of favorable reviews for the Northwave Celius and the Shimano Mw81. After much research I finally parted with the cash and went for the Northwave's. Spending £120 on a pair of shoes is something I have never done before. I'm the kind of guy who hates shopping and will generally buy 2 pairs of trainers at a time to get it over with and even then I don't remember spending that much on shoes in one go. One ride in though and I realised that it was money well spent. The rain was pouring, the mud was ankle deep and I came home with the warm dry feet.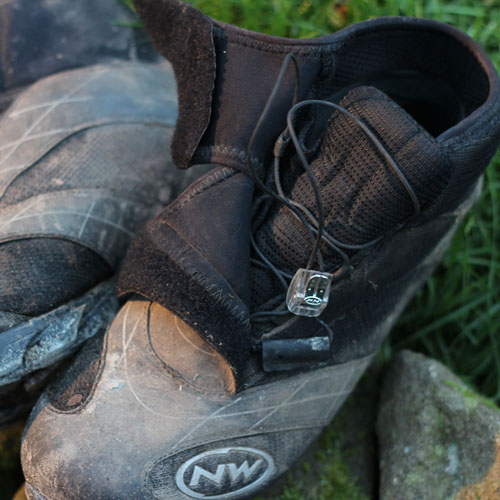 The boot has a very stiff carbon sole which took me a little while to get used to. All the other shoes I have had have been decidedly flexy in comparison. It's not the best to walk in but gives you great contact with the peddles providing a very stable platform. They are comfortable for all day riding and not too heavy. The ankle enclosure is made of neoprene meaning that it is flexible and not at all constrictive. They don't feel like a boot at all. In terms of sizing I'm normally a 9(UK) in trainers but I had to go for a 44(Euro) to get the width. This translates to about a 9.5 or 10 in UK sizes depending upon who's size chart you are looking at.
The "Superlace" closure system works very well making it very easy to pull the shoe tight. These laces are fastened with a simple sliding buckle which is very easy to operate wearing gloves. The laces are almost like a wire with a fabric finish, so I don't have any worries about them snapping although they are be-musingly long. There is a Gortex upper which helps keeps you dry and the laces are covered by 2 large overlapping "storm flaps", secured by Velcro. They keep the water out, the heat in and stops the mud from plugging up the laces. I found that even with the Velcro covered in mud it still keeps the flaps firmly secured. The grip is very well spaced around the cleat meaning that mud sheds easily and when you do have to walk in them you aren't sliding around in the mud. There are 2 decent sized studs at the end of the toes for a bit of extra grip.
I have found in the cold they have kept me warm; I have been out in -1 conditions and I was very comfortable with a pair of seal skins on. In the wet they have generally kept me dry but I did have one instance of wet feet in some particularly heavy rain. I'm pretty sure the problem was that the rain was running down my legs and into the top of the ankle enclosure. It was one of those days though when I think I would have had to have been wearing wellies to have stayed dry and even then only if I had gaffer taped the tops round my calfs. They are so water proof I can even hose the mud of them whilst still wearing them and not get wet feet.
The only slight negative I have to say really is that on 2 occasions when it has been both wet and very cold, I did get cold toes. We are not talking Touching the Void amputated toes type cold, just plain old cold and a bit uncomfortable. My feet stayed dry but I think maybe the wind had a fridge like effect on the damp and lowered the outside temperature of the boot. Generally speaking though I don't remember the conditions in the UK (in the Midlands anyway) being like this very often. If it's very cold its normally dry and the mud is frozen and if it's wet then the cloud cover means it's not that cold. I guess if we get some snow this winter then that will be a great test; I might find myself wearing the over shoes with them.
On the whole I'm pleased with this purchase and would recommend them to anyone. If you have problems with cold feet or you "ride cold" or are from a country that gets colder than the UK maybe the Arctic version are for you. As I understand it they are basically the a same but with a "furry" inner that gives you that extra bit of insulation.