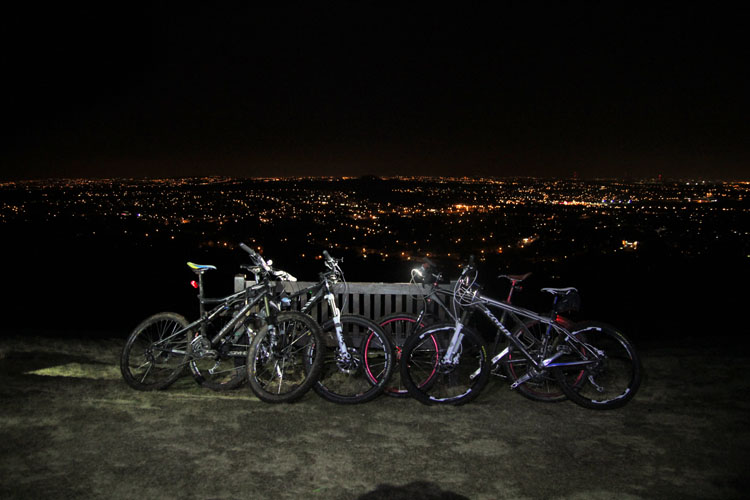 I mentioned in my post about riding on the road how much had been enjoying it. Well it really only took about 5mins of my first off road ride for ages for me to remember what it is that got me back into biking a few years ago. I was loving it! It was nice to meet up with the lads and managing to bring to together people that I have ridden with separately but never together. There was 4 of us which sets a new record for Wednesday after school rides!
As the majority of the group had not ridden a lot of late I thought it best to do a short hilly route that would get the legs going a bit and also provide a few smiles on the way down. As the Five has all it's shocks at Loco at the moment it meant I was taking out the P7. I had deliberated all week about putting the fork back on for a few weeks but in the end decided to keep it ridgid. I have only taken the ridgid off road the once since putting the Salsa fork on and that was when it was running the upside Mary bars. It felt very twitchy and I didn't really like it but now I have the Bend 2 bars on and I'm feeling loads more comfortable and it actually turned out to be loads of fun. I think I'm certainly going to ride the ridgid off road more often. There were a few close moments when crossing a few drainage gulleys at short notice but once I got a used to having to be a bit more active and precise with where I put the front wheel I felt I was flowing along quite nicely.
Conditions were far better than I was expecting. I deliberately stayed clear of a few areas but on the whole all the trails we took were fairly dry. Clearly there was some mud about but everything was ridable and it really didn't impact on the ride at all. Its wasn't even that cold and to be honest I probably had one too many layers on. February you say???
The only downer on a very enjoyable evening happened on the last stretch to home after jumping off the train at Bournville. As we were winching up the hill from Strichly to Kings Heath I thought that the chain had partially jumped off the middle ring. I looked down as I was peddled and noticed the shape of the middle ring looked very odd. Upon further inspection I realised that 2 chain ring bolts had fallen out and one of the collars was jamming the middle ring out away from the outer ring. I got home and after taking it all apart could see that the middle ring was completely bent out of shape. It was so bent out of shape I couldn't even get the holes to line up with the crank spider for a short term fix. Fortunately the whole drive train is almost at the end of it's life and so needs to be replaced anyway. I had all the parts on order as I planned to swap out the old stuff in a month or 2. I will just have to pull that forward and get it done for the weekend.