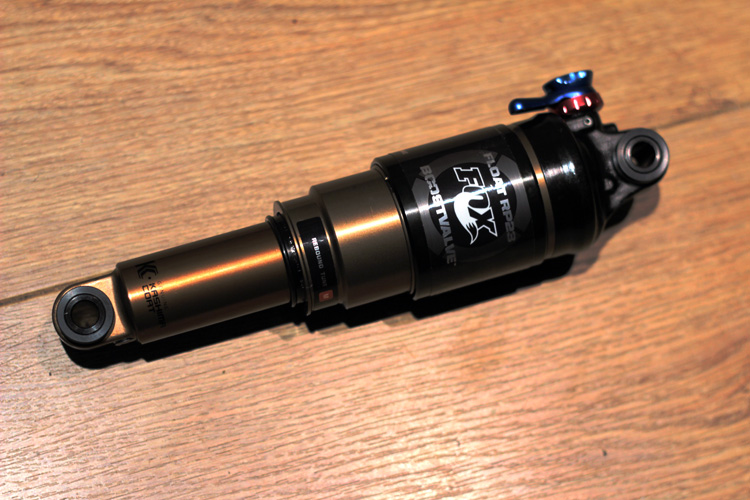 A few weeks ago I sent my Fox RP23 and my RCT3 150mm Revs off to Loco Tuning for a service and some TLC. The lock out seemed to have stopped working around the time I broke I my rib and I thought there might be something wrong with the rebound damping control on the shock as there was not a huge amount of difference anymore between full on and full off.
I'm glad I decided to send them off this time and not use this as an opportunity to learn how to self service, as indeed there were things wrong with both bits of kit. The fork was the easiest (and cheapest) to sort out. All it required was a bit of extra labor to sort out the dampening. Simon thought there had probably been a construction fault with the dampening control not having been put in properly. Nothing was broken and it was a fairly easy job to reseat.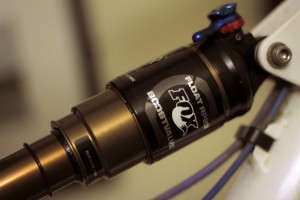 Unfortunately the shock wasn't so easy or cheap. There was some scoring on the air tube which hadn't quite worn through the anodising yet but wasn't that far off. I was informed it was one of things that might blow the seal in 12 months or next week, there is just no way to tell. I thought I may as well replace it now while it was already being serviced and also thought I would treat myself to an upgrade. As you can see from the photos I now have the shiny gold shiny shiny Kashima coated stanchion and new air can. Loco can't do this specific replacement themselves and so ran it down the road to Mojo. This of course put a week on the lead time which is why I'm only just getting them back now. I chatted with Simon about what the best setup for a Five would be and he suggested going with the high volume can with a reducer. I went with that which he threw in for free as he's a good sort. 🙂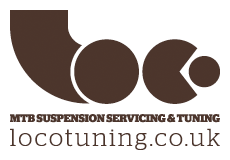 Loco appear to be very slightly cheaper than some of the competition but for me personally, not cheaper enough to make that the deciding factor. Simon is a regular on STW and is always very helpful, answering peoples questions about the problems they had with their kit. This sort of thing endears a person to me; that they are willing to share their knowledge for the benefit of others. He comes highly recommended from other STW users so I thought it was worth using them. I'm very happy that I did. The communication over what was needed to be done was great, I felt informed at all times and knew what was going on. The time scales put to me were all kept to and I felt they were fairly quick in the turn around. I would happily use Loco again and would recommend them to anyone.
I'm looking forward to getting them setup over the next week or so. I'm particularly interested in how the middle of the rear travel is gong to feel with the reduced air can. I have a trip planned to the Isle of Man in a couple of weeks so it would be great to have them dialed in by then.