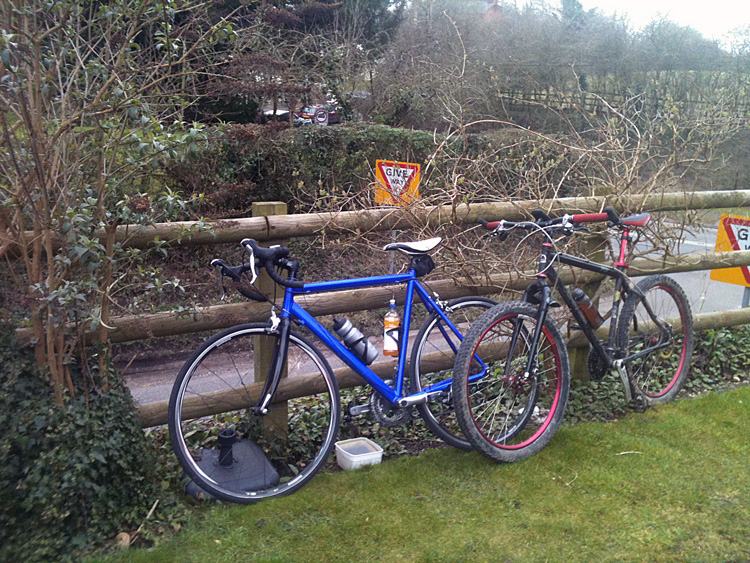 My Dad needed some help with putting a new chain on his bike as he doesn't have a chain breaker. He popped up to see me so I could get it sorted and we thought why not make a day of it and go for a ride afterwards. Putting the chain on was going fine until I realised that I hadn't threaded it through the rear mech properly… I had to brake the chain again to thread it round the guide but I didn't have another connecting pin. I ended up popping out a normal pin and super gluing the "guide" section from the connecter pin I had already used. I couldn't believe it worked either but it did and that meant we could get on our way.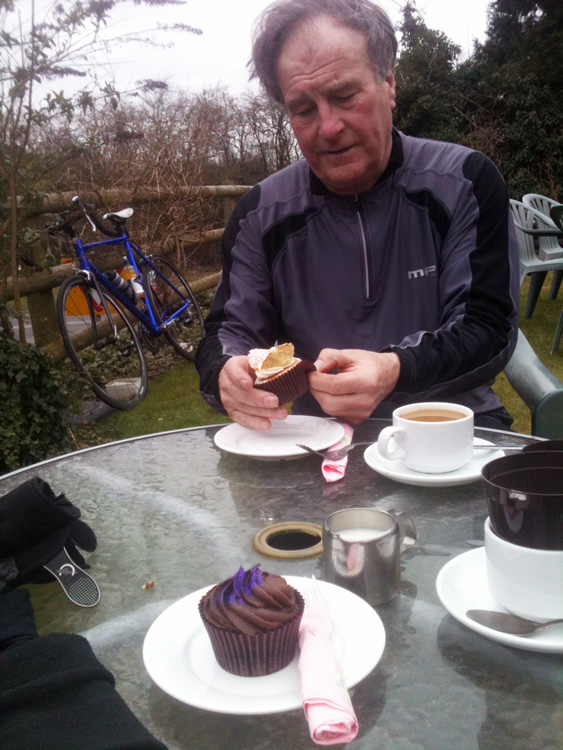 I had intended to take my dad on the route I did last weekend but after some midweek discussion involving his lack of winter riding I cut off a section of about 5 miles that had a couple of sharp hills in and rerouted a few other bits.
The route took us south from Birmingham towards Henley-In -Arden, looping round at Wootton Wawen. We stopped off in the Yew Tree Cafe for one of Rachel's cup cakes and a cup of coffee. It was a little chilly to sit around for long so we got on our way. The ride had started with a bright winter sun and blue skies. It was the sort of weather that I had missed riding in this winter. It clouded over towards the middle of the ride and as mentioned it wasn't sitting around temperature. The roads seemed a bit busier this week and for several miles we were going in the opposite direction to what looked like a sportive.
The only annoyance was on the way home, falling foul to RideWithGPS using unclassified roads in its route planner. Although to be fair it's Google maps that I should probably be blaming. I had already changed one section from last week that used a double track and ford. This time it just looked like broken paved road so my dad tried it to begin with but after 200 meters we could see that it turned a bit muddy so we turned back. It did give me a chance though to use the Edge 800 as a traditional map instead of being directed. So far I had only used the mapping features to follow and pre-planned course using turn by turn prompts . I found it really easy to use the map as you would a paper map and worked out a way around to get us back on the route we following. I had worried that this would be more difficult with the Garmin but actually it was fine.
I'm hoping I get to ride with my dad more this year. We are aiming to meet up roughly once a month for a ride, so maybe next month I'll take him out for his first off road ride.