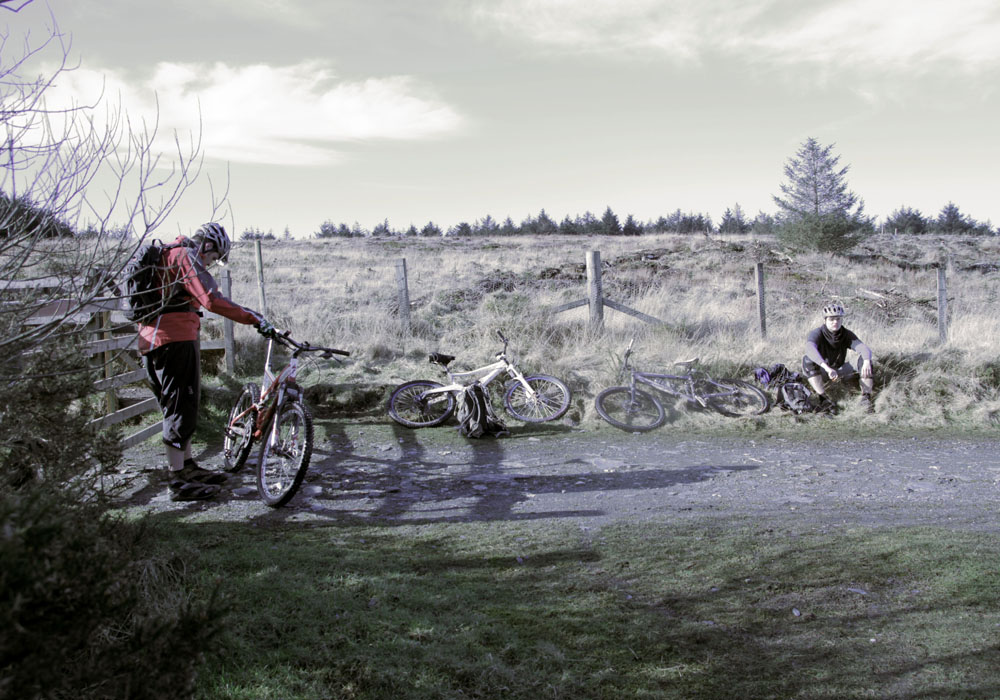 Last week Martin and I made the long trip to the Isle of Man. It's not that it's actually that far but it ends up being a full day of traveling. 3 and half hours to get to Haysham, to be at least 1 hour early for the departure of the 3 and half hour ferry journey to Douglas. During April to October there is also a ferry from Liverpool which would mean a slightly shorter drive from the Midlands but we were too early in the season for that. The sailing was fairly smooth but it was windy and raining when we got to Douglas. A short drive to Castle Town in the south of the island got us to Chris, our host and guide for the weekend. We popped out for dinner at the The Shore where the food was very good and the proprietor very friendly and chatty. I think it's safe to say that Chris and his good lady are regulars here as he was pouring the Peroni before we had even sat down. After eating and a few choice refreshments we headed back to Chris' place and the call of air beds and sleeping bags.
Day 1
We awoke to blue skies and sun which surprised all of us, not least Chris who has lived on the isle for several years and is well versed in just how wet and windy it can be in the middle of the Irish Sea. After a breakfast of eggs and bacon we loaded the car and headed out.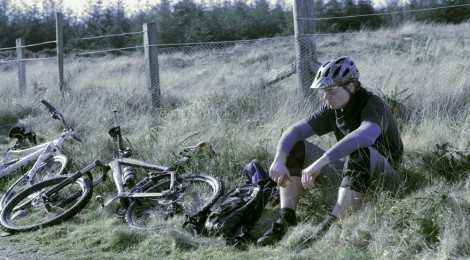 We started out at South Barrule and took in a short lap of one of the purpose built trails. This was a mixture of tight shale surfaced single track dotted with rocks, the odd rock garden and bermed North shore. Once the legs were warmed up we tackled the first proper climb of the day through the Corlea Plantation. We then lost elevation again riding some very loose and fast fire roads complete with sleeping policemen type jumps and dips that made for some interesting moments. We then headed north up another rocky climb and down the best descent of the day into the tiny hamlet of St Johns. We looped back on our selves at this point through the Archallagan Plantation. The last leg was characterised by the seemingly never ending technical climb of 7 gates and riding "up stream" to Stony Mountain.
The biggest climb of the day was at Arrysey where the gradient reached a whooping 32% at it's steepest part. This climb is actually a descent on the Manx End to End, so I can look forward to doing it in reverse this September. To be honest though it was so steep in places and the surface so unpredictable that this might actually be easier as an ascent. Although there was the odd man made trail, the majority was bridal way and old sheep tracks. There was a huge range in surfaces from manicured hard pack to very loose rocky sketchiness, peaty mud and rough dirt track. Mixed with this was a range of landscapes from open "Dales type" rolling hills crisscrossed by dry stone walls to tight and twisting thick forest plantations.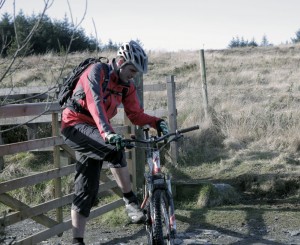 The majority of best bits were the loose rock sections. The ups were all about getting in a low gear and winching your way to the top; while the downs were all about maintaining enough speed to skip across the rocks and not get knocked off line.
These descents were perfect for me to get a feel for my newly serviced and repaired suspension. Only a week earlier on my local trails I had thought that it had felt "to plush" and not stiff enough. However now using it on the type of terrain its really meant for I found that I felt very in control and riding faster and with more confidence than I had for a long time. Traditionally Chris and Martin would have dropped me by the time we finished a descent but generally I was holding my own and keeping up with the pair of them. I had pushed ahead on some of the climbs to get in credit at the "Bank of Waiting" but I really didn't need it so much this trip.
We finished off the day in Peel on the west coast of the Isle. We dropped into The Creek for dinner which served us some of the  best food of the trip. The grub at this place was very good and I can highly recommended the crab claws and the cray fish, salmon and avocado cocktail. It was an interesting place. We sat in what was clearly the original part of the pub where every shelf and area of wall space was covered in some sort of trinket or memento of times past. Most of the clientele looked just as old and crusty. This was in stark contrast to the modern back room complete with loud music and Jägerbomb downing younger crowd. We were all pretty knackered and a bit brain dead but after we'd eaten and got a few drinks in us we all woke up a bit and carried on downing booze until our lift back arrived.
Unfortunately I knocked the pause button for a few miles.
Day 2
The plan was to run our own up lift to different parts of the island to get in as many descents as possible. Unfortunately it didn't really work out as the second rack that we had taken with us was missing a couple of vital straps. We only managed one free elevation gain, to the top of The Shoc. As we realised that hitting all the big descents wasn't going to happen we sessioned the good bits and got the cameras out.
The riding was very different from the day before. The surface went from quite fast stony single track through to sketchy rutted peat and grass tracks. It was open and exposed with only short grouse and thorn bushes for you to fall into. It was a good job the wind was fairly tame otherwise I think it wold have been pretty cold and bleak. The route was enjoyable enough but I think it would come into its own in the summer once the ground has dried out a little. On the flat it was a little tough going and when descending it was difficult to keep your speed due to just how slippery it was and the necessity of keeping out of the MX induced ruts. There is some fairly serious soil erosion in this area with some incredibly deep ruts cut into the hill side. Some so deep that if you slipped in you wouldn't even hit the bottom as your peddles would stop you first.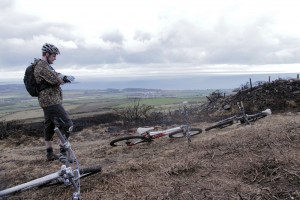 The last portion of this route took us down a steep grass chute and into very tight, steep switch backs that had great views into Fleswick Bay. The trail took us all the way down to sea level and we took in the air, while deciding where we might go next. With the light fading it wasn't really worth traveling too far so we popped back to South Barrule for a few laps of the man made trails and trying to look rad in front of the camera.
True to form we didn't do as planned in the evening. Initially we were going to Douglas for a "proper night out" but instead stayed around Castle Town and went to the The George. It's quite an old fashioned boozer but again the staff were all friendly and welcoming. The food was fairly standard pub grub but the cider selection was horrific. After food we vegged at Chris's and watched Closer to the Edge. It seems like this film should be issued to every one entering the Isle of Man as a public information film about what you should know about the place.
Last Day
Although we had almost a full day before the evening Ferry back we didn't ride and did a bit of sight seeing on the island. Martin also wanted to give his new GTI a blast around the TT course. That was quite fun. We had a long lunch and got on the Ferry. The journey seemed to go quite quickly and we were back in Birmingham before 2am.
---
On the whole this was a great weekend. It was nice to have some good old fashioned man time, and the riding was probably some of the most entertaining I will do this year. It's a bit left field and not the first place you might think of but I can highly recommend going to the Isle of Man and would encourage you think about it as an alternative destination.  It will take some prep work as only a fraction of the good trails seemed to be way marked but there is more enough trails just in the south to keep you occupied for days, never mind the north of the island which has the bigger hills. I'm really looking forward to going back in September for the Manx End-to-End although I know it's probably going to be the hardest single day I have done on a bike.