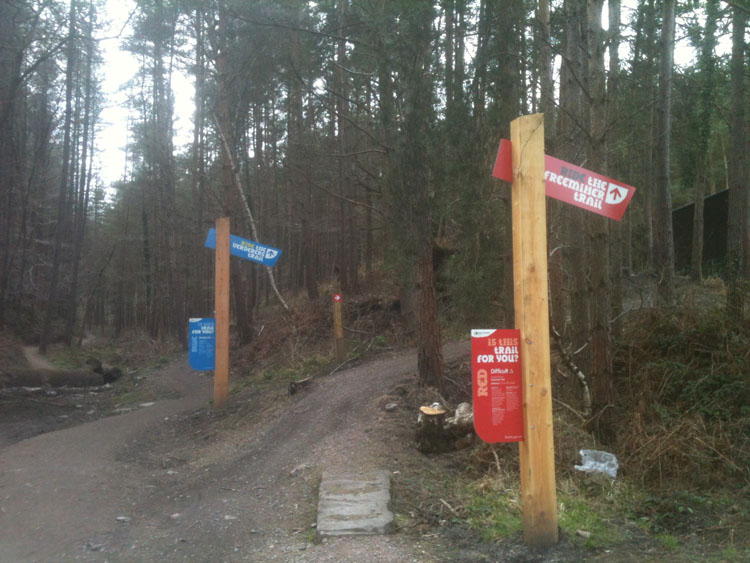 Well its always nice to go ride some where new, specially when it also means meeting meeting up with old friends. It had been 15 years since I had actually seen Julian in the flesh and it was a absolute pleasure. It was quite an eventful trip before we even got to the trails. Tuesday evening I had jumped on the train after work heading to Ledbury. While on the trail I heard an ominous twang and several heads turned to look at the 3 bikes in the disabled area of the carriage. At first I didn't really think much of it, but after about a minute I suddenly realised what that was probably the sound of. A sinking feeling descended upon me as I got up to take a look. All thoughts of charity for my fellow cyclists disappeared very quickly as I hoped that it was one of their spokes and not one of mine. It was one of mine…
I quickly contacted Julian to get him on the case calling round his local bikes shops but sadly all his local shops had closed at 5pm, it was 5:23pm. Oh well I thought we are just going to have to sort it in the morning. After getting picked up from the station we headed to Jules's place where I enjoyed a superb home cook spaghetti bolognese. Good job really considering how long it took to cook. :p
The next morning I was on phone duties calling round the bikes shops near the Forrest of Dean trail center while my host was on father duties taking his lads to school. After one knock back I managed to speak to Alex at Dean Forest Cycles, who said drop it in and he'll be happy to help. What a hero! So we dropped in there and within 10 mins the job was done and for a very reasonable tenner… what a gent. Unfortunately this wasn't quite the end of the drama as when we were loading to back on the roof rack we noticed the repaired wheel was pretty soft. I had just watched it be pumped back up so clearly a puncture was on the cards. We got this repaired and finally headed towards the forest.
The trail centre at The Forest of Dean really does have something for everyone. Along with several down hill lines there is an 11 mile green family loop, the 7 mile blue Verderers loop and the short but sweet 2.5 mile red Freeminers trail.
We started on the Verderers trail which  I think would constitute a red at most other trail centers. It's not really that technical but is fast and loads of fun. There are a few sections of sweepy berms and a couple of nice descents but it feels like the whole trail is really just gearing you up for the big finish. There are a couple of optional red bits near the end but in all honesty I'm not really sure why they were red and the other bits still blue. There are a whole bunch of fast rollers and fast large berms to throw yourself into leaving you with loads of smiles. I like it when a trail does this. I think a multitude of sins can be forgiven if you end up in the car park still smiling.
Next we thought we would give the family trail a bash. This as more about just getting some miles in really rather than anything else. It's a very typical family type trail that is more about a nice day out than hi-octane mountain biking. There are some nice views and the forest is just a nice place to be. At 11 miles though it struck me as longer than most trails of this kind.
Last but not least we hit the Freeminers trail which was surprisingly rooty and very technical. I would go as far as to say that there are more technical challenges in this 2.5 miles than any other trail centre I have ridden, including the miles and miles at Coed-y-Brenin. It's a not a super fast run, not for me anyway, but I did enjoy more slowly picking my way through the roots and really having to be spot on with line choice. It felt really "different" to me and not like any other trail centre at all. The closest thing I could compare it to was some of the off piste runs at Cannock Chase.
Another great day had on the bike.