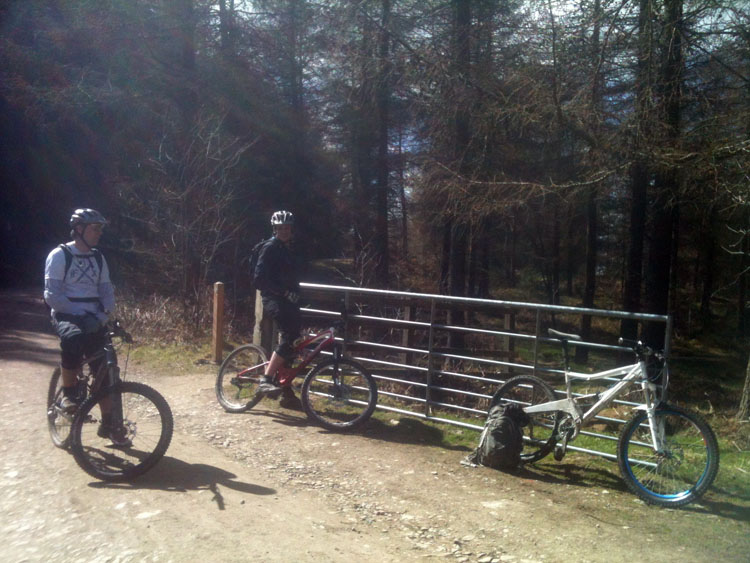 I have got a bit behind with ride reports of late but this ride was certainly worth getting back into the swing of it for. The only previous time I had ridden at Llandegla it was wet, cold and miserable. If that wasn't enough I was having a bad ride anyway and just couldn't get going. As such I had had no real desire to go back there which is why it has taken 2 years for me to give it another go.
I'm happy to say that this time round it was a far better ride. The sun was shining and the trail was running pretty quick. It was even about perfect temperature too. Last time we only did the reds but we hit the blacks this time and it's certainly a lot more entertaining. The first large section of black is almost perfectly designed with lots of fast swoops with nicely sculpted berms that then lead you into small rises to scrub off just the right amount of speed before you swoop into the next section. There are loads of nicely sized tables and jumps that you can either squash and ride or un-weight and fly over nicely. This is one of the first times I have come away from a trail center really feeling like I "get" what trail center riding is all about. It really did feel like something completely different to bridle way riding not just a purpose built "distilled" experience.
The plan had been to get 2 laps in but we got there a  little late which meant we didn't have the time so we spent half an hour playing around in the skills area. I gave the drops a blast which was good. It's not something I get to practice a lot so its nice to be able to get a load of drops done in a short period. Undoubtedly though we spent most of our time on the dirt jumps. Again this is something I have little opportunity to practice but after the confidence I had built on the trail that day I was desperate to have a go. Within a couple of runs I was clearing the small line pretty easily, if anything a little too easily as I was happily sailing over the landings. I had a pop at the bigger line a couple of times but after casing almost every jump I decided not to push my luck. Martin was really flying on the bigger line though and buy the end of the session was clearing most of them quite comfortably.
I have had an On-One Chunky Monkey tyre laying around for a while now but had only given it a go once before. I thought it about time to give it a run out in more appropriate conditions than I had previously. It's a big heavy bugger and frankly looking down on a 2.4inch tyre when you have been using 2.1 for ages just seems ridiculous. It's like a tractor tyre! It was however full of grip and was stuck to the trail all ride. I'll do a proper review at some point.
I really enjoyed this ride and actually I think that Llandelga has taken over as my first choice trail centre that's reachable as a day trip from Birmingham.