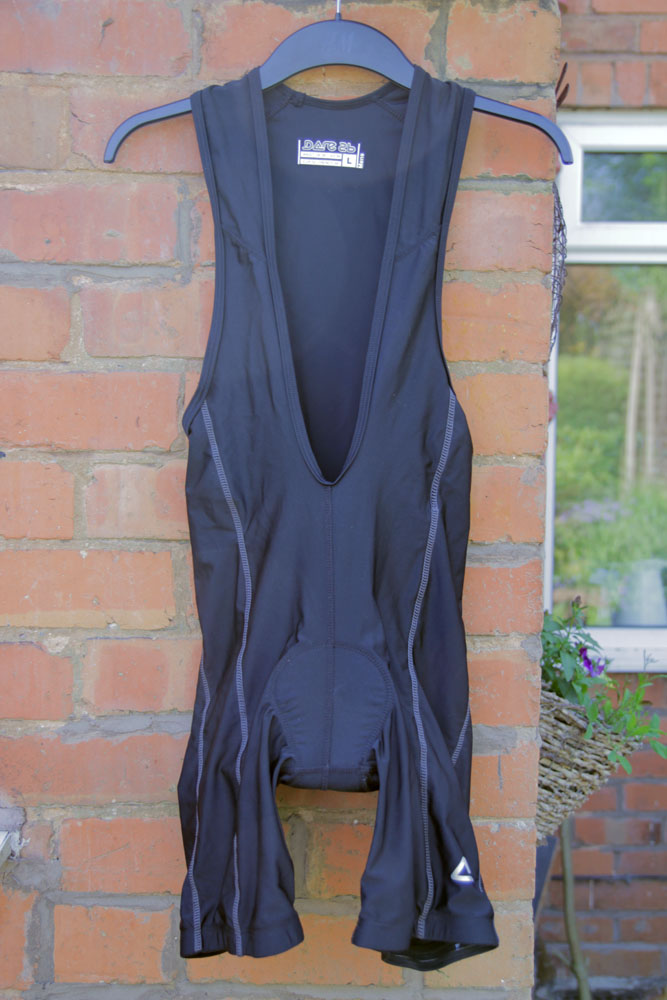 I was only causally in the market for some new liners but seeing these on Sportpursuit for the bargain price of £16:80 a pair got me interested so I took a run at them. I have never had any bib shorts before as I had always thought what a pain in the arse if you have to take a leak while out riding. On the other hand though there has been more than one occasion when riding in the winter that I have cursed the cold patch at the bottom of my back where my shirt had un-tucked from my shorts so I could certainly see the benefit of them.
The Dare2B Upshot Bib Shorts are made of fairly standard stretch nylon material. It has flat locked seams so there is no annoying rolled seam feeling, aiding the comfort. They dry very quickly which was very useful to me on my recent bikepacking trip. After getting caught in the rain I was still able to get these shorts dry even in a tent. Around the leg hem there is a gel gripper band to stop the short riding up your legs. The padding is one piece and very comfortable although it did take a little while to get used to the feel of a new pad. Most of my other liners, although still in good condition and comfortable, are quite old now and the padding has compressed some what. The pad uses the Cool max system which takes sweat away from the skin and has an anti-bacterial treatment so even if you do end up with some chaffing it should reduce the risk of getting saddle sores.
I had read that most people found that the sizing came up smaller than normal so I ordered a large. Often with cycling shorts I find the waste large for the size I need to be comfortable around my thighs. Due to that previous experience I had had concerns that the large would fit well around my thighs but the waste and bib section might be a bit baggy and long. Thankfully this was unfounded as they fit perfectly all over for me. All my other cycle shorts and my full length winter tights are mediums, so heed the advice on taking one size up if you decide to take the plunge.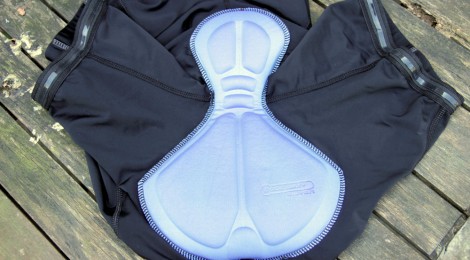 I like these shorts a lot. The first time I rode with them I did 10 and half hours in the saddle and they stayed comfortable the whole time. It was a warm ride and I didn't get any sore patches either so they must have done a good job in wicking away the sweat. I really like the braces and the gel gripper in the leg hem, as once they are on they don't move around what so ever. Sure it was a pain in the arse to take a leak but I'm happily to put up with a couple of incidents of inconvenience in exchange for hours and hours of comfort.