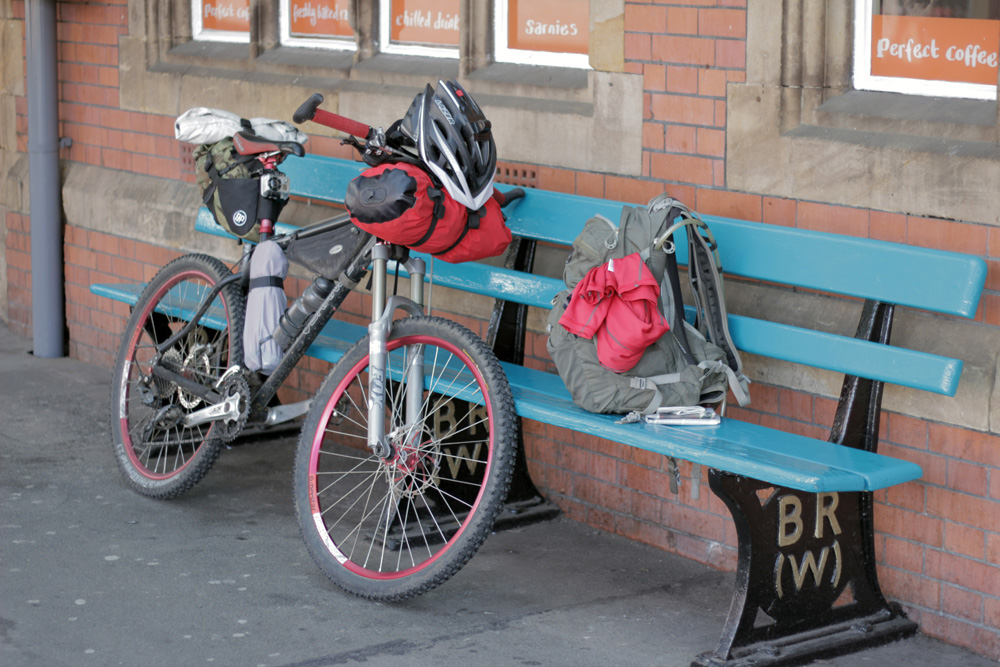 2012 should have been the start of me getting into bikepacking but a broken arm put pay to that so I had to put those plans to the side and hope that 2013 was going to treat me a little better. I had already had to cancel 2 trips this year due to a broken rib right at the end of 2012 and the snow, so the return of the nice weather had me making last minute plans to get a trip in.
Ever since reading about the "West Midlands mountain bike trail" in Dave Taylor's book "Mountain Bike Guide – West Midalnds", that goes from Kinvers Edge to the Welsh border at Knighton I have wanted to ride it. I made an extended version that tagged on a section to go from Kings Heath in Birmingham to Kinver so that I could potentially leave my house and by adding in the Trans Cambrian Way make it all the way to the Welsh coast in the west. The only section of this route that I was concerned about is the stretch between Kings Heath and Church Stretton. The route plan had it down as 70 miles and with a fully packed bike and having to do some where in the region of another 2-3 days riding afterwards I thought that it might be a bit of a struggle. The only way to tell was to ride it in isolation and see how it went.
[singlepic id=1007 w=320 h=240 float=right] On Friday afternoon I got the train out to Church Stretton and made for Marshbrook to camp up at the Shropshire Camping and Pods site run by Blazing Bikes. The site itself I would describe as alright but not great. It's not the most picturesque or the most secluded. It's right on the side of the b-road that runs through the village and although not that busy at night the lights of every car that passed were plainly visible through the tent. Again not a huge problem but not exactly desirable either. On the other hand though it was clean and the facilities fine for the £10 a night it cost for a one man pitch. The staff were very friendly and helpful which I often think can "make up the difference". I wouldn't rush back there to camp but equally I would stay there again. I would however really like to give one of there "pods" a go.
[singlepic id=1006 w=320 h=240 float=left]I pitched my tent in the pouring rain, got the bike unloaded and sorted out my bed roll for the night. Of course just after I was done the rain stopped so I decided to take advantage of it and get out for a quick burn around the south area of the Mynd. Although I have ridden in the area a number of times I had never got down much further past the gliding club than route 2. As I was at this end I took the chance to give it a whirl and I'm glad I did. After climbing up to the top via the Jack Mytton way I headed towards the gliding club but cut off right into the plantation. I followed my nose and found a number of fun little runs through the woods and down the side of the hill. I didn't want to push myself to much with a big ride ahead of me the next day so I went back to the camp site to cook some dinner.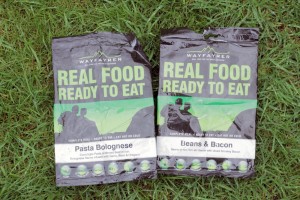 Earlier in the week I had picked up a couple of expedition types ration packs. I had decided to give the Wayfayer "Real Food ready to eat" range a go. For dinner it was Pasta Bolognese, a staple of any ready food diet. It was not bad to fair but in honesty there just wasn't enough of it. I shouldn't have been surprised really being only a 400 cal meal so note for the future when doing a truly unsupported ride that I'll need something on the side with these meals. The backup I had this time came in the shape of The Station Inn which is literally on the door step of the camp site. I popped in there for a second dinner and had a minted lamb burger and chips which was very nice. I really liked the atmosphere in the pub and thought that they had done a really good job of modernising but still maintaining the character. I sat in there for a while enjoying a couple of pints of Stowford Press before heading back to my tent and crashing out.
[singlepic id=1008 w=320 h=240 float=left]I woke up about 7am after a pretty good sleep. My Pacific Outdoor Adventurer AC: Long, light weight air mattress (review to come) had been comfortable and along with my Vango Venom 300 sleeping bag had kept me warm. It was a pretty mild night though so if they hadn't I would have been pretty disappointed.
I had been contemplating getting a full English at the on-site cafe but they didn't open until 8:30am and I didn't really want to wait that long to eat, so I tucked into the "Bacon and beans" meal I had brought with me. I threw in with it a pack of Uncle Ben's whole grain rice which padded it out nicely and give me a nice carb load for the day ahead, which as it turns out was greatly needed.
I set off about 9am on the back roads heading across the valley in the direction of Much Wenlock. The first 15 miles or so were really tough going. There were some really steep sections of bridle way that seemed to go on and on. I think they would have been doable but still difficult even without a loaded bike but with my camping gear they became hike-a-bike which really made for a slow start. Once the climb had been done into Much Wenlock forest, riding the ridge was probably my favorite section of the whole route. It was very peaceful and idyllic with nice views of the Shropshire country side. It was pretty easy going compared to what I had just experienced which also helped endear it to me. I almost stopped in the town to pick up some bread and cheese for lunch but the queue in the bakers was longer than I had hoped and I pushed on.
[singlepic id=1004 w=320 h=240 float=left]There was then a lot of miles of country lane and edge of field type bridle way. Some of it was OK and fairly well defined while much of it was of the grassy variety and slow going. By this point I was running quite a good deal behind schedule; almost 2 hours. I really should have stopped for more food and water when I had the chance but twice made the school boy error of going on regardless and I started to have ration my food a lot more than I really wanted to. It was a really good job I had had 2 dinners the night before. Just over 40 miles in and I was really starting to feel the extra weight on the bike. It made me realise just how much tougher it is pushing an extra 4kg or so around really was. On flat hardpack you didn't really notice the extra weight but as soon as you got on to anything a bit bumpy or grassy or even just a gentle incline the extra effort required suddenly hit you.
I reached Hampton Laode where there was supposed to be a cable ferry running. A ferry of this type has operated here for 400 years and I had seen it as one of the highlights and milestones of this ride. Sadly it wasn't running for some reason which was mentally a bit of blow. I find that long rides need to be broken into milestones otherwise the distance/time becomes unmanageable in your head. I had to check out the GPS for the shortest way to cross the River Severn and realised that Route 45 cycle way which I had briefly followed already continued along the bank for while until it reached a foot bridge. I pushed off and quickly left my malaise behind as I made good time along the edge of the Severn making for my next milestone.
[singlepic id=1011 w=320 h=240 float=right]At the 53mile point I hit Kinver and I was really suffering at this stage. I was actually contemplating getting my girl friend to come pick me up from Barnt Green as I was really not sure if I was going to make it. I spoke to her on the phone and mentioned that I might need an evac but that I would call later on. I pushed on over the ridge and reached the furthest West point on the route that I had ridden before and as such knew the route home by sight. It was amazingly uplifting to get to this point which gave me a huge mental boost pushing me on.
I had run out of liquid quite a while ago by now and was getting thirsty. As I passed Clent I stopped at a stream and filled a water bottle. Fortunately I had taken a baggy of energy drink powder and emptied this into the bottle. I promptly guzzled half a bottle and within a few minutes I was getting a huge kick and decided that I was going to give it one big final push to get home. I pretty much sacked off the planned route and took every short cut I knew; finally arriving home 10 hours 37minutes since I had left Marshbrook.
In the end it had worked out at 76 miles with 7595ft of climbing. This was considerably longer and more climbing than I had planned for and that was with taking a bunch of short cuts at the end that got me around a couple of large climbs. I had however had to make a number of detours much earlier in the day where the bridle way had simple disappeared which added miles. I think the real damage in terms of the timing and energy had been done at the very start. 3 hours to do the first 20 miles was something that I really wasn't used to and found it massively energy sapping. I learnt a lot in this trip not just about my kit but most importantly about being in your own head for such a long period with very little to distract you. I'm looking forwards to writing the "What I learnt from this experience" blog some time this week but generally I think this type of riding is really about mental strength rather than physical and apart from the one moment of faulting I was pleased with how positive I managed to keep myself feeling.