Well I couldn't really be arsed writing up last weekend's ride. I'm reaching the point again of riding too much to report on every one but I did try out some new recipes. They were good!
Cottage Cheese Pancakes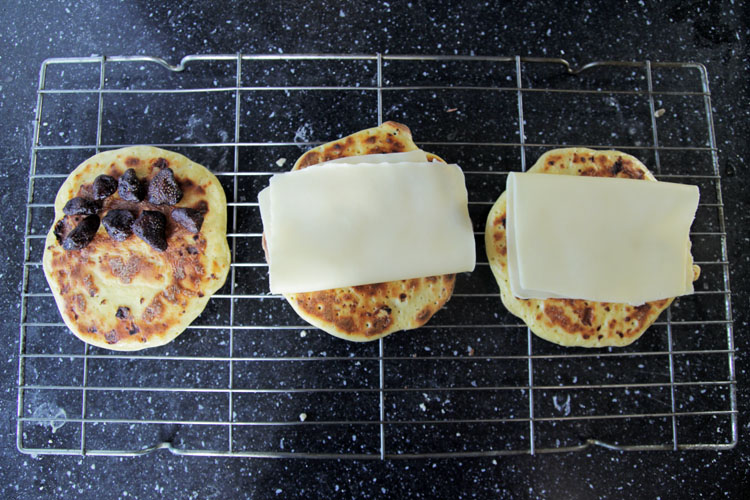 Ingredients: 2 eggs, 115g low fat cottage cheese, 1/4 cup Spelt flour, 2 slices of Edam, small handful of dried strawberries.
Method: Mix the eggs, cottage cheese and spelt flour. Heat a frying pan, spray on some oil and pour on 1/4 of the mixture and cook like a normal pancake. Put on a grill to cool a little. Put on your chosen topping; in my case I made a couple of cheese ones and a dried fruit one. Roll them up while they are still fairly warm and let cool.
Nutrition (per serving):
Cheesy:  Calories – 176, Carbs 7g, Fat 10g, Protein 14g
Strawberry: Calories – 130, Carbs 15g, Fat 4g, Protein 8g
High in protein and carbs this mixture makes four pancakes. I really liked these as they seemed like a bit more of a substantial snack. 3 of them made a decent on the go lunch. I made them the night before and kept them in the fridge. They dried out a little bit but were still easy to eat. There are only 3 in the picture as I eat one straight away to see what they were like. 🙂
Mochiko Krispies Stickies (milk chocolate)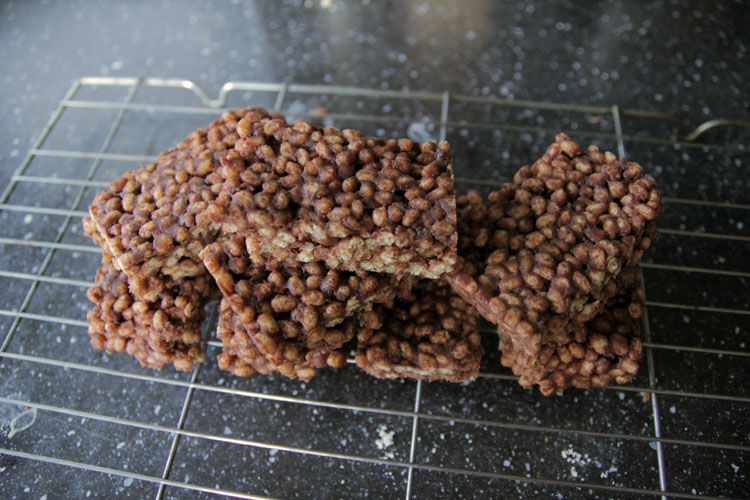 Ingredients: 1/2 cup almond milk, 50g dark chocolate chips, 5g butter, 7tsp ggranulated sugar, 110g crisped rice cereal, 1/2 cup glutinous rice flour.
Method: Mix the milk, rice flour, butter, sugar and chocolate chips in a pan over a low heat. Mix until melted and smoothish. Then mix in the crisped rice cereal. Spread the mixture into a baking tim and press it all down into one end to made a compacted brick. Leave to cool and once solid cut into 8 pieces.
Nutrition (per serving): Calories – 143, Carbs 24g, Fat 4g, Protein 2g
This one came pretty much straight out of Feedzone portables. The one main difference is that I put them in the fridge to cool and so mine didn't remain crispy they went sort of soft and a bit sticky, which was actually very nice. The hardest ingredient to get in the glutinous rice flour. Get it in the Chinese super market but ask for "sticky flour". This is the first sweet snack I have cooked myself for trail food and it was nice to have a mixture of savory and sweet for a change. I think I would like to try a number of different versions; dried fruit, protein powder; maple syrup.