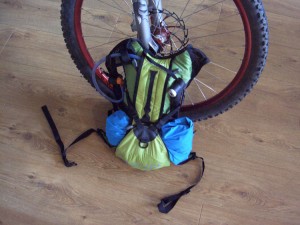 Sat here writing this I'm feeling quite pleased with myself today. Yesterday I attempted the longest single ride that I have done and did it. I have wanted to do a 100miles for a while now and last week I decided that this weekend was going to be the right time to go for it. I knew I was going to have a very quiet week this week due to work and family commitments and as such would make a great recovery week. The plan had been to do the first 100miles of my Birmingham to the Welsh coast route, or "The West Midlands Way" as I refer to it… in my own head. Unfortunately being the weekend there were works on the Knighton to Shropshire train line, which was my route home. Sure there were replacement bus services and I did contemplate trying to beat the bus between the 2 stations in question but decided that after 100miles, a race against a diesel engine was not a challenge I was relishing.
With this slight disappointment out the way I planned a different route. I would follow the West Midlands Way until Kinver but then head slightly further south and take in a loop of Wyre Forest. I have never ridden there but had heard lots of good about it so thought why not. Finding new trails to ride is one of the best experiences in mountain biking, the sense of adventure is never better than when riding somewhere new.
I got out the house quite early as I knew it was going to be a long one and I wanted to be back in time for dinner with my girlfriend. I had made sure the couple of days previous that I had eaten well and so all that was required was a bowl of porridge and a coffee to get me on my way. Often I spend the first 30mins or so feeling stiff and tired but today I was raring to go and didn't really feel like I went through the "warming up" stage. The weather had been predicted to be wet and windy but at this point there was little to suggest that the daywas going to go that way. I headed over the Lickys and Clent fairly uneventfully. The alternative route I took off the top of Walton Hill was much better than my normal way and I wondered why I had never gone that way before? The first notable event was the woods by Blakedown. I saw a little gap in the undergrowth with tyre tracks and went for it instead of going down the road to the entrance. This was a huge mistake. As I entered the woods hidden under leaves and general forest detritus was a large slippery root.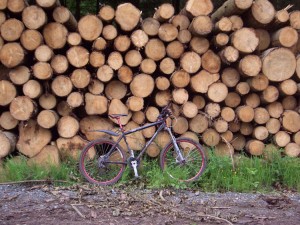 The front wheel washed out and dumped me to my left. As it was this should have been one of those low speed "nothing" falls bad but on the way down my knee cap hit a stump. Pain shot through me and I limped to the closest tree for support. I genuinely thought at this point that my century was over and I was going to have one leg it back home. I sat for a few minutes flexing my knee and the pain eased. I pulled my knee warmer back up and jumped on the bike. "I rode Cannock for 90mins with a broken rib" I thought to myself, "I can hack a swollen knee". On I went and every stroke of the peddles prevented it stiffen up and the pain eased further. It never really went away though, throbbing for the rest of the day with the pain coming in and out in waves.
I descended off Kinver's Edge and reached the part of the route I was most looking forwards to. I now had some where in the region of 35miles of "unexplored" territory to ride. This ended up being a mixture of country lanes, fire roads and single track. There were some enjoyable climbs, slippery descents and great views. I particularity liked the lap of Wyre Forest and would love to get back there not just to ride but also to do some walking. While passing through the forest I encountered a fellow biker who had snapped his chain and couldn't find his quick link. Fortunately for him I had one and so I gave him a life line. He then promptly thrust a fiver at me in return which I accepted graciously. Eventually I was back at Kinvers Edge and heading homewards. I pretty much back tracked along my earlier route but I added in a couple of small loops of bridle way just to be sure of hitting my target. Good job really as I only went over target by 2 miles but I certainly added in an "extra" 6 or 7.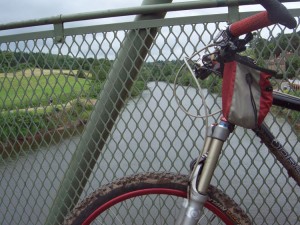 Considering how the weather was predicted to be I think I got very lucky. There was some strong winds now and again but nothing you would really moan about. The most fortunate part was that I seemed to keep going through places where it had clearly poured down with rain 10-15mins previously. Eventually though I did catch up with a big grey cloud somewhere between Clent and the Lickys which promptly dumped a heavy shower of the wet stuff. It was the first time I was able to use my new 2117 Outdoors – Saltoluokta Outdoor Rain Jacket (review to come) since getting it and it fared extremely well. Not only did it keep me dry it also kept me cool. I didn't even bother taking it off when the rain stopped as it was so breathable.
In terms of set up I went with the old style Mountain King tyres, which are really a dry weather tyre but even with the rain that was predicted I crossed my fingers and hoped that it was still all fairly hard packed from the recent dry weather. My trust paid off as even though there were few sections of slippery mud, on the whole I appreciated the fast rolling and lack of drag. I'm very happy that I bothered to replace the bearings and free hub the day before. The bike seemed to glide along like it hasn't done for a very long time, in fact I kind of forgotten how smooth it should feel. I was able to carry so much more speed though the bumpy stuff and it felt like a totally different bike. I'm going to get the front wheel sorted ASAP as well and then probably move on to doing the Five's wheels to. I also used my "stem feed bag" which is actually a climbers chalk bag. It's very convenient being able to reach straight for food when I need it and not be fiddling around in pockets or having to get the bag off my back.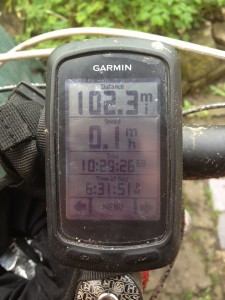 By the end of the ride I was still feeling quite good. My legs weren't hurting (apart from my knee) and I still had something left in the tank. On one hand that was good to know that I probably had at least another hour of riding in me. On the other hand it means I probably could have done the 100miles quicker than I did. Pacing is something I will need to work on.
I think the biggest factor in me still having energy left was how I had eaten on the day and for the few days before. Friday had been big carb day with lunch and dinner both consisting of large portions of pasta. Saturday had again been a carb-tastic event as I  polished off a large pizza to myself. On the day I took with me a load of Denver rice cakes as well as my latest batch of Mochiko Stickies (white chocolate/maple syrup). I strictly eat something at least once an hour with hours 6-9 eating twice hourly. I also washed down the food with a few mouthfuls of ISO energy drink made up to 4% carbs. I tried to make sure that I was drinking a little between feeding as well. However when I got home I still had about 1 litre left meaning that I only drunk 2 litres over the whole ride. I never felt thirsty or dehydrated though so maybe it was just not a day for drinking much. I knew I was very well hydrated when I started anyway so I'm not overly concerned about this.
This will be the last long one for a while as I'm going to entering a "strength and power" phase of training for the next 6 weeks or so. I think my general endurance is pretty good now, I just need to get faster.
Ride stats
102.3 miles, 9970ft climbed in 10hours 29mins (time elapsed).