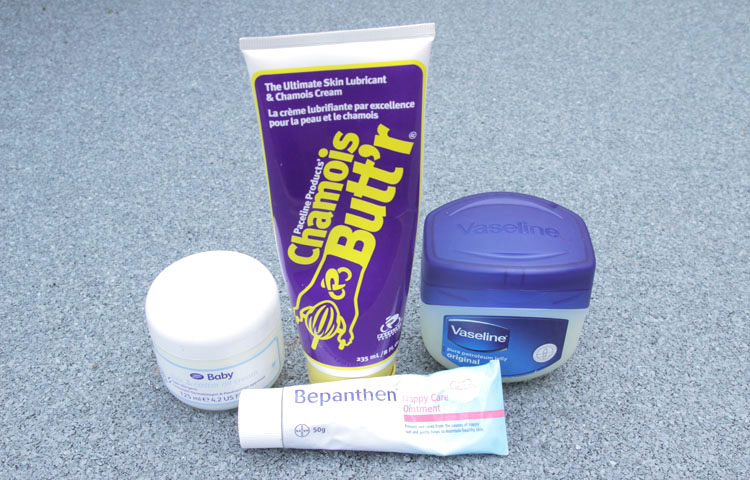 Before we get in to this, this post is certainly in danger of being "to much information". However if you suffer with sores then you will understand that there is no such thing if it helps you stop having them in future. This is just how far I have got with the topic and I have by no means found any cures but I'm certainly doing a lot better with them now than I was.
The strange thing about my saddle sores is that for years I have been riding very regularly and pulling down some decent miles but without having ever suffered with them. Since getting into doing much longer single rides (6+ hours) I have had some issues. If it was just the long rides I could understand it but the most annoying thing is that I seem to have now become more susceptible to them even on rides as short as 3 hours. As such I have been forced into experimenting with solutions. I took a 2 pronged attack to this; 1 – prevention and 2 – cure.
Prevention
I seem to suffer mostly from an area of skin getting "stuck" to the pad and then as it moves it rubs raw. As you are bound to sweat in this region the skin can very easily become infected and so a sore appear. There are a load of lube products out there that are meant to provide you with a frictionless arse that doesn't chaff on your shorts.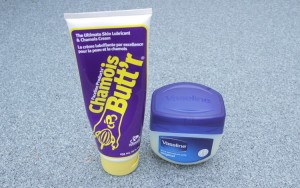 First up I tried the classic Chamois Butt'r. This did seem to help in some way but not enough to warrant the price tag. On short rides it helped, but after an hour or so seemed to get absorbed by the skin. Sure you could reapply, but every hour? Not going to happen. I bought the 8oz tube which I think is just a bit big to be carrying round with you as well. It was about £13 from Evans which is great value for money if it stops your arse getting sore… but over priced in my mind for what seems like a big tube of moisturiser.
I then decided to leave the cycle specific products alone and go for a cheaper alternative. I turned to everyone's favorite lube of choice; Vaseline. every one has a favorite lube right? I found that this was actually far better. I made sure to rub it right into the pad and then also went for a handful on the under carriage. At first it was great, the first hour felt very comfortable, almost to nice…. After that the saddle went back to how it feels normally but I didn't get sore. By about 4 hours though I was starting to feel the pad sticking to me and found myself having to stand up every 20mins or so to shuffle the deck to keep myself comfortable. Oddly though I then found that this went away again a a few more hours, so I'm not exactly sure what the deal is there. Over all though the chaffing was certainly less than it has been so some more investigation is needed.
The last thing that I have been very conscious of doing is being fairly neurotic on the personal hygiene front. I'm not talking about just getting a shower afterwards; I have been making sure that AS SOON as I get home I get the Lycra off and wash and dry the offending area. The reason for this is that if you have developed any sores or chaffing then you really want to make sure it doesn't get infected so getting clean as soon as possible is going to help.
Cure
So you have some sores so what do you do about it to try to get rid of them in the quickest pain free way possible. Before we get into the lotions and potions there I think a big part of encouraging them to heal is to continue to keep them clean and dry. On top of that wearing loose boxers not your posing pouch and going commando to bed are all things that have seemingly helped me.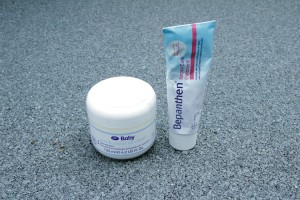 I had heard a lot of good about using baby nappy rash creams. I had read about success stories with zinc based creams so I headed up to my local Tesco. Unfortunately this isn't a large super store and I couldn't see any zinc based creams from the very limited choice. Having made the journey I still wanted to try something so pretty much picked at random a tube of Bepanthen Nappy Care Ointment. I tried it out for a few weeks, applying at different times (in relation to riding) trying to work out if it made any difference. Sadly I think this stuff was pretty much useless. I noticed no effect what so ever and surprisingly it may have actually had a detrimental effect, increasing the healing time.
While in Boots buying Vaseline I noticed Boot's own brand Baby Zinc and Caster Oil Cream. Having read about the powers of zinc I picked up a tub. Again I have been experimenting with when to apply but this time I think I have had a bit more success. I have been using it very sparingly and only applying at least an hour after washing but making sure it wasn't just before bed either. The sores and chaffed skin were noticeably less sore the next day and seemed to heal much quicker. Maybe this was just coincidence with using the Vaseline but I'm going to carry on with this combo and see how things go.