I'm not proud to say that I have never really looked after the wheels on my bikes properly. It's a blank spot with me that I'm trying to remedy. In all fairness though since I have gone sealed bearing style there isn't a great deal of servicing to do anyway.. right??? Last week I noticed a bit of play in the real wheel axle on my SuperStar Switch EVO hub on my P7. Having had them since January 2011 and having done absolutely no maintenance on them what so ever I'm pretty happy they have got this far. I ordered a front and rear bearing kit from KaTec Bikes and once again received some excellent customer service. If you are looking for bearings you can do a lot worse than KaTec.
SuperStar provide some instructions for servicing: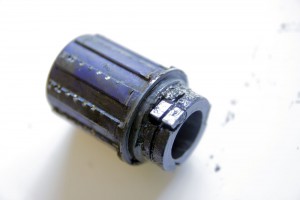 Although I ordered the front and rear kit I only needed to do the rear. I had had it in mind to do the front at the same time but thriftiness got the better of me. Taking apart the assembly was pretty easy and I didn't even need tools as the axle unscrewed by hand. Pulling out the free hub I was extremely surprised to see how good a condition the internals were in. Sure the grease looked a little mucky but nothing to bad. Certainly not anywhere near as grimy as my old Shimano Deore hubs looked after about 4 months. There were hardly any signs of wear around the pawls and the seal still looked good and was seated correctly. Considering how long I have had this wheel and that I have put at least 8000 miles on it I'm pretty impressed.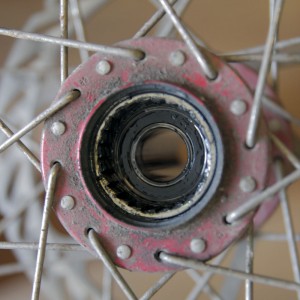 Getting the bearing out was not to much bother once I realised that the center spacer just pushes out the way. I looked at for a good while thinking how do you get the tool in the gap to start drifting out the bearing? The tool in this case was a flat headed screw driver with gaffer wrapped round the end. After pushing the spacer out the way I starting tapping round the bearings until they dropped out the hub. Simples!
Getting them back in was slightly harder, but again only at first. I don't have the proper tool and I although I have some threaded bar I didn't have any nuts that I could use to press the bearings into the housing. I then remembered that the axle I had just taken apart is pretty much exactly like the real tool. Normally I don't think this would be a good idea as you run the risk of damaging the free hub but as I was changing that anyway, I thought why not. I drifted in the bearings on either side just enough to keep them still and then reassembled the axle, tightening the lock nuts with mole grips and a cone spanner. It didn't take much force to get the bearings to seat into the hub. I took it all part again to make sure it was as far in as needed and then drifted the last half a mm or so just to finish it off. Job done and I was feeling pretty pleased with myself.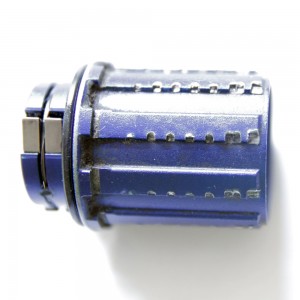 As I have never been to worried about the weight of the components on the P7 – the frame is a proper dough boy at 2.7kg – I have always used cheaper steel cassettes. I had read about the Switch EVO free hub body being a little soft anyway but that also combining an aluminum body with steel spider would cause untold mounts of flaming death, so I had bought a spare steel free hub along time ago in anticipation of requiring it far sooner. Over the last few years I have taken the cassette off a number of times and although the wear had been gradually increasing it was never "that" bad. Looking at it today though some of the splines seemed far more worn that previously  so I thought it time to retire that body and put on the new one.
On the whole this was a very easy quick process. It probably took about half an hour all up and for a first time doing it I reckon that's pretty good. I took the bike round the block afterwards and it felt great. The back end was stiffer and peddling felt more responsive. It was amazing how much less rattling there was. In all honesty I think that the bearings had been going for a while but I hadn't really noticed. The only disconcerting thing is just how quiet the free wheel is now. I greased up the internals quite generously but I really wasn't expecting the stealth mode it has now. I will be sneaking up on hikers like Predator. Hmmm maybe it's time to get a bell.