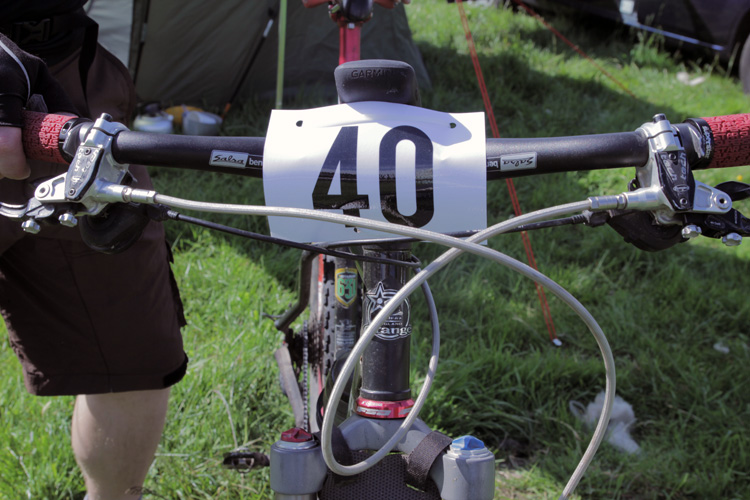 Leading up to yesterdays Torq Rough Ride I had had doubts that I was going to be able to make it. A couple of mates had dropped out and I wasn't sure about my transport arrangements. My girlfriend had plans for the weekend but as it turned out she was aiming to be in South Wales. Fortunately this meant that with not to huge a detour she was able to take me down on the way. We arrived Saturday night and got the tent up. The camp site was far more empty than I was expecting and when I signed in, the list of pre booked riders looked pretty small. It became painfully apparent why they had been touting this as the last one, as pre entries looked quite sparse.
As the weather was looking good Emma decided to stay and camp with me, so we popped down to Kington for dinner and ended up in the The Royal Oak. This was pretty much the first place we came to and we were too hungry to really go looking for other options. I gorged myself on the largest 10″ pizza the world has seen along with some garlic bread and chips. Classic pre ride food!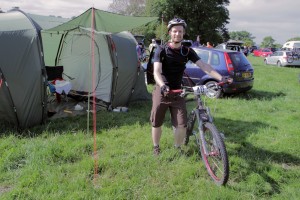 I didn't sleep particularly well waking up at 5am. I dozed in and out until about 7am but never really got back to sleep. We cooked up some porridge for breakfast but feeling slightly unsatisfied I headed up to the food tent to see what was on offer. I almost partook in a bacon sandwich but it was a bit more than just a sandwich. The giant lumps of French bread they were being served in, although looking like great value for money, looked like they were going to be too much for me to stomach and the last thing I wanted was to start a big ride feeling bloated. I settled for a coffee and started fiddling with the bike. I had made sure all my real fettling had been done at home so this meant little more than a fresh lube and zip tying my number to the handle bars.
By this point the sun had broken through the clouds and the day was starting to heat up. Also the field had started to fill out with cars and the rider numbers seemed to swell pretty dramatically. I guess that there were a lot of people who were waiting to see how the weather was going to turn out. Understandable based on last years summer but also quite a challenge for the organisers. I imagine there were points in the lead up to the event they had probably thought about cancelling like so many other events over the last few years that have had low numbers of pre-bookings.
My girlfriend headed off to South Wales and I headed up the ridge towards the start line. After the standard pre-ride "It's not a race!!!" briefing, the start line was marked in chalk and the riders edged forwards in anticipation. I was on what you might call "row 3" and was surrounded by whippets in full team kit and more 29ers than I had ever seen in one place before. There was hardly a camel back in sight and with the amount of spare tubes gaffered to frames, I knew I was firmly in race territory now!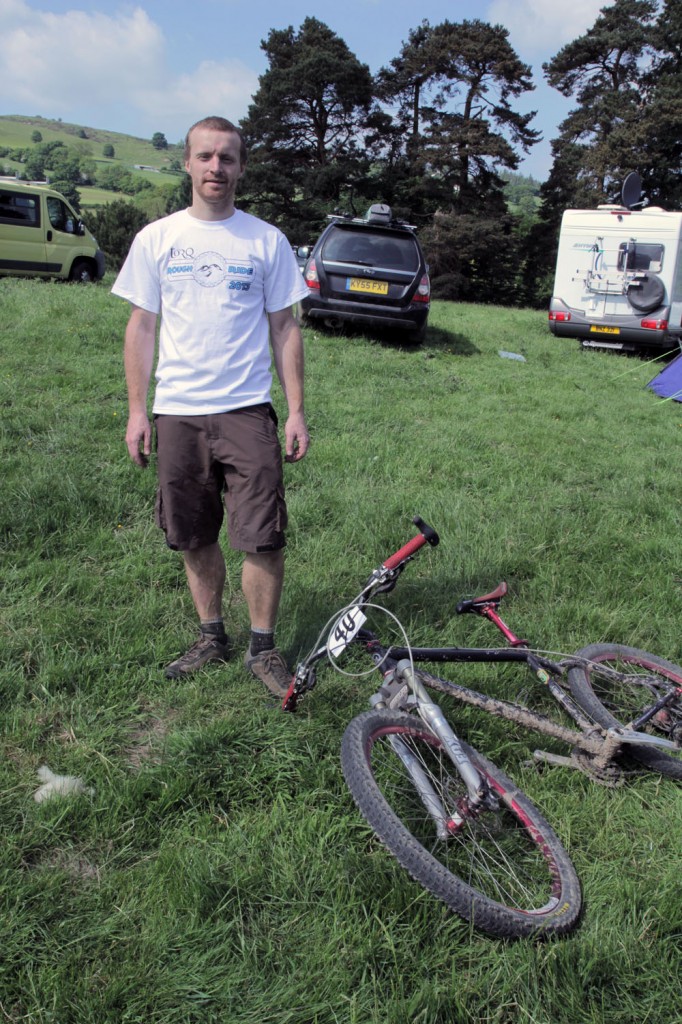 The course was pretty tough going to say the least. Not really a technical challenge but certainly a physical one. With 6372ft of climbing over 42miles you know that it was going to be pretty solidly up and and down the whole way. I think the elevation profile below does a pretty good job of illustrating this if the numbers don't mean much to you. The surface was a mixture of very dusty blown out dirt with quite a few technical-ish lose climbs, through to energy sapping moorland grass. Most of it was very open which was great when the wind was with you but gave absolutely no respite when it was against you. The sun was beating down for the entire ride and the odd woody section was extremely welcome to give you a bit of shade to cool off for few moments. There were a couple of descents with a bit more challenge to them but these were really characterised by either being a bit steep in places or fast off camber corners.
There were no really lose or rocky descents and as such I was happy that I had chosen the hard tail over the full suspension bike. In true STW style I had been questioning my  tyre choice leading up to the event but as it was looking like it would be dry and fast I decided to go with the Maxxis Aspen 2.2. I believe this was a wise choice as grip was not a problem at all and the fast rolling nature of these tyres was very well received, specially on the occasional road sections. They felt pretty effortless compared to the Fire XC Pro which is what I would have gone for if conditions had been a bit wetter. Unfortunately though they are not particularly puncture proof. At about 25miles on a grassy descent the rear end went a bit squirmy and started sliding around. I cursed my luck and stopped  to get the tube changed and be on my way. I also took the opportunity to slap on some more sun cream. Having been in the blazing the sun for 4 and half hours and come away with no sun burn, told me it was worth the few minutes to get that done. It was great to see that of the 10-15 guys that passed me at this point almost all made sure I was alright and offered some assistance. Cheers guys!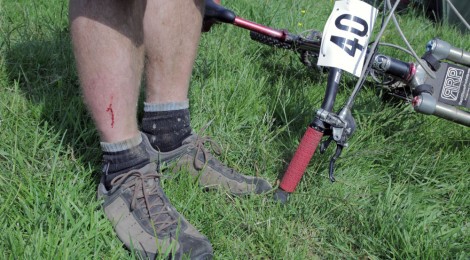 My time according to my Garmin was 4hours 38mins. As I was right at the front for the start I imagine my official time will be pretty much exactly the same give or take a few seconds. I think that without the puncture I might have come home in the region of 4hours 25mins. The only other stops I made were at the feed/water stations and occasionally on road sections for traffic so my moving time was hardly any different at 4hours 15mins. My goal had been to hit an average of 10mph which would have given me a time of 4 hours 12mins. In my mind this had been quite ambitious, so to not be that far off with the heat how it was and so much of the route being on grass I was very happy with how I did. I don't think I have ever pushed so hard for so long with an average heart rate of 166bpm and spending 2hours 32mins in zone 4 or above. I did spend a lot of time dealing with "almost cramp" in both hamstrings over the last 15miles but I continued to just keep pushing through it and it never developed into full blown cramp. I was very thankful for this as if it had I'm not sure if I could have realistically got back on the bike afterwards.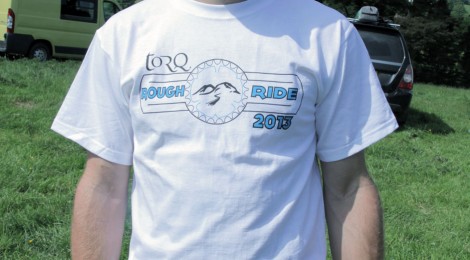 In terms of preparation I was happy with how I lead up to the ride. Taking a fairly hefty taper down for the 2 weeks before was a good idea although I think maybe the blast I had around Cannock a week before should have been a bit more easy going than it was. I believe that the weight I have lost over the last 2 months contributed greatly to me getting up the hills although the reality is I'll never know. I really can't wait to get my new carbon frame built up for these types of events, as the P7 is a bit lardy to say the least. Although I'm still trying to lose more weight I decided to bump my calories up for a few days before the ride to give myself some extra energy and to put the least amount of stress my body as I possibly could.
Training could have gone better than it did but I don't have any huge complaints. My endurance base fitness is fine as I can keep on peddling all day, I'm just not that fast. I think I would like to change up my intervals to the Tabata protocol and really concentrate on doing them regularly. One of the areas I was happy with though in terms of the intervals is that I can go from a slow spin to fast spin more easily now. This is very useful when climbing over more technical terrain. Very often you'll be in a low gear and need to quickly get a burst of speed (without changing gear) to get yourself over some ruts or across some lose rocks.
Due to hurting my wrist in an over the bars incident about 3 weeks ago I had done very little upper body training. I found that my shoulders were quite tired after a couple of hours so I think I need to get more light weight with high rep sessions done to build some more endurance in that department. I'm wondering if alternating weeks or possibly sets between power and stamina might be the way to go forwards. I'm not really interested in putting on much weight up top so I need to be careful of bulking up to much.
I really enjoyed pushing myself on this ride. I was happy that once I hit the pain barrier I was able to keep pushing and actually go through it. I felt I was in the right place mentally and that hopefully I can carry on that attitude in future. This experience has firmly cemented that I what to push on with giving some racing and solo time trialling type rides a go in the future. So for now it's continuing with the training as mentioned above and looking forwards to the Manx End-to-End.
fd