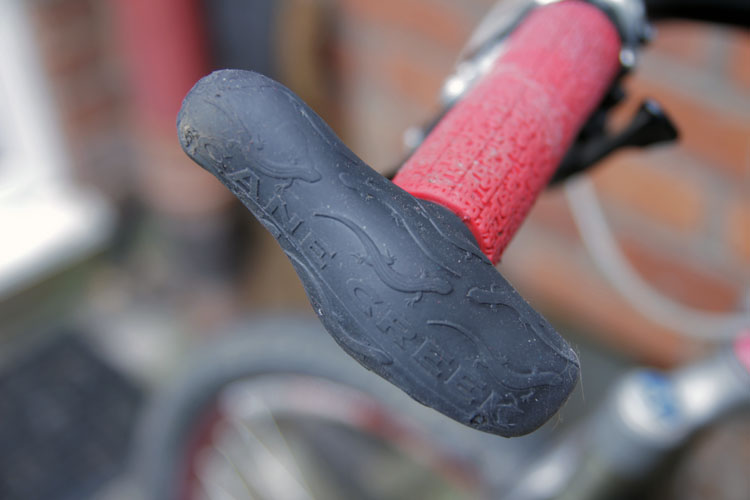 I have been using the Cane Creek Ergo bar ends for almost 6 months and in short I like them. I had been looking around at bar ends for quite a while but I had always had reservations. Most designs are such that it means that you have to reach out in front of the bars which increases the reach length changing your ride position. Some may see this as part of the point of them, but personally I'm happy with my ride position, I have just wanted an alternative hand position on long rides. When I saw that these were designed differently and attached to the bar about two thirds of the way down the handle instead of at the end it got my attention.  As the grip is at the end of the bars your reach is not really effected so the ride position is the same.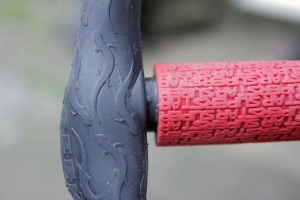 The lock on is designed to work with lock on grips. You remove the outside lock on from your grips and the bar end slots into place. In theory this should mean that the bar end takes up less room on the handle bar but that hasn't quite worked out for me. Unfortunately the locking tabs on my Superstar Exel grips are too wide so the rubber part of the grip doesn't seat against the bar end. This leaves a 5mm or so gap between the two as shown in the picture on the right. It's not really an issue in practice but it is slightly annoying to look at. As I'm going to keep them I should really trim down the plastic lock tab on the grip but I just haven't got round to it yet.
The shape of the bar end is very comfortable and fits into my hand nicely. It is rubberised so even when your gloves get wet and muddy you can still grip it well, unlike some other metal type finish bar ends. Not only does the grip give your hands a different position but as you have to have your wrists turned through 90 degrees to normal, it also gives your fore arms a different position. I'm going to get another set of these for the race bike that I'm currently building so clearly I would recommend them.