It's a been a pretty busy month in my little world of cycling. Got the miles back up to over 400 this month but I was hoping to be up round the 500 mark. The last week of the month let me down a little bit but work and family commitments needed to be put first. I had a great ride at the Torq Rough Ride at the start of the month, which really cemented my ideas about getting into doing some racing. I really enjoyed pushing myself and I think I can start doing it on a regular basis. I will be aiming at ultra endurance stuff going for 12, 24 and multi-day (bikepacking style) events. I also managed to do my first century last weekend. There were several challenges I put in here to test myself. 1 – It's a big distance that is going to clearly involve the physical side of things. 2 – I wanted to see how I mentally stood up to riding for 10+ hours. I felt I completed both to a more than satisfactory way. Goals now are to work on strength and speed. I also got out for numerous shorter evening rides, just a shame they were pretty much all on my own. The lads all seemed to have a lot of stuff on this month. Either that or they are fed up of my once monthly washed Lycra's… 🙂
Speaking of which I have been suffering with some saddle sores now I'm doing much longer riding and as such I have been experimenting with solutions. In short I found Chamois Butt'r not so good and Vaseline fairly good. I have also be trying out some different nappy rash creams in an effort to cure.
I got my hands dirty doing a new maintenance task this month, scoring a few spannering points in the process. I had never replaced a free hub before, which to be fair is not really worthy of any note. You undo the axle and the free hub pretty much falls off… However I also replaced the bearings in the hub which is a daunting task when you have never done it before. It turned out OK though and made a huge difference to how the P7 rides.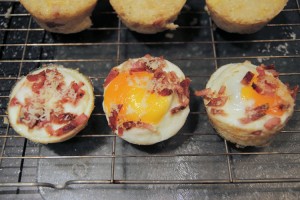 I have spent a good amount of time this month cooking my own trail food, most of it based on the Feedzone Portables book by Dr Allen Lim (formally of Garmin Sharp). You can see how I have got on below:
I have also been using a new much smaller hydration pack this month. Not that the bladder is smaller, that is still 3 litres like the Ospray, but the Giant Cascade 2 bag is far smaller. It has a removable small bag that snaps onto the larger part, so if you need to carry a bit more you can. I will do a proper review of this once I have used it for a bit longer but at the moment I like it. It's not perfect by any stretch and there are some compromises I have to make against the Ospray but when you don't need something as big as that it's nice to be able to use a smaller bag.
Last but not least I have made a new friend! 🙂 Wil was mentioning on the SDW forum that he is aiming to do the Tour Divide next year. It seemed like he was in a similar position to myself in terms of trying to make a considerable step up in endurance so I thought why not get in touch with the guy and see if he wants a "training buddy" of some description. We are now planning to do a number of longish events and rides over the coming months to get the training going and not have to do all our 10+ hour rides on our own. So the list of planned rides as it currently stands is as follows:
July – Meeting for a 50mileish blast around The Long Mynd. We can get to know each other a little better and get a feel for the pace that we will be setting for later rides.
August – South Downs Way in a day.
September – Nothing planned yet, but I'll be doing the Manx End-to-End and have a bunch of stuff on so we'll need to see how that goes.
October – Bare Bones 200.
You can check out Wil's blog over at 1xAverage.
I almost forgot to mention that I'm building a new bike that is going to be for racing. I had been eyeing up some of those Chinese carbon frames you import yourself but then out of no where, On-One put the carbon Lurcher on sale at £250! I couldn't resist so I went for it. This represents my first foray into carbon and 29er territory. Managed to pick up a few other bits over the month in sales but there is a long way to go on this build. If I'm lucky I might get in done by Christmas, but more than likely it will be early next year some time. I'll start doing some build posts about this soon.
June Stats
Distance: 473.8 mi
Elevation Gain: 33,737  ft
Time: 40:03:30
2013 Stats (Feb – June)
Distance: 1,898.7 mi
Elevation Gain: 119,673 ft
Time: 163:29:40