I feel I'm getting a little repetitive with these updates but I find myself once again stating that it has been a great month of riding. Sorry about that… well I'm not sorry at all. It's not my fault the weather has been great but it is my fault that I have been taking advantage of it… so OK you got me. Anyway the riding has been so good I haven't written a single ride report. To many to write and not enough time to do them in.
So where to start? I have hit Cannock quite a lot this month. It seems I have found a new love for the place. Over the years riding there I have had a love/hate relationship with it. It's the only place that I have ever caused myself any real injuries; a broken arm and broken rib in separate incidents and for a long time I found myself enjoying it enough while riding but then always leaving the place feeling a bit "meh". However at the start of the month I had a great social ride with the remaining Pudding Club members that put me in a positive frame of mind about the place. I was riding with loads of confidence and faster than ever and I think I finally got what Cannock is about. I used find the tight twisty trails there lacking flow and smiles but since working on my corning technique and body position I'm able to ride these trails in a way that puts the flow back and makes them a whole lot more fun. From having only been twice in 2013, I have now been 3 times in 4 weeks. I would like to give a big congratulations to Chase Trails for their continued work on The Monkey and Follow the Dog, which over the last 18 months or so seems to have stepped up a gear. The new sections that opened after the forestry work was done are in the main excellent and have really freshened up sections that I just used to think off as "transitionary", to get you from one bit of the forest to another. For regular updates about the trail building and news on section closures etc. check out the Chase Trail Builders blog.
Martin, Chris and myself headed to Wales a couple of weekends ago for Martin's birthday ride out. We started the weekend off at Coed-y-Brenin riding The Beast. The weather was aweful and it pretty much rained all day. Some of the open sections were real MTFU experiences with the rain horizontal into your face and the wind blowing. Thankfully though the Beast is a great trail and the weather meant it was very quiet so once away from the centre we hardly saw any one else so a good day was had. As I have mentioned already I have been working on technique and I feel in the last 6 weeks or so I have really made a step forwards in my skills which has in turn boasted my confidence somewhat. I was riding quick and blasting through some of the gnarly sections at a speed that I wouldn't have thought possible after the last time I was there. I really enjoyed the day and would love to get back there more often. We had planned to camp on the Saturday night but the weather was still really bad. After pulling into the car park of the Great Western in Betws-y-Coed to check directions we decided to abandon that idea. Thankfully the hotel had some rooms available so we took what they had and hit the village for dinner and few drinks.
As none of us had ridden The Marin Trail and as it was so close by we thought we would give it a look on the Sunday. The weather was greatly improved form the day before which made for some beautiful views over the course of the ride. The trail is a bit of a mixed bag. There does seem to be a lot of fire road climbing with not loads of pay off but probably just about enough to make it worth the ride. It's that strange twist of physics where you start and end in the same place but you just don't seem to have as much descending as ascending. There were some really nice sections of single track though and one thing I did enjoy was that there were some genuine line choices having to be made. Most man made trails that I have ridden don't really have this, with the clear obvious choice worn smooth by the thousands of tyres that have passed across it before you. On the whole I would ride the Marin again if in the area but it's certainly not a destination type trail for me.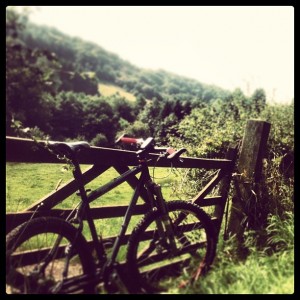 Other than that I have been doing a lot of training rides mostly around the Licky and Clent Hills. I have put together a few more variations of routes that include a great deal more climbing and some more technical descents throw in for a few more smiles. We are not talking anything technical in the big scheme of things but we make do with what we have. I have been training in the gym a fair amount this month as well hitting the intervals and feeling like I'm benefiting from them. I had a body composition consultation yesterday which was mixed but not to bad.
Not done any fettling this month at all. The bikes seemed to have been in full working order and haven't needed any spannering. Having said that though after cleaning up the Five after the trip to Wales, I noticed that both brake callipers could do with realigning and the pads replaced. I have however spent what seems like an inordinate amount of time planning the build for my new race bike. It's a been a process of making a wish list and then scouring the internet high and low for the best prices on every component, which in turn then requires a certain amount of compromise. I'm trying to future prrof what I'm buying as much as possible so that if down the line I want to upgrade to a full suss 29er race bike then I could just replace the frame and swap all the bits over. I'm leaning towards spending money on a decent wheel set and fork, and making do with cheaper additional parts on the rest of the bike.
The Manx End to End is only 9 days away now and I'm pretty excited to be going off to that one. I've been really looking forward to getting back to the Isle of Man as riding there earlier in the year was great fun. I'll be aiming for somewhere in the region of 4 hours, which is not going to be easy but after totally smashing my target time for the Rough Ride last June I feel I need to be a little more ambitious.
August Stats
Distance: 459.6mi
Elevation Gain:  31,485ft
Time: 38hours
2013 Stats (Feb – Aug)
Distance:  2,949mi
Elevation Gain:  186,401ft
Time: 250hours