With weather like we have had is it no wonder riding has been a absolute pleasure over the last 4 weeks. Pretty much every ride ended covered in dust, be it a sticky layer of sun cream or plain old sweat that was the catalyst. I actually got a little bored of my normal routes as I was riding so much. This forced me into taking a spin round a few places that have been out of bounds due to being to boggy for what seems like over a year now, so nice to ride a few (what felt like) new places.
I have been very happy with how my weight loss has been going and my general preparation for racing. I had another body composition assessment that went very well with me nearing where I want to be in terms of body fat levels. I have some new goals to lose a touch more but I'm very close now to my target of 44-45mm having a SUMof7 at 49.4mm. I have written up the timetable for my winter training plan and I'm currently writing up the first few phases of the gym work. I would expect to publish this in the next week or 2. During August I will be going back to intervals in preparation for the End to End at the start of September. I did quite a lot of leg weights during July and I have really noticed the difference when climbing. I feel a lot more comfortable pushing against a higher gear now as I can handle a much better cadence. I'm still considering getting the cadence the sensor for the Garmin as it would be interesting to see some real data on this, rather than just going on my perceived effort.
Did a great bikepacking trip this month and got to use some new gear, that all turned out to be very successful. I also managed to do the most miles I have done over 2 days and still felt pretty good at the end of it. Nice to know that I have some decent miles in my legs now for when I might need it. Er… I dunno… some endurance racing maybe. 🙂
Got a load more fettling done, as I replaced the bearings and freehub on the Five and replaced the bottom bracket on the P7. I have to sing the praises of XT HT2 Bottom Brackets. The one I took out was over 2 years old and as it turns out probably still had some life left in it as the creaking that I thought was coming from it remained after I had put a new one in. Turned out to be the rear quick release in the end… Never mind, it didn't owe me anything and the new one does feel a bit smoother.
I finally found a good use for the On-One Chunky Monkey. I have been running it on the front of the Five as a trail center tyre for railing berms but it's just so heavy and big and I'm not sure it was really any grippiererererer than the smaller Smorgasbord. I thought I would try it on the front of the ridgid and to be fair it's great. Being such a big volume you can run it a bit softer and it smooths out the trail nicely with the ridgid fork. The slightly heavier weight doesn't really notice when you have a front end that's a over 2lbs lighter anyway.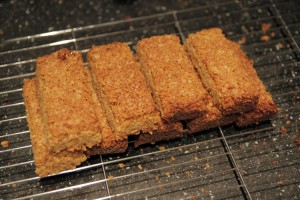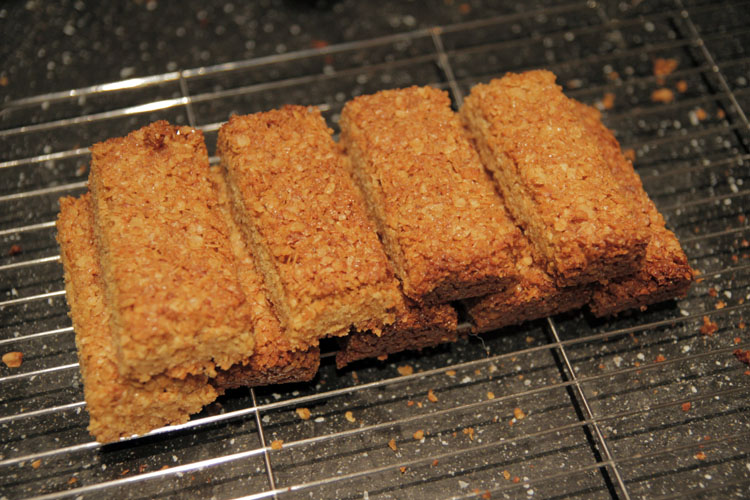 With the help of my wonderful girl friend I cooked up the best flapjacks that I have ever eaten. I will be adding another part to the trail food articles soon but here's a quick sneak peak at how good they looked. They are probably contain a bit more fat, instead of carbs, (there's plenty of butter in them) than I would normally like but what the hell they taste great and are the type of snack that just makes you smile. Always good after too many hours in the saddle when you need a pick me up.
July Stats
Distance: 590.9 mi
Elevation Gain: 35,244 ft
Time: 47:47:33
2013 Stats (Feb – July)
Distance: 2,489.6 mi
Elevation Gain: 154,916 ft
Time: 211:17:13