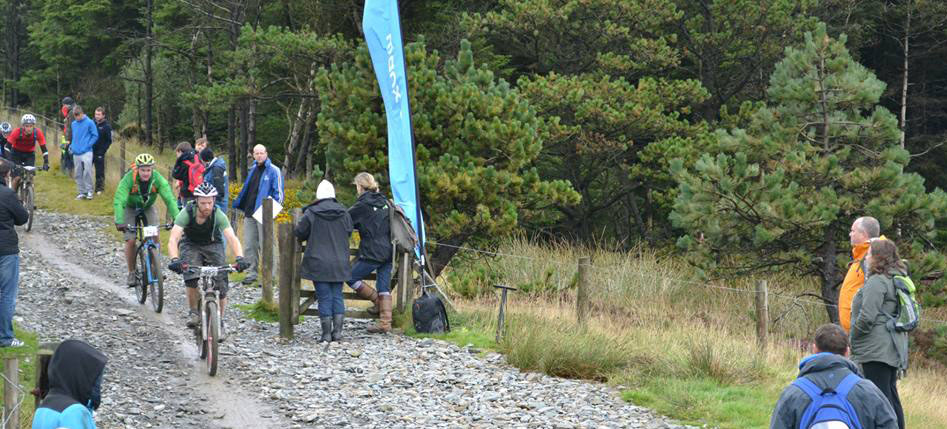 To say that this weekend's trip to the Isle of Man for the End to End didn't exactly go to plan would be an understatement. It started Friday morning with my ride into New St taking place in torrential rain. This meant it was only 8am and I was already soaked with another 6-7 hours of having to be in the same clothes ahead me. I jumped on the train to be told that there had been a points failure outside Wolverhampton meaning we would be delayed but predictably there was "no more information". I had spent ages obsessing over how much contingency to allow myself coming back on Monday morning assuming the worst that the ferry would be delayed but I hadn't really worried to much about getting to the ferry… don't ask me why. I knew I still had about an hour window though so wasn't to worried. We pulled off from Birmingham and seemed to be making good headway.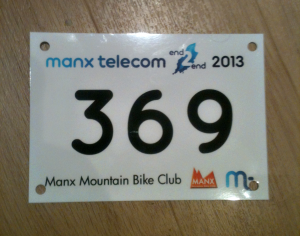 Just outside Wolverhampton however the delays started as we came to a stand still in the middle of no where. Then we were stuck in Wolverhampton and then again just outside Wolverhampton. After finally getting going again I was looking up the live information which put us about 50mins late. Not to bad I thought, as long as I don't hang about at Lime St. I should be fine. A few minutes later we are told that the train will be terminating one station earlier than Lime St and that I would need to change trains! I looked up making the longer ride from Liverpool Parkway to the ferry port but fortunately just as we got off the train another was leaving for Lime St. I quickly rode down to the ferry terminal and made it on board in time. My host for the weekend Chris met me off the ferry and the rest of Friday went smoothly as we registered for the race and had some dinner out in Douglas. A few drinks and the football finished off the evening nicely.
After a late breakfast on Saturday we dropped into a couple of bike shops in Douglas as Chris was looking for some last minute bits and pieces for Sundays ride. We geeked over the shiny things and pottered around a bit before heading back to the flat and going out for a little warm up ride. We took an easy spin out towards one of the plantations just north of Castle Town near Cringle Reservoir. Heading into the tree's and onto a fire road we turned off onto the first trail. I promptly slid off the first root we came to and although I got control of the initial slide, unfortunately this had forced me off the trail and I collided head on with a tree. I bounced off the tree landing my right thigh heavily on a fallen branch.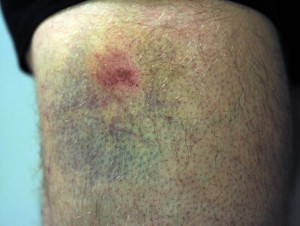 I was in some considerable pain and was struggling to get up. After finally getting off my sodden bed of pine needles I limped around for a bit. It was decided that this was the end of the ride and we would roll home. As I checked over the bike I noticed that every time I pulled the front lever brake fluid was pissing out the connection where the hose joins the assembly. I had broken the front brake… At this point I was truly fearing the worst for the race the next day. We got back to the flat and I sat around most of the evening despondent with a bag of ice on my leg. Chris was thinking a bit more positively though and set to work stripping the brake off his spare bike and swapping the saddles as mine had a bent rail.
Sunday morning I woke up still in a lot of pain. It was slightly easier to walk but I still had a considerable limp. I stretched as much as I could trying to loosen it up which didn't help a great deal. We loaded the car and headed to the north of the island. We were a touch late to get all the way down to the start line so we rode from Bride which gave me 10 mins of spinning to test out how my leg was feeling. It hurt but to be fair it wasn't to bad, not as bad as walking anyway.
The start was pretty much exactly what I expected. With 1700 riders it was always going to be a bun fight for position on the first stretch of road that takes you away from Point of Ayre. I spent the time testing how my leg was responding and jumping from group to group moving up the field. It was actually kind of fun riding in a peloton but you really had to keep your wits about you and make no sudden moves. We turned off the road, onto a farm track and into the first climb. Generally speaking I found the climbs fairly comfortable across the whole route. The one exception to this was the Pipe Line climb which was actually pretty savage. It was steep with slippery bed rock or large loose rocky chutes.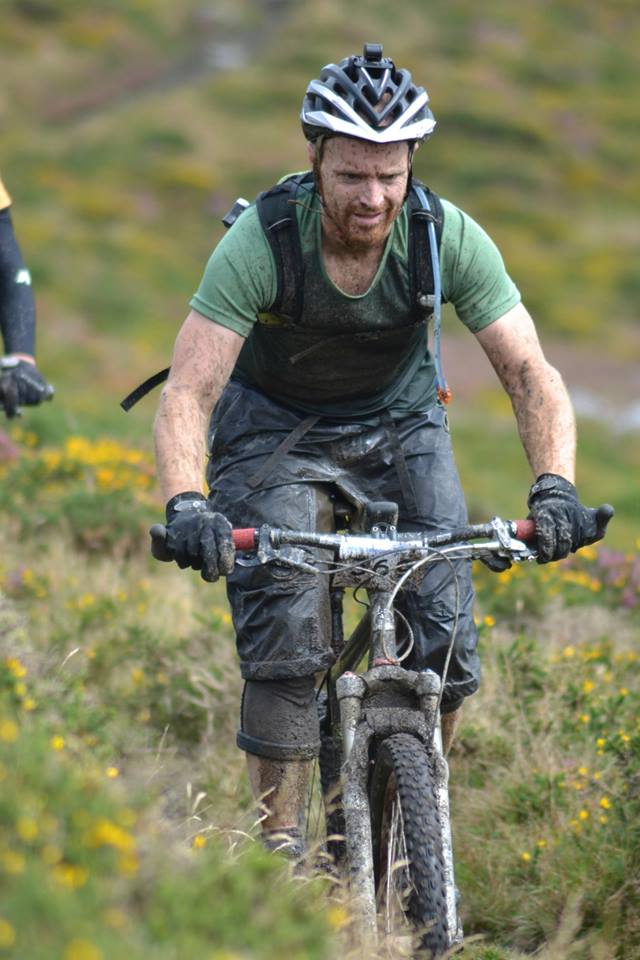 The most frustrating thing about the climbing was actually getting caught up behind other people. If someone in front of you stops to get off to push you very quickly run out room and you are forced to walk as well. This was mostly only the case though during the first 2-3 climbs with the rest of them being open enough that I was able to over take and not get caught up. One thing that surprised me was how the lines were riding. On most climbs there was always a clear line that was obviously the one most people were using and then a very slightly more technical line next to it, normally covered in loose stones and rocks. As I was climbing well that day I spent a lot of time having to move over into the rougher line, but repeatedly found it actually to be far quicker. The main line seemed to feel sticky and hard work, so I started using the rougher line even when I wasn't forced to.
The general conditions were wet, greasy and slippery. It had rained a lot in the proceeding days so this was to be expected. Fortunately though it was wet enough that the mud wasn't too claggy so tyres and de-railers didn't get clogged up. There was only one section that I remember the mud being what I would call a bit boggy, with most of it being just wet muddy puddles.  I felt the route was technical enough to be called proper mountain biking and not like a normal XC course. The deep ruts in places along with the amount of loose rock made it an in interesting ride. Although there wasn't a huge amount of single track the double tracks were certainly not of the normal Midlands variety and were pretty cut up forcing you to concentrate and ride the terrain not just bimble along.
I think my favourite section was the single track through the Arrasey plantation. I'm informed that this was newly built and to be fair it was holding up pretty well considering the conditions and the amount of riders that had passed through. I think I got lucky through this section in that I didn't really have any one in front of me so I could take it all at a speed I was comfortable with and didn't get caught in any groups. I can imagine that there were a fair few bottle necks through this section particularly on the steeper sections, which could have made this pretty frustrating to negotiate.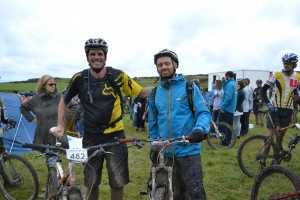 I felt I only got one part of the race wrong, which was the end. As we came out onto the road at Port St. Mary my expectation was that I was pretty much finished. I pushed it out on the road to make up those final few seconds before the finish line but as it turns out the finish was actually just that bit further away than I thought. Not only that but there was also a fairly steep climb left to do. I got the whole finish wrong mentally and this made that last climb slower and tougher than it really should have been. My assumptions had got the better of me. In my defence I would add that at the last feed station the marshal's had been telling every one that there was 6miles to go… the reality was that it was 9.
On the whole I really enjoyed the experience of this event. I'm considering doing it again next year but as I have ambitions to do the Manx 100 in July and the Tour of Ben Nevis which also takes place in September, I will have to see how things go.
Big thanks go to Ruth for the photos, Chris for getting my bike ridable again and to the pair of them for putting me up for the weekend.
Distance: 45 miles
Elevation gain: 5152 feet
Time: 4 hours 35 mins
Overall position: 278th from 1700 starters
Masters 1 category position: 38th