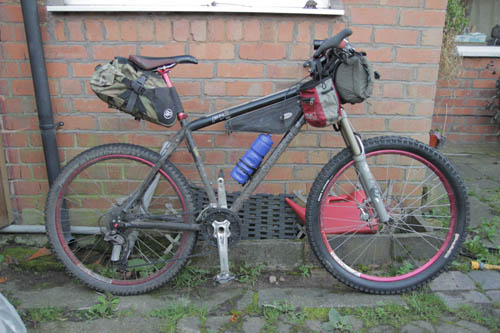 Thought I would write this in 2 parts so that I had the race report separate from all the other crap I wanted to say before the event. If you want to know a bit more about what the BB200 is then check out http://bearbonesbikepacking.co.uk/pages/BB200.html. Although I'm posting this now I actually this one last week. I'll wreite up the real ride report this week some time.
So the preamble. The build up to this event has not been exactly what I had hoped for. Initially I had planned that after the Manx End to End I would have a week off and then get in 5 weeks of long rides; maybe 4-5 100 milers, resting a week to 10 days before it. The first mistake I made was the date for the event. It was actually 2 weeks earlier than I had thought so this instantly reduced training time to 3 weeks which really isn't much. On top of this I then spent 2 weeks with some man flu that I just couldn't shake off. It didn't stop me riding completely but when I was out there I really didn't have much energy and it dramatically reduced the length of time I could keep the pedals turning. In total this meant I actually only got out for 3 short rides and one 75 mile ride. Really not enough. However I'm not going to dwell to much on this, we are where we are and I will just have to see how it goes. I had a pretty decent base before all this so maybe being well rested could be a good thing.
I will be riding my P7 and I imagine for the last time for this type of long distance ride. My new carbon 29er is almost built but I'm about 1 week away from finishing it, so it won't be done in time. Even if I was able to finish it this week I think I would rather go with a tried and tested work horse right now than a bike I would have hardly even had a shake down ride on.
Kit
I had the dilemma that if I did stop for a bivy I have no doubt I could finish but this almost certainly will mean longer than 24 hours. I want a proper pushing my boundaries challenge so that will be to complete in under 24hours. However if I get to the stage where I realise I'm not going to get through without stopping then I wanted to make sure I have enough gear for at least a mildly comfortable sleep in the wild. I'm not sure you can really do both so have decided to approach it as I'm definitely not stopping so I have the right frame of mind from the start. Making it more uncomfortable to stop than to keep going is probably a great way to ensure you keep going. Below is the plan, I will mention anything that ended up being different on the day in the race report.
On the bars a Wild Cat Bar Harness – with 8 litre Alpkit XTra dry bag containing:
Vango Venom 300 sleeping bag
Alpkit Hunka XL bivy bag
Mountain Equipment chalk bag as a feed bag on the stem/bars. Food stuffed in here as applicable so it will be easy to grab as I ride.
On the bars I also will have the Garmin Edge 800 and lighting. I'm taking 2 Magic Shines (probably as the helmet lights) and have borrowed an Exposure Joystick and an Exposure Race light. Lighting may be one place that I'm going slightly overboard but I haven't really tested my own lights on a continuous run to failure so I'm not really sure how much time I'll get out of them. At the last moment (when trying to fit lights) I realised just how little bar space I have on the Salsa Bend2 bars when the harness is on so I ordered a Tate Labs The Bar Fly Universal Mount that will give an extra 50mm of bar space.
I have just received a new No Logo Bikepacking top tube bag which will get it's first run out that will contain:
Power pack for the Garmin x2 (just in case)
Camera
Phone
Few bits of food
Deuter small frame bag containing tools and spares:
2 tubes
Spare brake pads
Quick links
Chain breaker
Hex keys set.
Puncture repair kit.
Gaffer Tape
Cable Ties
1 x 650ml water bottle on the frame. I prefer to carry plain water for these types of rides but I do like to have a bottle available to mix an energy/recovery drink. Also it's often easier to dip a bottle into a stream than a hydration pack bladder.
BikePack Repack saddle bag – Will contain any clothing I didn't have on at the start and any food that didn't fit else where.
Clothing
Seal Skin Socks x2
Knee warmers
Endura Water Proof Shorts
DHB core short sleeve jersey x2
Seal Skin waterproof cycle gloves
Arm warmers
Dare2B Scampered Windshell
1227 Saltoluokta Outdoor Rain Jacket
Buff x 2
Food
Bag of cashews
Tray of home cooked flapjack roughly 12 pieces
Haribo
4 bananas
2 For Goodness Shakes
2-3 slices of pizza from previous nights takeaway
2 x Battenberg cake