I have done a fair amount of riding this month but it's all been in the shape of a big, hilly weekend ride once a week. I've not really done any mid week riding at all. While being a bit disappointing, considering the poor weather we have had is hardly a surprise. I have also been doing 2 interval sessions a week which have left me quite tired and not pining to go ride more. I did do one midweek ride this month that was very cold and wet and basically not enjoyable at all. I had seriously cold feet for much of the ride and by the time I got home my hands hadn't started playing up as a well. I don't remember ever having pins and needle-esk feelings in my hands from the cold before. It took along time for 2 of my toes to come back to life and I have been looking at ways to try to stay warm as I think I'm past the point of just manning up. If the numbness continues, at this rate I'm going to do myself some permanent damage. Best ride of the month was certainly the BearBones There 'N' Back event that I wrote up a few weeks ago. Great to meet up with Andy and Gabe again and we got lucky with the weather.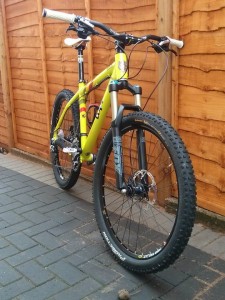 I haven't done a huge amount of fettling on my bikes this month but I have almost finished building the SP Dynamo hub wheel. This will be used to power the Use Exposure Revo light that also arrived this month. I'll post some more about that once I have been using it.
The main fettling this month was over a number of evenings building a bike with my mate. Along with most of STW by the looks of things, Martin picked up a very cheap Ragley Marley frame in a CRC sale recently. I did wince at the colour when he told me he got the acid green version (not the black one) but in reality the colour looks really good. It's a lot more green than the picture here suggests. The white details also work very well.
He has a very nice looking Canyon Spectral on order but as he doesn't want to get that dirty 🙂 he had been looking for a winter hard tail. He got his old fork serviced, had the Hope hoops off his old Kona and along with a few other bargains and the odd bit of second hand gear has managed to get together a really nice bike for a reasonable outlay. The one thing he wasn't so sure with was building it. It was pretty fun having him drop round a few evenings while we bolted it all together. Proper boys in the garage type stuff… although the garage was the kitchen so fair play to my girlfriend for not being to pissed about that.
I'm going to be presenting the monthly stats this year, using this pretty cool "wheel" visualisation from Veloviewer. Veloviewer is a website that takes your Strava data and does some cool stuff with it. I strongly suggest you check it out if you use Strava. The month is spread around the circle with the length of ride and the elevation histogram all built into the info graphic. I love it and so should you. Interactive version.