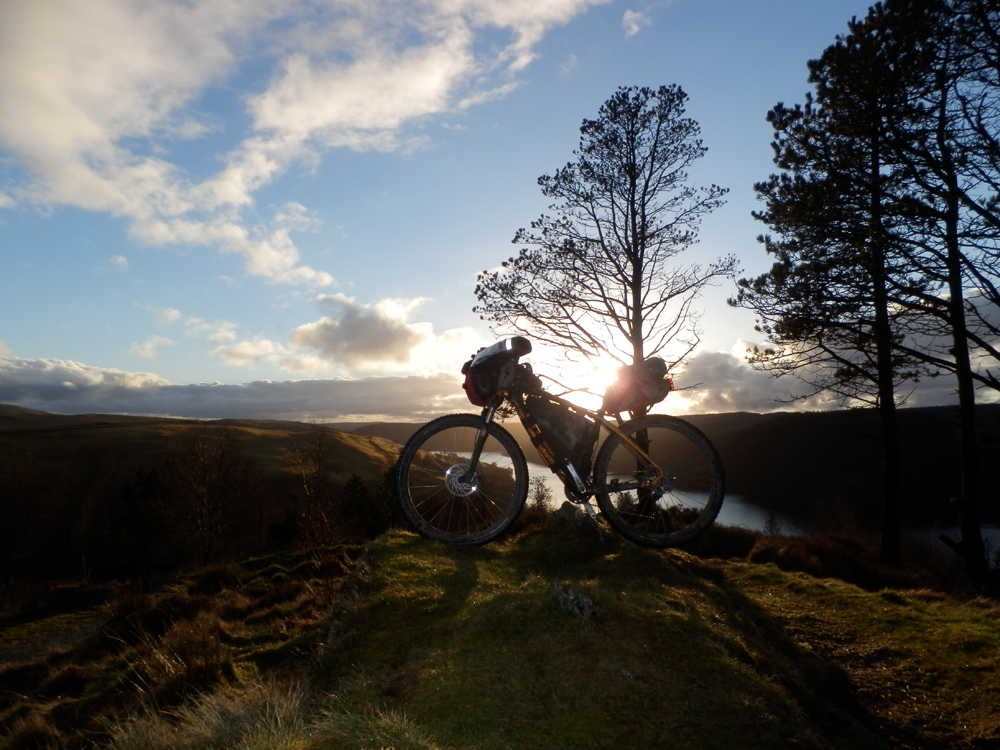 To say this trip didn't go to plan is putting it fairly mildly. However this is not this is not necessarily as negative as it sounds. The amount of tree's down did mean I had some substantially challenging hike-a-bike to do and a fair amount of rerouteing but these are the sorts of challenges that actually add to trips. Sure you would rather be just riding along but coming up against problems and over coming them helps with the sense of achievement that come with off road bikepacking. Unfortunately though it was events that were totally beyond my control, that I meant that I had to cut short my 3 night trip to one just 1 night, that really made it a disappointing experience.
The plan had been as below:
Route: http://www.bikehike.co.uk/mapview.php?l … rinder.gpx
Day 1 – Pennant to Crychan Forest. 100miles. Either resupply in LLanwrtyd Wells on the way through or resupply in Llandovery the next morning.
Day 2 – Crychan Forest to Nant Syddion. 75miles (possible + 8-10miles if I go to Llandovery for food.)
Day 3 – Nant Syddion to Penrhos Isaf. 60miles. Resupply in Mach on the way through, meet in Taylor in Pennal and head to the Bothy.
Day 4 – Penrhos Isaf back to Pennant. No idea what route Stu was planning, I would just follow him back to the car.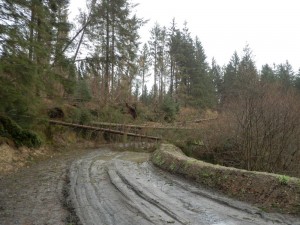 It all started off quite nicely. I was up at a good time and off from the bunk house by 8am. The weather was very mild and the sun was even trying to peak through the clouds. I was stripping layers pretty quickly and secretly hoped to myself that this weather would continue for the whole week. After reaching Hafren Forest I turned off the tarmac and onto the first gravel road of the day. Within 100 meters I was off the bike and climbing under and over fallen trees. At this stage it wasn't too bad and really just a minor inconvenience. I desperately hoped this wouldn't be a feature of the day but as there was basically nothing I could do about it, I choose not to worry. Further into the forest I could hear a harvester up ahead. As a rounded the corner my heart sunk as I was faced with a completely blocked road. The guy doing the clearing said it was fairly thickly blocked but suggested that there were less trees down in the thicker part of the forest. Being so early in the ride I thought I would risk it and walk round rather than back track. In all honesty I think this was a mistake.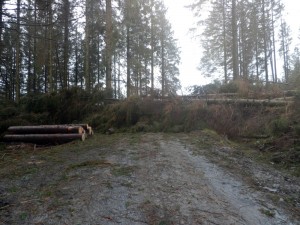 The forest at this part was extremely thick and it was a really big effort just to fight through the dense foliage, let alone having to lift a packed bike over the seemingly never ended series of fallen trees. There were several points I found myself completely surrounded and beyond the point of no return so just had to stumble on. Eventually I made it round the blockage, emerging a mere 50 yards or so down the road. That 50 yards had taken about 45mins and now I was way behind and already feeling exhausted. Fortunately it was never quite this bad again but the over and under assault course was pretty much a characterising feature of the day.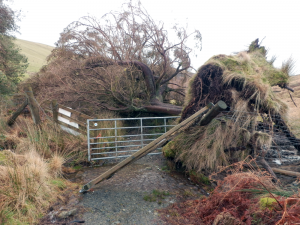 As I came out the other side of Hafren and turned off the gravel road onto one of the few pieces of single track I was again stopped by a fallen tree (pictured left) that had pulled up the fence and gate posts. This one stumped me (see what I did there… sorry) for a bit as the gate in front had been tied closed and it made me wonder if this was actually more dangerous than it looked. Glancing at my maps there appeared to only be one alternative route to take via a bridle way that climbed up along the top of the valley that I had been hoping to pass through. I quickly decided that some steep hike-a-bike up a slippery muddy field was not on the menu right now and went for it shoving the bike under the tree and scrabbling over the top. I'm glad I did as the section of single track beyond was certainly a more fun ride than the alternative would have been.
As I was so far behind schedule as I decided to take a short cut following the road that runs just south of Eesgair Ychion instead of the winding fire road though the forest. The weather had turned a little by this point and it was fairly bleak up at the wind farm where I rejoined my route. It felt like I was really into the riding now and not having to really think so much about what I was doing meant I got to spend a few hours in my head. It's funny sometimes how it's not until you are away from it all that you realise you needed to get away from it all. I wouldn't have said I put the world to rights but at least I was able to get some perspective on things and clear some thoughts that I had been drowning in for a while. I had been feeling quite tense and although I hadn't quite relaxed properly yet I was starting to feel a bit better about the world.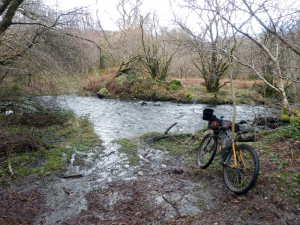 Again I forced off route by fallen trees which meant a diversion through Pont-rhyd-y-groes. As it turns out this was actually a stroke of luck. Several hours before I had realised I didn't have a lighter with me. Fortunately the Minors stores was open in the village and I was able to nip in and pick up a couple. It was great to re-leave the pressure of having to get to Llanwrtyd Wells and was one more step towards me chilling and enjoying the ride. The bridle way towards Ffair-Rhos is fairly rough here and was slow going due to quite a few water logged parts. There were some nice fast open sections though that made for good views, especially with the sun starting to make an appearance again.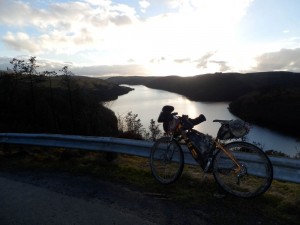 Before to long I was making headway and arrived at Strata Florida Abbey. I stopped to filter some water and get my camel bag loaded again, ready for the big climb up the fire road. I had only ever done this as a descent before and I was surprised at just how much of a grind it is. I had deliberately planned to avoid the cycleway as it was a sure bet it would be underwater. True to form as I looked off the side of the fire road down onto the old road there was some fairly substantial areas of flooding that I was very happy to avoid. After winding around through the forest for a while I decided to take a short cut just before Bryn Mawr. What I had planned to do was join up with the route again just north of Llyn Brianne to cut through Tywi Forest towards the Devil's Stair Case. Unfortunately I was enjoying the view of the sun setting over Llyn Brianne reservoir a little to much and ended up missing my turn off. I was quite some way past it by the time I realised. This left me with the dilemma of either back tracking, joining the route just south of Lyn Brianne and and going "the wrong way" back towards Llanwrtyd Wells or just carrying on to the reservoir. As I had missed out and detoured around so much of the planned route already I thought I may as well just carry on and not worry about it.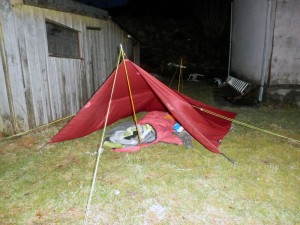 Eventually I found myself crossing the dam and winding round the gravel road heading northwards. The sun was disappearing fast now and I began to think about pitching up for the night. I toyed with the idea of trying to get to Soar Y Mynth Chapel as I knew there was a flat area of grass next to it or to even push on and try to get to Tyn Cornell hostel. I'm glad I didn't get to the chapel in the end as it's only now that I'm looking at some pictures of it that I realise the patch of grass I had in mind is actually a grave yard! As I pondered the best place to stop up I glanced over the edge towards the water and noticed a flat area of grass by the cottage below. After getting the tarp up I tucked into dinner; mash with chopped bacon and few bits of flapjack. My new home made wind shield and heat retainer actually worked very well, with there being a noticeable difference in how quickly the water boiled. I'll make a quick post about that later in the week. I climbed into my bag with a hot chocolate, reading volume 2 of the Cordillera and eventually drifted off.
I awoke about 6:30am after a fitful nights sleep. I was feeling tired but think I must have got at least 4 hours so it wasn't to bad. I had decided that I had had enough of my inflating mat as it was looking like an old inner tube and I couldn't really trust it any more. I borrowed a self inflating mat and this was my first experience of using one. At first I thought it might be a bit thin to be comfortable but after actually laying on the thing realised that it was fine. I think I'm going to replace mine with something similar. It was a chilly morning but manageable and there was fine rain in the air. I decided I was a little exposed and in the open so thought I would get packed up as quick as possible and worry about breakfast later. The rain stopped soon afterwards and I sat by the edge of the reservoir  eating my porridge and drinking a coffee. Again I needed to filter more water using my Sawyer mini filter. Although I have used it before, this was the first time I have had to repeatedly filter larger amounts of water. When using something now and again it can seem fine but it's only when you repeatedly use equipment that you often start to get a feel for the short comings. Fortunately I haven't had any such experience here and even when trying to get 2 litres+ through it using a pint sized pouch it wasn't frustrating to use. I would concede that a larger pouch would make the process a little quicker and I doubt you would really notice carrying a slightly larger one but on the whole it performed very well.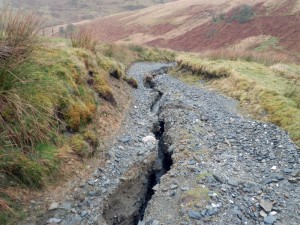 I got under way and it wasn't long before the I could see Soar Y Mynth Chapel in the distance. As I neared I was reminded of a the few times that I have ridden this area before. It was actually quite a comfort to recognise somewhere so remote and far from home. I was feeling more relaxed by now and settling into the trip. All my tension from the previous day had melted away and I was feeling  a little more free to just enjoy myself. The climb on the track that runs from the chapel towards the YHA was tough going as always, but the second section of the ascent after it flattens a little was so blown out it made it even tougher. I have never ridden this track and there not be standing water in at least a few places but this was the worst I have seen it. The whole stretch seemed to be a endless routine of jumping on and off to struggle the bike along the edge of the track avoiding the deep water. It's very tussocky and full of ankle breakers so it's worth taking some time and care here. This was nothing though compared to the water damage on the descent on the second half of the track. The picture above shows a fairly mild part of it, only being about 3 feet deep and maybe 18inches wide. Further down past the Doithie Valley turn off this small gully become 6-7 feet deep in places and several feet wide. There was one point in a particular where the ditch crossed the track and I had to jump down into a shallower part to lift the bike across. The bottom of the track is unrecognisable, now resembling a scree slope where all of the material has been deposited.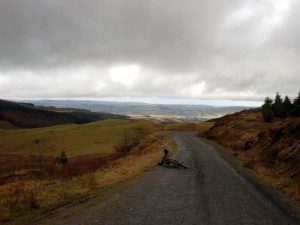 The ride through Cwm Berwyn plantation came and went with no drama and soon I was onto the large exposed climb at Cefn y Cnwc. The fine rain was back and it was a little windy but the effort put into the climb meant I was warm enough. As I reached the top I noticed there was a mobile mast perched near the summit. My girlfriend had requested at least one txt a day and as I hadn't had any signal at all the day before I thought I had better check now. I switched airplane mode off and was suddenly inundated with messages. I had 3 conservations going on; one with my girlfriend who was in New York, a mate who was meant to be feeding my cat and another mate trying to arrange what time I was meeting him at a bothy later in the week. Unfortunately it turned out that my mate who was feeding my cat couldn't get in to my house. The key wasn't working which left me a little stuck. I either needed to get in a lock smith and get stung for the call out and new lock or return home and sort out the situation myself. I choose the latter as it was the cheapest option. I made sure that I was going to be able to get my car keys from Stu (as he wasn't expecting me for a few days) and being the gent he is he offered to pick me up…  or more accurately Dee volunteered him to pick me up. 😀 We arranged to meet back at Strata Florida Abbey. It was all down hill from where I was so I took the opportunity to get a few more photos and a bit more GoPro footage before heading down to the abbey.
In terms of a reccy for the 2tonOgravel route the trip did it's job. I was able to ride enough to get a feel for what to expect and make a decision on bike set up. My general thoughts are that if you are going to do the 100mile option then a CX (or similar) bike would be great. It would just be the gearing that you would need to be wary of as there is a huge amount of relentless climbing. The gravel roads here were generally speaking in pretty good condition with the road to Ty Cornell being the only questionable section. Some were a little soft but I think these would improve pretty quickly over the summer. For the 200mile option I would keep to using a mountain bike. There were plenty of pretty rough tracks with large loose rocks and stones that personally I would struggle on with small tyres. I reckon you can certainly get away with a rigid set up but if you don't ride rigid a lot then I would suggest getting a bunch of rides in before hand. I had my fork locked out for much of this ride to see what it was like and I was starting to get some numbness in one hand. I suspect though that with a proper rigid fork and a few rides under my belt to get used to it again it would be fine.