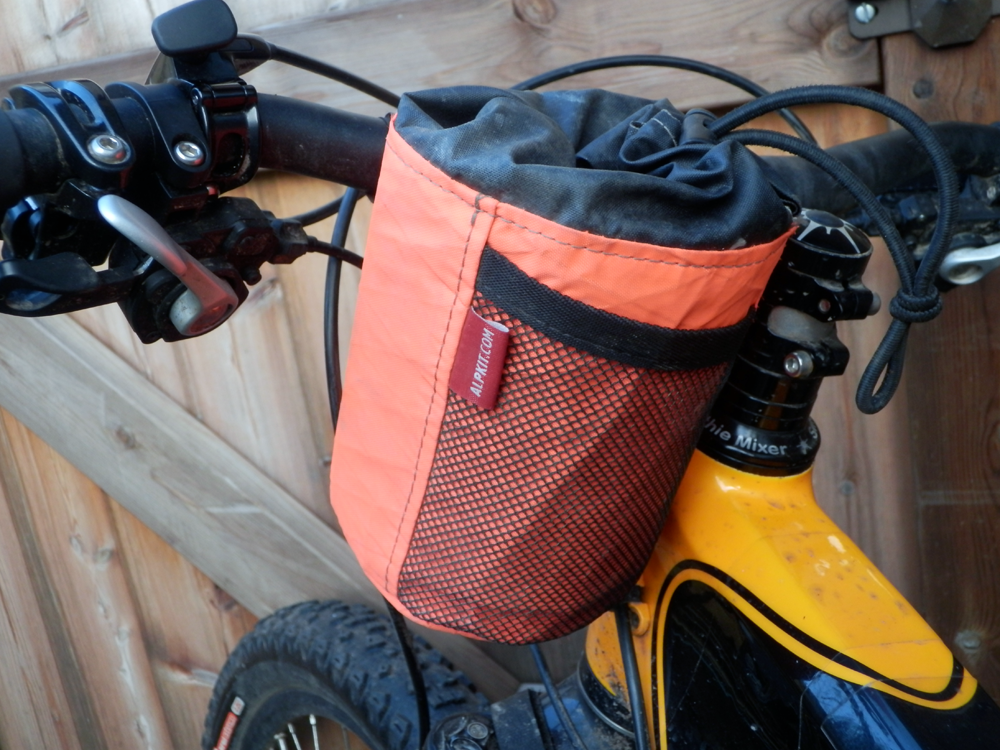 A couple of years ago when I was first interested in feed bags there was very little on the market to choose from. They all seemed to be produced by US based companies and even without adding on shipping and tax were all be-musingly expensive. So instead of being annoyed about what I would be paying I went looking for alternatives and ended up down the climbers chalk bag route. I was lucky that I managed to get hold of a cheap £10 bag that happened to have the right kind of straps on, so I could easily attach it to my stem and handle bar. I won't pretend like this was absolutely ideal but it was about 95% there and great for the money. In fact the job it did was good enough that using it on longer rides became totally standard for me. Being able to dip in as I rode and choose between half a sandwich or a bit of flapjack really ticked my boxes. No longer did I have to have either stuff my pockets or to stop just to get a quick snack from my bag. A quick stop every hour might not sound like a hardship and to be fair it isn't. It does however go against my mind set that once I'm riding I just want to keep going.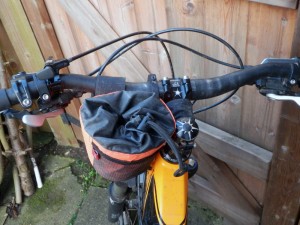 Along came Alpkit and their new bikepacking luggage. The prototypes were sold via their normal shop but unfortunately I missed them. Annoyed due to the very reasonable price of £15 that they were going for, I started a long vigil waiting for them to arrive in earnest. After what seemed like an age they finally arrived and I got my order in for the Stem Cell. I almost missed out again, as incredibly even though I got on the site the day they went on sale and they had already sold out of the black and the grey ones, meaning I ended up with an orange one… clearly not my preferred choice.
First impressions were not that good. The bag just felt a bit cheap and the strap fixings not particularly robust. The orange colour is a bit naff and reminded me of 80's ski jackets and global hyper-colour t-shirts. The size of the bag though is fine being slightly taller but slightly more narrow than the chalk bag I was used to using. In all honesty I would have preferred it a little wider so that you could more easily get a gloved hand all the way in but it's no biggy. As I understand it you can get custom ones made to fit your specifications (for example different size and mounting points as the ones in these pictures here, here and here) but I'm not sure how this effects the price. The way that the draw string enclosure works is sensible in that depending upon how full the bag is it can either extend the length of the bag a couple of inches or be pushed down into the main body. This makes it suitable for use with a bottle but doesn't mean you have a huge lump on the bar if something that size is not required.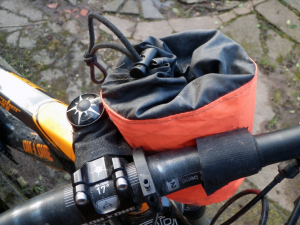 There are 2 simple Velro straps that attached around the stem and the handle bar. These mount the bag fairly solidly whether you have a bag of flapjack or a bottle of chocolate milkshake in there. The Velcro straps are quite wide which means they don't twist to much but also means that as it stands I couldn't use 2 of these bags at once. I use a 70mm stem on my long distance/bikepacking bike and I would either have to remove the stem strap completely on one bag, or trim the straps down their length to make them narrow enough to fit 2 next to each other. Looking at the pictures here you would be forgiven for thinking that the bag would interfere with steering. It looks like it would be squashed between the bar and frame but this really doesn't happen even when full and negotiating the tightest of switch backs.
There is a mesh pocket on the side but I'm not so sure this is really that useful as it's to tight to the main body of the bag. I guess if you are a consumer of the devils own phlegm sacks then it could be good to stuff gel wrappers in but even then you wouldn't get many in.
So some stats:
Made from durable and highly water resistant VX21
Weight: 75g
Internal circumference: 30 cm
External circumference: 33 cm
Internal height: 18 cm
External height: 19 cm
Closure: Elasticated draw cord
Mesh outer pocket
On the whole I would say that after a while using the Stem Cell it has grown on me. My first impressions weren't great but I'm happy enough with it now, enough that I'm using it instead of my chalk bag. I think the main difference is that it's just a bit easier to get on and off. I'm not going to scream and shout about this bag but if you are looking for something of this type and don't want to spend the earth then I would say take a look as it will more than likely do the job.