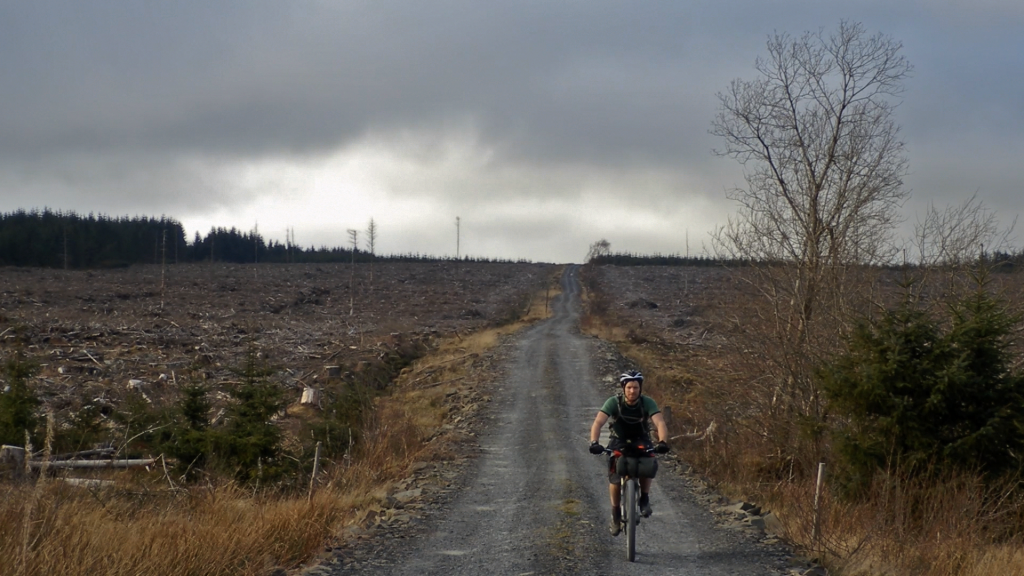 The plan had been to go to The Peak District on the 22nd/23rd but a mate pulled out of that trip and left me to my own devices. A look at the weather suggested that the 14th/15th was going to be very nice so I quickly made a plan to go to mid Wales instead. I thought it might be nice to do the northern section of the route I had to cut short in February so I put something together that was part 2tonOgravel, part TCW, a little bit of the BB200 (2013) and a couple of linking sections thrown in for good measure. As this route was passing Nant Syddion at almost exactly half way I thought it a great opportunity to get in my first stay at a bothy. Bothies have interested me in the past but due to one thing or another I had never got to one. I think it was actually a good job this was such a last minute decision to go otherwise I'm sure this plan wouldn't have come off either.
I parked up at Carno and headed up and over the wind farm. It's plain to see why they built a wind farm up there and progress was slow. I hadn't really warmed up either so my legs felt awful but the sun was shining and as long as I kept moving it didn't get too cold. I stopped for a quick lunch and messed around with my camera for a bit. Far to long to be honest and after noticing the time I got a wiggle on. Heading south out of the wind farm I made for Llyn Clywedog.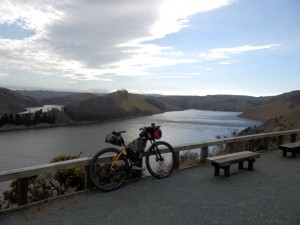 The white fluffy clouds and golden sun made a for a beautifully soul enriching view over the reservoir. This was the reason I had decide to come to Wales this weekend, as I knew exactly what I would be getting. I'm sure The Peak District has it's own charms but I knew what I needed and knew Wales would deliver.
There was a middle aged guy admiring the view with me, he pointed and asked if I could see the Rainbow? I said "No",  as there wasn't one to see. He looked at me like I had pissed on his chips, turned and walked back to his car.
I had planned to follow a bridle way just after the look out point but after pottering around in a boggy pit of doom for a while I realised I was more likely to find fossilised early man than the track that my map was  displaying. I retraced my steps and followed the road towards the bottom end of the reservoir where I had that classic moment of seeing where I should have been emerging on the bridle way. Of course this end of it was a very well defined track that you couldn't possible miss. Why is it always the other end that's the easy bit?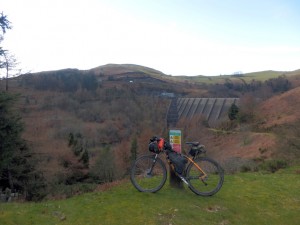 I followed Glyndwr's Way around the grassy switch back descent that leads to the bottom of the dam and past the old Lead mines. I crossed the valley floor and climbed up to Pen y Foel. I got a little bit lost here as the track on the ground disappeared and I got a bit disorientated crossing another boggy tussock fest of a field. When I reached the farm on the other side I got a little confused as the yard seemed well fenced in as a sheep pen and there didn't appear to be any way through. I thought I saw a track that could have been the one I was looking for but following it only lead me in the opposite direction from where I was heading. From my now elevated position I could see the track and road I was looking for below me in the valley. They say the quickest way between 2 points is a straight line… with a shout of "TO DEATH OR GLORY!" and a raised fist I disappeared over the edge of steep drop and hurtled towards my goal across the fields. I made very quick progress for about 200 yards until I reached a barb wire fence. Owain Glyndwr wouldn't have let this get in his way so neither did I. After vaulting a few fences and a couple of steep scrambles I was eventually at the road. It just goes to show there is nothing that a bit of bloody single mindedness can't fix.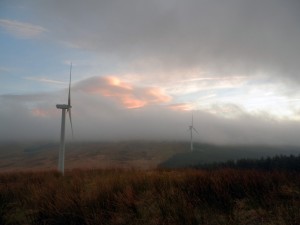 At this stage I was reorientated again on the main road below Esgair Ychion. Last time I was here I had to make the decision to skirt round the forest to make up some time but on this trip I was determined to stick to the route. The head wind from earlier was starting to take its toll and the climb up out of the valley was a bit of a grind. As I reached Nant Rhys bothy the sun was to starting to dip and the sky bruise. I had a quick look inside and toyed with the idea of staying there instead. However I cast this to back of my mind as I had a goal and wanted to stick to it.
It's strange how after a lot of hours in the saddle and when you are beginning to tire how odd things can lift your spirits. I knew that the only significant land mark between me and the bothy was the wind farm and as I neared the top of the climb the heads of the windmills started to peak over the trees silhouetted against the burning clouds of the sunset. This gave me a huge lift and the energy to push on quicker to reach my goal before it got completely dark.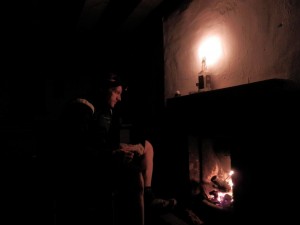 I arrived at Nant Syddion and wasted no time in getting the fire going. Some kind soul had left news paper and kindling so I only needed to cut up some larger logs to get myself set for the evening. It's been quite a few years since I have used a hatchet and bow saw and I relished the experience of sawing and splitting. There is a certain catharsis with physical labour when it's not every day; I think this is why I enjoy riding up hill as much as down. The fire was raging in no time and I got to work on dinner. Another classic zip lock bag meal of Smash and cooked bacon filled me up with just enough room left for an Adventure Foods "Mousse Au Chocolat". I had picked this up on sale a while ago and after adding the water and peering into the bag I could see why they were on sale. To be fair it tasted a lot better than it looked, which is the best you can really hope for from ration food, although I don't see myself rushing back for another one. I sat by the fire staring into the flames contemplating the simple life and reading Volume 4 of The Cordillera whilst sipping a hot chocolate. Eventually I dragged myself into my bag, switched off my head lamp and drifted off for what turned out to be a reasonably good sleep.
I awoke feeling surprisingly refreshed and quite spry. Initially it was a a very clear morning with the view from the bothy door down the valley being one of the best I have woken up to. Within an hour however the cloud had rolled in and although not over cast it wasn't the bright sunny morning it had been. I filtered some water and tucked into my zip lock porridge. This is a particular favorite of mine however I thought I would spice it up a bit with some yoghurt cover raspberry pieces. The yoghurt melted sweetening the general mix and the fruity bits every now and again were a welcome extra. I made some coffee and happily consumed my breakfast staring into the now ethereal view of the cloud rolling around the tree's in the valley.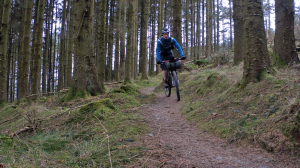 After putting a few logs in the wood shed to dry out, I packed up the bike and got on my way. I climbed out the valley and headed west. As I cruised along the A-Road I pondered my next move. Llywernog wind farm had been on my route but with the cloud the way it was I thought that the views would be some what muted. I had always planned to ride through Nant Y Arian trail centre but with the time saved from not grinding up to Devils Bridge I decided I would take in a lap of The Summit Trail. I was aware that another regular bikepacker, Taylor, was going to be in the area so gave him a call to see if our paths would cross. Unfortunately he wasn't going to be there for a little while and I didn't really have time to spare so I rode on. I really enjoyed a blast around the trail centre and it's certainly one I would like to head back to at some point. It's a good mix of classic Welsh man made single track and less trail centre like old rough double track, but of course with the obligatory big fire road climb. As I finished my lap I stopped off at the cafe to grab something for the journey. As I parked my bike who should walk out the cafe but Taylor! The first part of the trail was the right direction for where I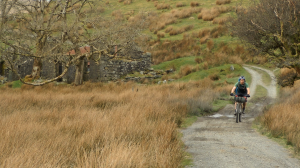 was heading so I munched down my snacks and we headed off up the valley. After a short while riding and a long while talking bollocks we said our good byes and went our separate ways.
I was getting a little pushed for time at this stage. I took the rough 4×4 track just north of Bwlchystyllen, cutting out the 10miles or so that would have taken me through Fynach Fawr. This is a deeply rutted steep push but surprisingly the train of land rovers trying to negotiate it took about the same time to get to the top as I did walking. I skirted round Nant y moch reservoir and headed up the double track north. The ride through the valley here is excellent. There is a real wilderness feeling and sense of isolation with incredible vistas in all directions. The sun even began to make an appearance at this stage which further added to the smiles for the day.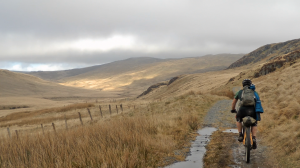 I did very little hike-a-bike on the Sunday which makes for a change, with the only un-ridable section coming just south of Foel Fadian, where the bridle way disappears under what looks like a land slip. It was only later I realised that I had done this in the opposite direction on the BB200. It was one of those crazy steep scramble like sections that was significantly easier traveling in this direction and in the day light. Eventually I joined Glyndwr's Way again for the last fun descent of the trip and retraced my steps through Esgair Hir and across Carno wind farm back to the car. No bikepacking trip in Wales is complete without a stop at a Spar so I grabbed a sandwich and some chocolate milk.
I can say without doubt that this was my best bikepacking trip yet. Everything came together just right. The weather, the stay at the bothy, a great route with minimum fuss all added up in a very pleasing manner. I think sometimes planning things to far in advance and in to much detail can build to much expectation, so making a short notice decision maybe added something to this trip. There is a lesson to be learnt in there.