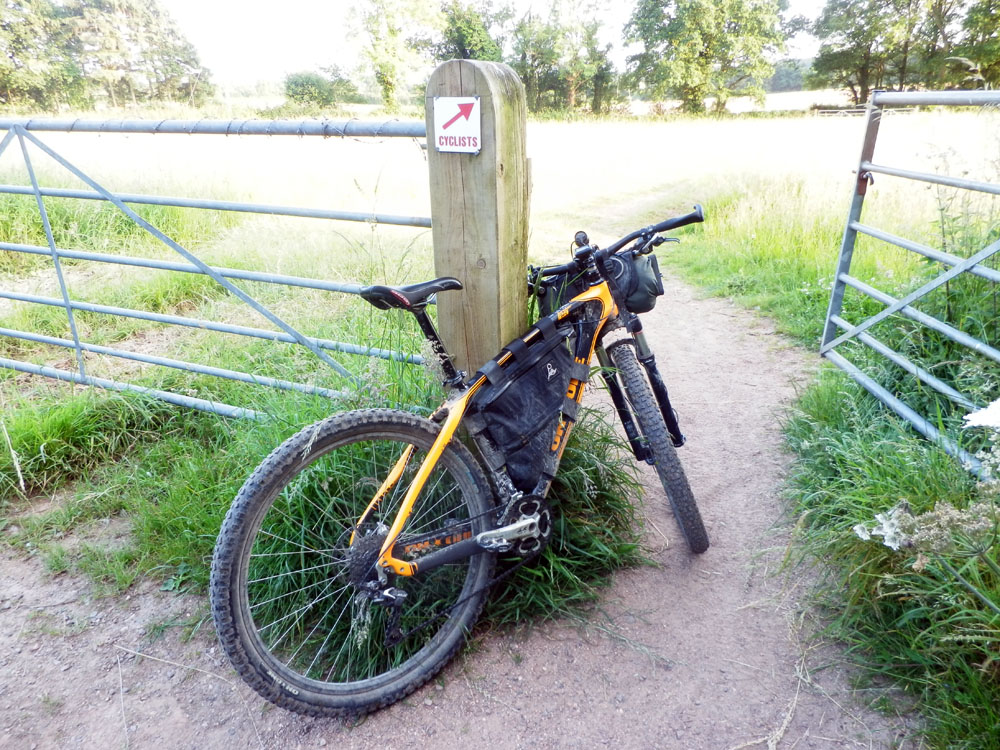 Having been off the bike for a while due to a knee injury, I was in danger of missing out on the bivi a month goal that I had set myself for this year. All of my bivi trips almost always involve some big days in the saddle and getting out to some remote parts of Wales. Even though I had had a very positive return to cycling over the previous week, I had been concerned that my knee might not really be up to one of my normal excursions. I decided to do an after work bivi as this would force me not to go too far as I would have to be back at work the next morning. About a year ago I remembered doing an evening ride out towards Henley-in-Arden. It's a not a direction I ride in much as in all honesty the smiles per mile factor of the available trails and geography is not really high enough to warrant the effort.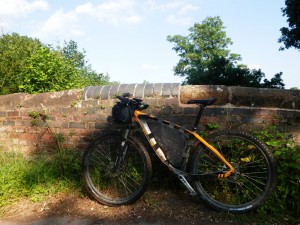 However it's not totally devoid of good off road trails and it does have some very nice country side… country side that I thought might make a nice location to wake up in one morning.
I eagerly left work about 5pm and headed into the county of Stratford-upon-Avon, leaving the city and the suburbs of South Birmingham behind. It was an interesting snap shot of life moving from the hustle and bustle of the city, to the light traffic of the commuter villages and through onto the beautiful quiet of Midland's country lanes. The sun was shining and more than once the heat from my arms told me I maybe should have put some sun cream on. Unlike most of my rides I didn't really plan this route in any detail; I knew where I wanted to get to and I knew I had all evening to get there. It was a refreshing change to be able to just follow my instinct and take any left or right I felt like, disappearing off down any farm track that took my fancy.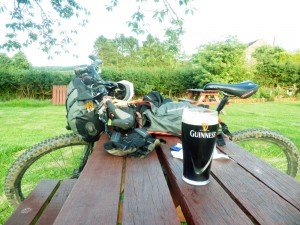 After a few hours riding I was nearing my destination. In another departure from my normal routine I didn't plan on cooking my dinner out in the wild. I had noticed that there were several pubs within 5mins of where I was hoping to stop for the night and the first one I took a look at didn't disappoint. The Navigation Inn is situated right on the Stratford-upon-Avon canal just out side Wootton Wawen. I picked out a table in the beer garden over looking the narrow boats making their way quietly to and fro and ordered a burger and chips. Of course there was the addition of some essential refreshments… namely a pint of Guinness… or 2… which was the perfect elixir after a day at work. The burger came and went pretty quickly and I sat for a while contemplating nothing in particular and watching a flock of young ducks marauding around the beer garden looking for scraps. Eventually I was the last person left sitting outside and as the sun started to dip behind the tree's I took my cue to head off.
I made my way along the bridleway towards where I was planning to camp. As I ventured through the tree's I noticed a small coppice in the corner of a cow field off to my right.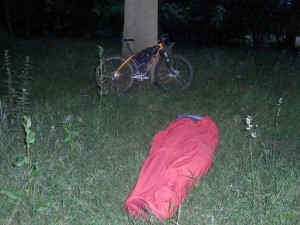 The foliage looked undisturbed and it was obvious that the cows didn't venture in. The grass was long and soft making the perfect location for a secluded pitch. As it was very sheltered and there was no forecast of rain I didn't bother putting the tarp up and went with just a bivi bag, sleeping bag and mat. I read my book for a while but eventually I switched of my head lamp and just absorbed the sounds of the country side. The breeze in the trees, the occasional grunting from the cows close by and the rustling of small animals in the woods was perfectly relaxing. The one surprise for me was just how light it seemed to be. Normally under a tarp in the middle of no where once the sun has gone it gets really dark, the sort of dark you just don't get in cities. However it was well past midnight and I could plainly still see the silhouettes of trees against the moon lit sky.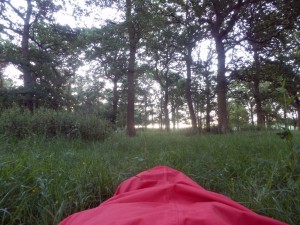 Around 4:30am I was woken by the rising sun. Slipping in and out of a light doze I watched the sun rise between the trees. It was a crisp bright morning with just a few clouds in the sky. Being surrounded by the green, lush tall grass was exactly the idyllic scene that I had hoped to wake up to. At about 5:30am I got up and got my gear packed away. The previous evening I had ridden over a canal bridge close by that had struck me as a nice a spot to have some breakfast. I made my way towards it enjoying an early morning blast through the woods. Unfortunately by the time I got there the clouds had come over and the day was looking a little overcast. There was a cool breeze and I wasn't hugely hungry so I pressed on with the thought of having breakfast at work.
I followed the canal for a short while to Lowsonford where I joined the road and began the easy spin back into the centre of Birmingham. Pretty much all the roads right up until I was into the suburbs of Maypole and Kings Heath were very quiet, more quiet than I had imagined they would be even this early in the day. I got onto my normal commuting route, the Rea Valley cycle route (Sustrans route 5) and headed into work. I was starving by this point, 2 hours riding before breakfast is going to do that, so I was extremely happy to tuck into the cyclist's breakfast which is currently being laid on as part of Aston University's "Bike Week".
What did I learn from this trip?
As I have already mentioned the majority of my bikepacking trips take place in Wales. You tend to find in Wales that tracks marked on maps often bear no relation what so ever to what is actually on the ground. As such I tend to spend a decent amount of time comparing maps and satellite images while planning a ride. If you are going to drive for at least a couple of hours, you want to be as sure as possible that you aren't driving towards a weekend of boggy hike-a-bike. The Midlands is a little different though. Generally the bridle ways marked are more or less also on the ground, you just have to be careful of how over grown the hedge row can get in the summer. This gives you a bit more flexibility to just go off in any direction and as such it was nice to not plan a route. After all you can never be lost if you don't have a route to follow.
I always use a tarp instead of a tent because for me it means a greater connection to the outside. It's one of the main reasons I'm out there so cutting myself off from the world in the bubble of a tent is not really what I'm about. Not using a tarp this time took this one step further again. It was really nice to drift off to sleep looking at the stars, so I will be trying to use just a bivi bag as much as the weather allows this summer.
It is possible to have an adventure and still be very close to home. If I could do this mid week, in the Midlands and make it into work in central Birmingham the next morning, then I'm sure most other people living in a city can do the same. You don't need to be in the wilds of mid Wales or have classic vistas of geography to still enjoy what nature has given to us. You just need to get out there and do it and find the beauty in what you have close by.