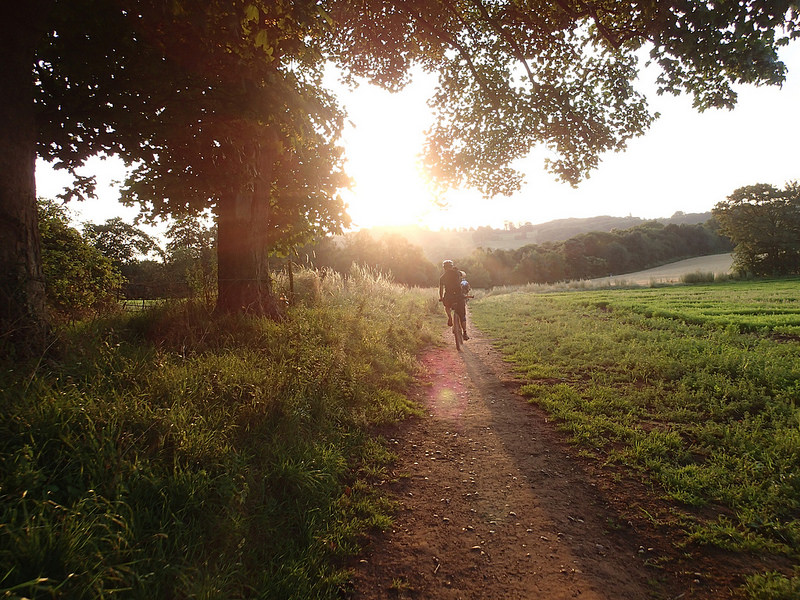 It was warm evening setting out towards Stourbridge. I had been able to get out of work a little earlier than I thought I might so I decided to ride meet Mike instead of getting the train. It was surprising quiet and I actually quite enjoyed cruising along in the sun even if it was on the roads. After meeting Mike we went east towards Kinver. The route I had planned would have taken us down a series of gravel roads in Stourton, however Mike remembered some nice single track that we took instead. It was a touch over grown but fortunately only long grass, the stingers were still yet to come.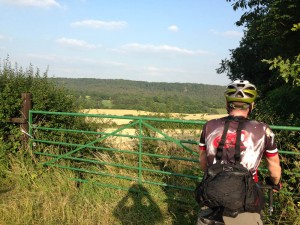 After crossing the Wolverhampton road we joined back up with our planned route. The dirt road past Prestwood had seen some water damage and a deep gully running the length of it had to be negotiated. Not so bad for me on the Lurcher but it was a slightly different prospect for Mike on his Surly Cross Check. Head height stinging nettles warned us off the single track climb to the Million so we took the road instead. The descent through the Millon wood was fun but the track has become extremely sandy. I was here only a couple of weeks ago and didn't remember it being like that all. It was slightly disappointing as it took a lot of the flow out the trail. It did make for a few interesting moments though ripping along and suddenly hitting a soft patch of sand. Mike was power sliding all over the place, much to my amusement.
After popping out the wood we followed a short section of road and ventured onto the bridle way that crosses the estate. It's always nice to try out new sections of trail and this one certainly didn't disappoint. It was pretty much a gully hewn from the bed rock. There were a few steppy sections up and down which kept you on your toes and it made for decent riding. This pretty much dropped us into Kinver's edge where Mike showed me another new bit of single track I hadn't ridden before. I have ridden a lot of Kinvers Edge but I hadn't ever approached it from this direction before. It was a slightly sandy but fast narrow track with just enough descent to keep you rolling. Good times!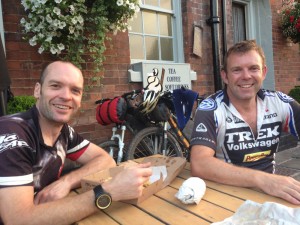 Before long we were in Kidderminster and dropping into Hux's place for a quick cuppa and biscuits. We sat around for a bit chatting and trying to cool down. Eventually our stomachs got the better of us and the 3 of us headed into Bewdy for fish and chips. We stopped in at Merchants and then headed round the corner to eat them by the river. As we were sat outside The Cock and Magpie we sampled their ales and watched the world go by. These were quickly dispatched and as it was still a warm evening we decided further refreshment was in order. Heading down the river bank to the Mug House we popped in for another pint. We sat for while contemplating a third but it was starting to get dark and we thought it best to get into the forest and find our spot for the night.
Mike and I had previously discussed the lack of need to bring lights but due to spending to much time in the pub, there was a need to have brought lights… Lucky for them 2 they use night riding power head lamps for round the campsite, where as I use a "around the camp site" type head lamp for around the camp site… This made for some interesting riding through the forest trying to dodge low branches and ruts at the very last moment. I kept trying to position myself between the 2 of them so my way was lit up enough which worked in the main but still brought a few close shaves. Not least of which was Mike getting leary after the beers and riding into me while trying to take photos! A few miles in and we were at the clearing that Hux had picked out for us. It was a lovely quiet spot with enough clear sky to make a great view as we laid in our bags. The trees silhouetted against the sky with the stars twinkling in between. When I say it was quiet I mean apart from the stag that was "giving it all that". It seemed to go for ages but to be fair I remember listening to it for a while, then waking up and it was 4 and half hours later, so it can't have been that bad.
I recorded a little audio of the stag:
The next morning we awoke to quite a think heavy dew. It was much damper than I was expecting and the top of my sleeping bag that wasn't covered by the bivi was actually pretty wet. I made some porridge and packed up. I had several hours riding to do back to work so wanted to get off fairly quickly. We all left together and had a bit of blast back through the woods to Bewdly. Unfortunately Hux tore a side wall on the way back but I didn't really have much time to stop, so I left them to it to make the repair and I pressed on back towards Birmingham.
It was a great evening and I really enjoyed it, I had needed a little trip out and this fit the bill perfectly. Thanks guys. 🙂
Photos my Mike and myself.