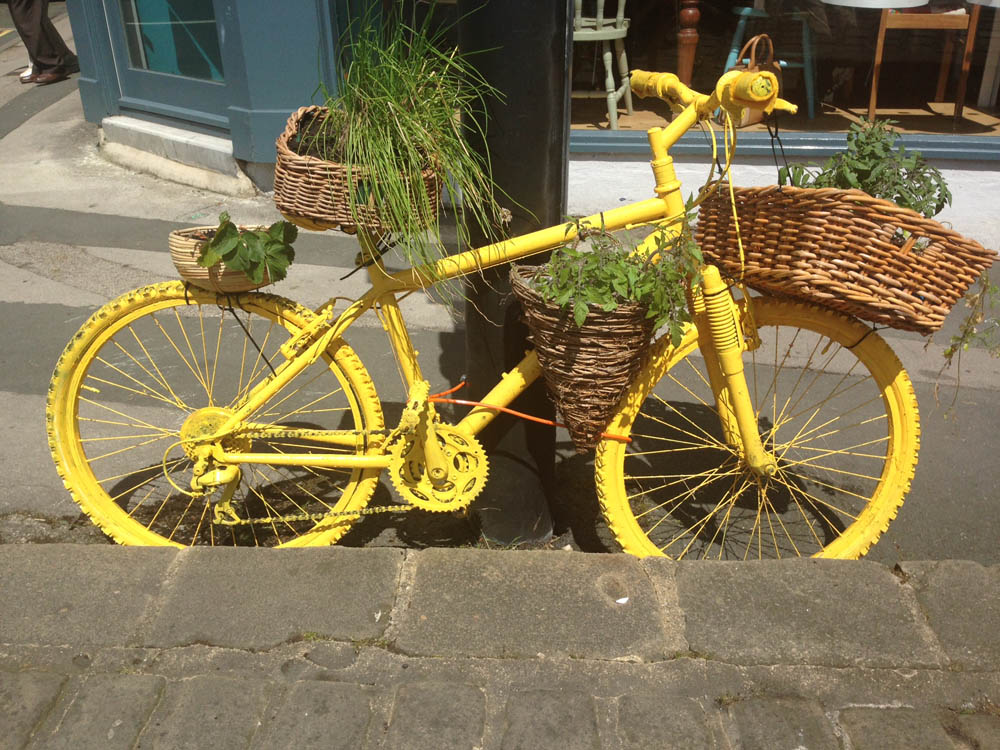 It took me a little while to actually decide to go up to Yorkshire to see the Tour de France. The trip plan had been on the BearBones forum for a good while but for some reason I hadn't fancied it. 10 days before the grand depart I suddenly thought "Why am I not going to this?" It was clearly going to be a great weekend so I had a stern word with myself and signed up. I was luckily enough to be offered a lift from Burton On Trent which made the train situation a whole lot easier, so a big thanks to Martin for that. We picked up Jamie from Chester on the way and by 11:30am Friday we were in Halifax at Chews house, drinking tea and having the habitual kit discussions.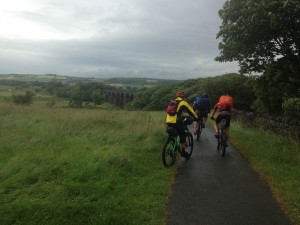 By 1:30pm everyone had arrived. Final faff preparations had been completed and 9 of us descended onto the tow paths and back alleys of Halifax. After dodging graffiti artists, broken glass and negotiating slippery cobbles we had climbed high above Halifax to Bank Top. Here we looked down on to the town with it's old mills dominating the view. It was fairly overcast and the rain came and went for most of the afternoon. It never got to heavy though and certainly wasn't enough to dampen the spirit's of an excited group of bikepackers with a great weekend in store. Onwards we pressed along woody single track and a few tarmac climbs to Queensbury. Earlier in the day Matt had snapped a shifter lever and found single speeding was not to his liking. He didn't want to hold us up any more so decided to make a break for home. With heavy heart we said our good byes and he rolled off down the hill towards Bradford to catch a train.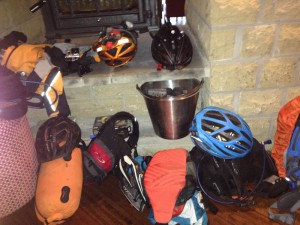 We head further North past Doe Park and Hewenden Reservoirs. The rain and wind had picked up by now but some great single track and fast gravel double track kept us smiling. Nearing Bingley we began to think about dinner. We peered in the windows of a couple of nice looking pubs but decided they were a little too nice looking to want to welcome in 8 soggy tramps so we continued to Saltaire just outside Shipley. Down by the canal we found the equally nice Boathouse Inn. After checking their dirty water proofs policy we filed into the bar and made use of the refreshment counter. As luck would have it, it was "Fishy Friday"; Fish and chips with curry sauce and a pint of Guinness for a tenner! We truly were in the north now. 🙂 As we eat we watched the rain splashing on the surface of the canal and were thankful that were we in the warm and dry for the worst of it.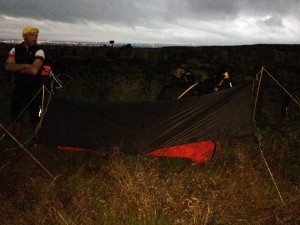 Full of food and booze we headed out to find a spot for the night. To our amazement the rain had stopped just on cue making it a pleasant ride through the park and up past Compensation Reservoir. We made our onto Bingley Moor finding some flat spots between the tussocks and heather in the shelter of a dry stone wall. We had all just pitched our tarps when it began to rain again, so we said our good nights and dived into the comfort of our bivi bags.
The next morning were rode across the moor and descended into Ilkley. We stopped at the Tea Rooms on The Grove for breakfast. It was still early and we were able to sit on the street soaking up the atmosphere as the town filled up with spectators.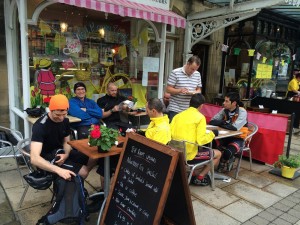 The Tour makers, much like the games makers from the Olympics in 2012, did a great job of welcoming people to the area and generally making sure every one knew what and where everything was going on. After a cooked breakfast and a seemingly infinite amount of toast we headed down to the course and found a free spot on the side of the road. Much like the rest of Yorkshire and indeed the whole country, Ilkley had really embraced Le Tour and the whole town was decked out in themed bunting and yellow bikes. The atmosphere was incredible made even better by the breaking up of the cloud which bathed the assembled masses in warm sun.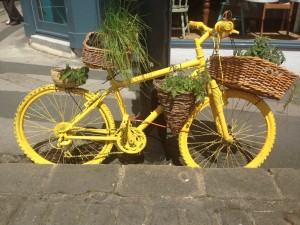 The anticipation was building as the caravan arrived. I had been lead to believe that it was something worth seeing but frankly it was actually a bit rubbish, I expected far more. Anyway this past on quickly enough and after waiting around for a while longer the riders finally passed through. Cue cheering, shouting and much general frivolity.
We weren't in a rush to get anywhere so we sat on the town green, eating sandwiches and again enjoying the atmosphere. I took the chance to ramp up my tramp credentials by pulling out all the wet gear from the previous evening and using my bike as a clothes horse. After lunch we rode the substantial climb out of Ilkey turning off at the Cow and Calf cafe and crossing the moor. It was steep push up but the views we were treated to as we crossed the tops made it worth while.
After several hours riding passing Bingley and crossing the St Ives Estate we found ourselves at Oxenhope.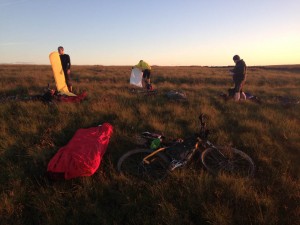 Unfortunately the Lamb Inn was fully booked for food, so after a quick pint we made our way to the chip shop at the top of the hill. This had come highly recommended by Chew and it certainly didn't disappoint. We took a spot on the grass in the cricket club next door, eating our fish and chips and in turn getting eaten by the clouds of midges. I had another sneaky Guinness and then we made the short trip to Wadsworth Moor passing Leeshaw Reservoir. We finally found a spot high enough to escape the midges and rolled out our sleeping kit. It was such beautiful evening none of us bothered with tarps and we lay in our bivi bags chatting, admiring the sun set and the lights in the houses twinkling in the valley below.
The next morning I awoke to the sun shimmering in the hazy sky. I laid for while blinking as the light seemed very bright and it took me a while to adjust. I heard the sounds of stirring around me as the rest of the guys got up and I followed suit. Within a few minutes we were all complaining about midges and desperately trying to get packed up. The previous evenings breeze had dropped to almost nothing and the midges had descended upon us. We headed north across the moor meeting up with the Tour route, riding part of the way on the closed road. Taking a sharp right off the tarmac and on to a steep rocky track we descended into Hebden Bridge for breakfast.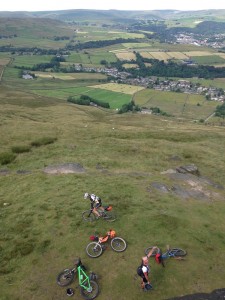 After breakfast was a steep tarmac climb that took us on to part of the Mary Towneley Loop. This lead to the steep lose climb up Stoodley Pike where we stopped for a while, admiring the view from the monument. The track over to Withens Clough Reservoir was a fun ride. Picking your way through the rocks always trying to find the good line whilst not putting a foot down. Unfortunately I dabbed twice which meant no bad ass points for me.
Riding on we joined Cragg Vale and I was immediately stunned by the incredible atmosphere created by the crowds of people lining the route. As we climbed the longest ascent in England we were cheered on by the spectators and I even had superman running along side me for while. We found an empty spot and settled in to wait for the race. It was really hot waiting with the heat reflecting off the road in front of us.
The tarmac was starting to melt and so was I. I seemed to be putting on sun cream every 30mins and I was still pink by the end of the day. The wait was part of the experience though as every one on the hill was buzzing with excitement. In fact I don't think it's over doing it to suggest that the wait WAS the experience. After the riders passed we joined the longest bike queue the UK has even seen making our way up and over the top of Cragg Vale and descending into for Ripponden lunch. after several hours riding single track in the glorious conditions we arrived back at Chews house, for tea and biscuits.
Big thanks has to go to Chew for arranging the trip, hosting at his place and planning out an excellent route taking in some great riding. nice one mate!
Day Un
Day Deux
Day Trois
What did I learn this trip?
For the first time I put my water bladder in my frame bag rather than carrying it on my back. It took me a day to get used to it but I think I like it. Getting the weight off your back is great and as it takes up some space in a bag that I would normally fill, I took less kit overall. Having a bladder with and easy to remove hose made refilling very easy as well. I may trim the hose in future though as it was a bit long and made for a couple of interesting moments while riding.
It was the first time I have not taken any cooking gear with me. We planned all meals to be in pubs/cafes or outside super markets so this worked great. I only partially missed my wake up coffee but with correct planning a coffee was never far away. Obviously a lot depends on where you are riding. I wouldn't want to rely on cafes and pubs in mid Wales for instance, they just can't be trusted to be open.
I took too many clothes with me this time. Looking at the weather I had decided that I would need water proof shorts/jacket but that it would also be too hot on the dry days to wear said water proofs so also took dry weather ride gear. This was an error. I should have just taken the dry gear knowing that I would be able to dry off on subsequent forecasted hot days.