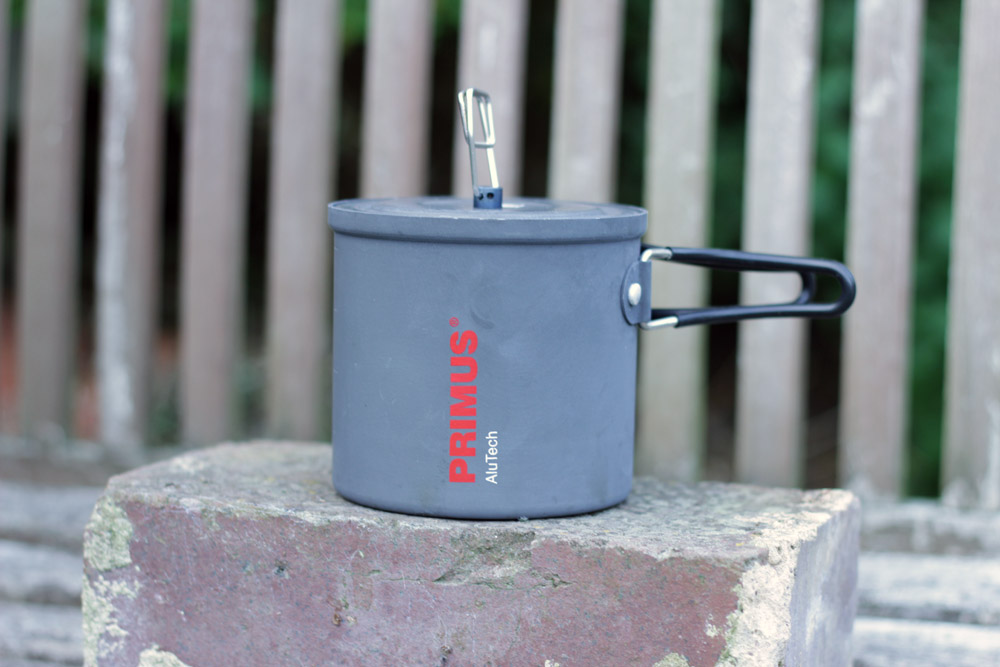 I had been using a cheap Mountain Life 0.8L Alu cooking pot up until very recently. Unfortunately I didn't dry it out properly after one use and the gas canister that I packed inside, rusted and left an indelible rusty ring round the bottom of it. It was dented and out of shape but had a special place in my heart so it was a shame to retire it but I just couldn't get over the idea of boiling water and heating food in a rusty pot.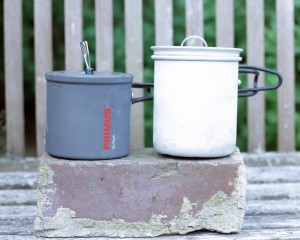 I had been looking for another 0.8L pot as I had always found this a great size but it seemed like most pots are either 0.6L or 1L. I saw that my local Snow and Rock had the Primus 0.6L in stock so I popped in to have a look at it. The first time I saw it I thought it was just to small to be that useful as an only pot. It was getting close to my next trip though so I went with it and picked one up a few days later.
I used it last week for a 4 day trip round mid Wales and it served it's purpose very well. Compared to my old one it is about the same weight so no real difference there but it is 25mm shorter. This is only slightly smaller but means it fits that little bit better in my frame bag. Previously it was like some sort of 3D Esher puzzle getting everything I wanted into the lower compartment of the bag. I had to pack and unpack in a specific order where as now I it's just a bit more convenient. A full fill of 0.6L of water took about 3mins to boil which is possibly marginally quicker than my old pot, maybe because the lid is a more snug fit.
This slightly smaller volume was not a problem as I was able to do enough water for my porridge and coffee each morning, as well as fit a whole pack of fresh pasta in to simmer for 5mins. However I did have to pour out a little water as the pasta expanded which I haven't had to do before. When I heated the ready made curry and rice I bought from Spar the heat seemed to spread evenly. The hard anodised surface is far better on this pot though and I think this also played a part in why I wasn't left chiselling Korma off the bottom of the pot after I had eaten. It is also big enough to be able to to pack a 100g gas canister in with enough space to fit 3-4 powdered coffee/hot chocolate drinks in as well.
On the whole I'm happy with it. £15 seems reasonable enough and I'm sure I will get many years use from it.
Height: 101 mm
Diameter: 112 mm
Weight: 149 g – (Mine actually weighs in at 158g)
Volume: 600 ml