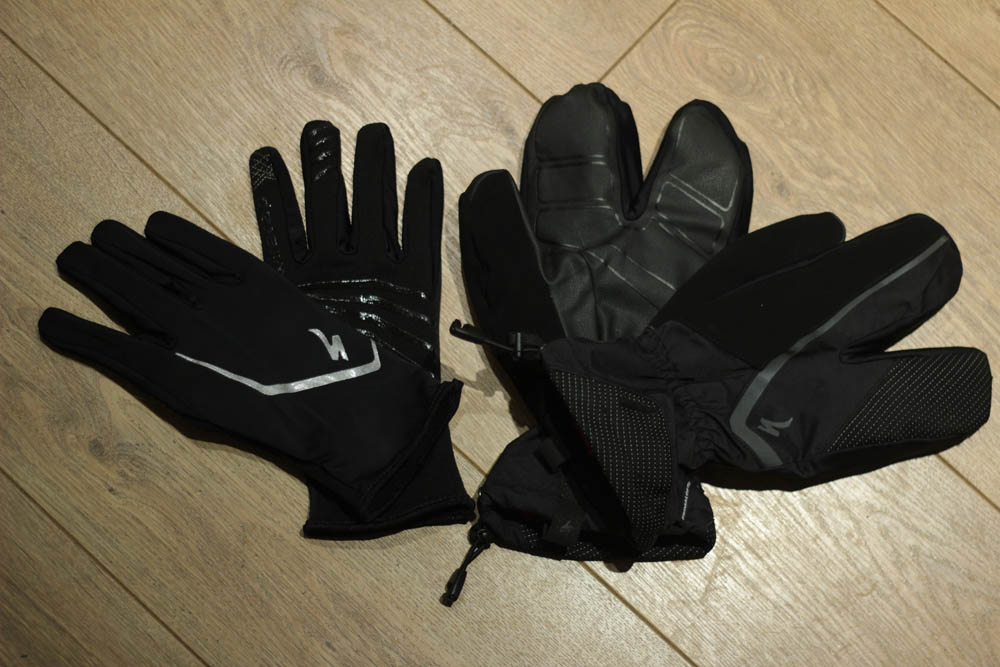 I had had my eye on some new winter gloves as my Seal Skins although not totally at the end of their life weren't really that waterproof any more and the holes had made them a bit draughty. Additionally I have some hot pogs that I can put on my mountain bikes for really cold days but clearly these weren't going to work on the Kite. I had been looking at the Specialized Sub Zero Winter Gloves as Cycle Store had them on sale, £50 down to 30. I was having problems committing though and it was only after my friend Mike bought a pair that I could try on that I finally pulled the trigger and ordered some.
The sizing is a bit on the "Italian race cut" side as I had to order an XL! I haven't been XL in anything ever… well except that one pair of Italian bib shorts…
You actually get 2 pairs of  gloves for your money. The outer is "lobster style" so you get the sort of warmth benefit you get from mittens but you are still able to manipulate the controls on your handle bar easily. Of course you aren't going to be one finger braking but this is a small price to pay for warm pinkies. The outer is fully water proof and I'm yet to have a single leak. I have ridden in some heavy rain for 4-5 hours and they have still stayed dry so performance has been very impressive in that department. The palm has a silicon coating which even in the wet has still provided plenty of grip.
The insulation is Primaloft and is very warm, even to the degree that I have not needed to wear the second liner glove that comes with them. My hands have been plenty warm enough even in minus conditions with extra bonus wind chill thrown in. I suspect that I won't end up using the micro fleece inner glove until the spring and then it will be just on it's own. It has what I term an "over sized cuff" which means it easily pulls over the cuff of my jacket, keeping out the drafts. There is a draw string on the cuff so you can sinch them up as well.
They breath reasonably well, although I have found that the inside can get a little damp from sweating. However no where near as bad as other waterproof, winter gloves that I have used. Importantly it's not enough to make them uncomfortable or to make the inner lining stick to you fingers, so it's still easy to pull them on and off quickly. There's no pulling at each finger separately to make sure you don't pull the insides out with your hand. This is actually one of the biggest benefits of this style glove as far as I'm concerned.
These have very quickly become my favourite winter glove ever. I have never owned gloves that have stayed totally waterproof and always kept my hands warm. Go get them in that sale I linked above before they are all gone.