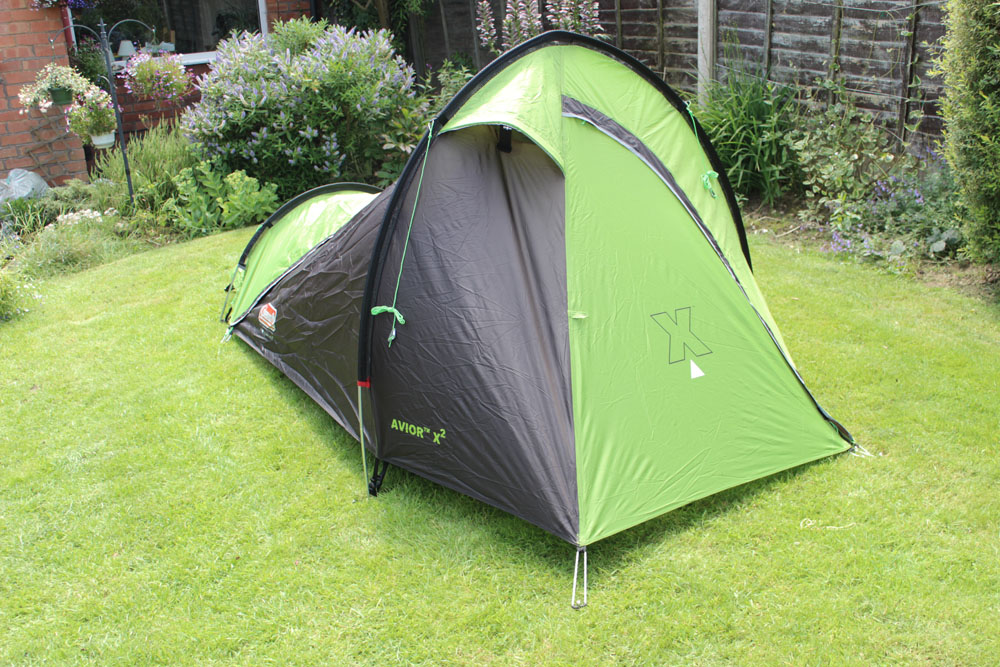 Several months ago I bought this tent to use for this summers bike packing. Regular readers, (there must be a couple of you surely) will know that I haven't been able to get on the bike this summer and anyone who has been outside will know there hasn't been a dry weekend to even put it up in the garden. Well today the weather and my recovering arm allowed me to do just that so I could at long last get a look at what I had bought.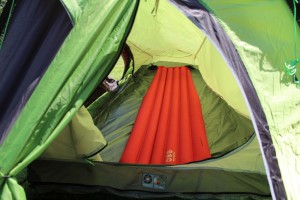 I went for a Coleman Avior X2, 2 man tent. It comes in at 2.45kg which is a little weighty in comparison to a tarp setup but fairly light for a "2 man" tent of this size and budget. It cost £75 from Go outdoors. I had deliberated for a while between a tent and a tarp eventually plumping for a tent on the basis that it would be better to start with a  bit more comfort and if I was feeling particularly mountain man at some point I might eventually give a tarp a go. Looking around I quickly realised that if I was after a bit of comfort then I was going to have to look for a 2 man tent and use it as a 1 man, rather than opting for a true 1 man tent. See the link above for a full list of the specs.
The Avior is a tunnel style that tapers in at the feet end reducing the weight. There are 2 pre-bent aluminium poles at either end which make it far easier to put up than other tunnel tents I have had in the past. Even with my dodgy limb and this being the first time I have ever looked at the thing I had it up within about 10 mins. I think I could get this down to around 5 in future now I know what I'm doing. A great bonus about the design is that you only need to get 4 pegs in before it takes shape, so if the rain is coming down you can quickly get a shelter up and have you gear inside while you finish off the rest of the pegs and the guys. I think it will be important to get all of the guys up though as I did notice a little bit of sag with out them. Having said that though there was some gusty blasts of wind and even without half the guys being put to work the structure held very well.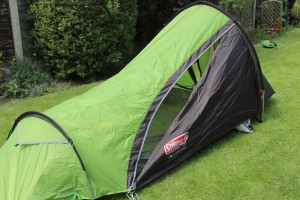 The ground sheet is a bath tub style doubled stitched so it should be strong and it feels of decent quality. All the zips seem good enough so hopefully shouldn't get stuck but they could be better. The tent has 2 doors, one at the end and one down the side. I found that getting in and out was easier via the side door but I fear that in bad weather you might not want to open this one as it could mean the rain blowing straight into where you are hoping to sleep. I foresee the vestibule door entrance housing kit so I might have to be careful here. Additionally there might be just be enough room to cook  in that door way if the weather is bad but to be fair this is probably not going to be suggested in the safety manual.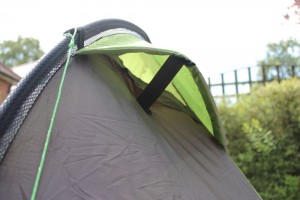 There are 3 vents located around the structure so with any luck they will provide enough ventilation that condensation won't be a problem. I particularly like that the main vent at the front has a support that allows you to prop it open rather than having another guy rope to deal with. Both doors are double lined so again there is more versatility in terms of how much ventilation you have.
On the whole I'm pretty pleased with my purchase. I think it should make a great tent for bike packing and if required even maybe some hiking. Of course time will tell about how it performs in the field but I really don't see any obvious pitfalls. One bonus I haven't mentioned yet is that when packed it fits quite neatly into a 8 litre Alpkit dry bag (along with a few other bits of cooking kit) which coincidentally is the perfect size for my Wild Cat handlebar harness. Of course I will update this when I get to use it for real but for now take a look at the gallery of images below.