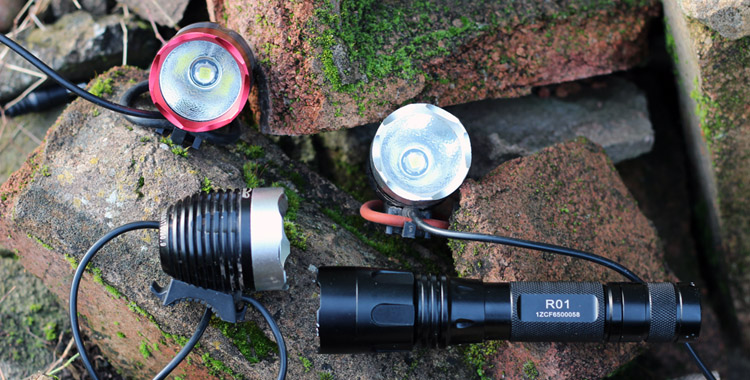 The clocks have gone back which puts us firmly into real night riding territory. No longer are you just dropping a light in your bag in case you get caught out, this is the real deal; you start in the dark, you ride in the dark, you get home in the dark.
Over the last few years I have developed a small collection of options as described below. I'm someone who likes to fiddle and try things so although I was fairly happy with with my first arrangement; a couple of Magic Shines, I tend to want to experiment and if I see something reasonably priced I'll give it go. This also gives me plenty of spares and "loaners" which have had a decent amount of use.
MagicShine MJ-808 HA-III SSC P7-C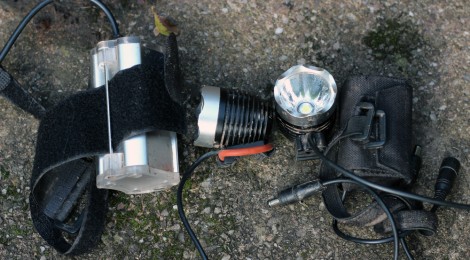 Also known as the DX Lights these ones seem to have some sort of love hate relationship with the mountain biking community. On one hand they are cheap and deliver an immense amount of light in the bang for buck stakes. On the one other hand they have had huge problems with build quality. Often the emitter is poorly soldered, the batteries lack protection circuits and the chargers can burn your house down.
Having said all that though my own personal experience has been very good. I bought 2 and they both worked fine. I have given them a decent battering and they haven't stopped working yet. I don't have a huge pile of ash where my house used to be either so I guess my chargers were OK. I have replaced one of the batteries after 18months of hard use, as it's run time went down to about 1 hour but apart from that I have no complaints. I even really like the fact its just a simple O-ring that attaches the light to the bars. It's not only easy to put on with gloves, requires no tools but also means that the unit will just get pushed around the bar in a crash and not snap off. This is particularly good for the helmet light where it could be either the light or the your head that will benefit from it not being a clamp of some sort.
In terms of the light they give I have always been more than happy with the performance. The light is maybe slightly cold which can lead to some harsh shadows if only using one, but when combined with a second from a different POV this is not so much of an issue. There is a definite hot spot but the roll off is still more than bright enough to provide a good field of view that is wide enough to light up a double track. The battery doesn't have a huge burn time, some where in the region of 3 hours on full power. Personally I find it rare that I would be running it non stop on full for this sort of period of time. Over the course of a night ride I generally switch between high and low settings as there are always at least a number of sections of country lane that have to be negotiated between off road sections. I would guess that if you were endurance racing through the night then you are either going to need spare batteries or spend some proper money.
If you intend to use this light on a helmet you will almost certainly need to get an extension lead as the wire will be too short to get to your bag. It's annoying though as the wire is only a little bit to short so with the extension the wire becomes to long so you have to wrap it up in your bag to avoid leaving a trip hazard for other trail users…
On the whole I have been very happy with these lights, although I do still feel the need to always caveat my recommendation, by advising caution when charging the battery.  To be fair though I would always advise caution over battery charging; be in the house when you are doing it and don't leave them on for hours and hours.
I got mine from Deal Extreme, although Magic Shine do now have a UK distributer.
P7 Water Resistant SSC-P7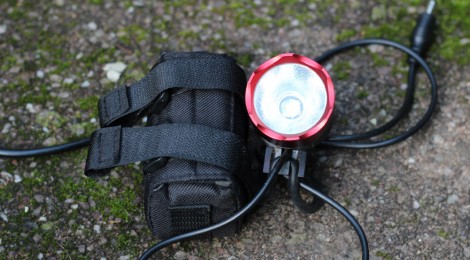 This light is very similar to the Magic Shine "808" light. I was happy with the Magic Shine I had been thinking about getting a spare and seeing this light at £30 I thought it was worth a punt.
Although the lumen rating is higher than that of my other lights, in practice I actually notice no difference what so ever in how bright it is. Again questions over build quality of the emitter would be fair but again this light has not let me down even after taking a few knocks. You might argue that the battery build wasn't great as after roughly 12 months use I had to replace the original. This was my fault though as I didn't strap it to my top tube properly and it "fell out" of the Velcro strap, meaning it was hanging by the wire which eventually pulled the wires free of the battery. A better built battery probably could have survived this but none the less, lesson learnt. I replaced the battery with one from Magic Shine UK and not looked back.
I had only intended this to be a spare but surprisingly this became my main helmet light. The battery wire is the perfect length to go from helmet to bag meaning I don't need an extension and rolls of cable in my bag.
Again I got this one from Deal Extreme.
Xtar R01 torch / flashlight with CREE XP-G R5 led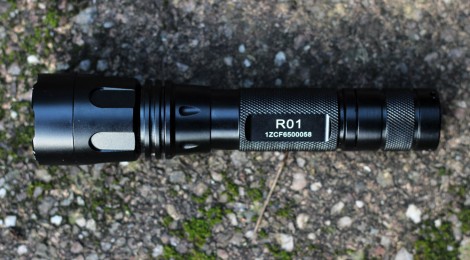 This is the newest addition to my lighting set up. I had become a bit annoyed with the hassle of having a helmet light with a separate battery, as it means you are effectively attached to your back pack by the lead. I took at torches and came across this very reasonably price Cree R5 light.
The build quality seems very good. The torch feels suitably weighty in your hand and being made from metal certainly inspires confidence that it would be be some what bomb proof. Being a diving torch it's also water  proof to a standard far greater than will ever be needed on trail.
In terms of lighting it's OK but not great. The first few rides I did using it with a Magic Shine on the bars, I thought it was OK. Not as bright as the P7 I previously used on the helmet but I was willing to sacrifice a bit of light for the benefit of no trailing wire. The last couple of rides I have used though I have not been so impressed. I think that while I was riding on my own the light seemed sufficient because I only had one other light in my field of view. As soon as I was riding with other people who also have some decent lighting the torch seemed very dim and literally disappeared. I'm guessing that was because the extra light was making my night vision less sensitive.
As such I feel the jury is still out on this one. I think at worst it will make either a decent commuting light or just even just a handy torch to have around the house. At best I might just use it when I ride on my own, which is fairly often. Whatever happens at £20 it didn't break the bank and I'm sure won't go to waste.
I bought it from Torchy the Battery Boy's ebay shop. Check out the technical specs.
I bought this helmet mount at the same time.