April felt like the start of summer here in the Midlands. Not a single wet ride this month and considering the substantial amount of miles I did I think this was pretty good going. I managed to hit a number of trail centers including Llandelga for the first time in 2 years and The Forest of Dean for the first time ever.
I got together the midweek evening crew for the first sunny ride in the light for 2013. I worked out a new route in Lichfield which we did as a group. There are some great off piste trails through Hopwas woods if you can be arsed to look for them. I'll post up this route soon in the routes section. It won't incluse any of the trail faires stuff but if you follow your nose you will find it easily enough.
Sadly the RCT3 controller on the RS Revelation Fork is broken again so I have had to send it to Loco. Simon was again extremely helpful on the phone and will be dealing with SRAM for me to try to get a warranty replacement control unit as its the second time its stopped working.. This has meant that I have been on the P7 for the last 2 weeks. I decided that this could be long enough to warrant me putting the Fox fork back on and I'm very glad I did. I had forgotten really what good fun riding the P7 with a long travel fork really is. I've always charcterised the Five as being a "more fun" bike to ride but I think this was probably a bit of emperors new clothes and actually I don't think that either are any better or worse, just different. I think I'm going to keep the P7 as a hardtail for a while now even once I have the Five back in full working order.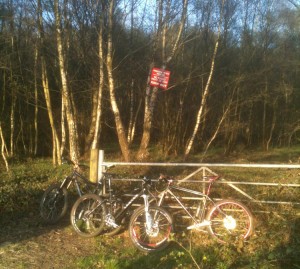 I started learning to drive this month so hopefully it will only a be a few months until I can start venturing further a field on my own instead of having to rely on others to drive me there. When I pass I think I might give myself a little treat of putting together a light weight xcountry machine (mmmm carbon) and making the P7 into a permanent commuter…. maybe.
Much of this months training has been taken up with really just losing weight. I have done a pretty good job in that department but I'm going to write a specific post about that soon. Just to wet your whistle though I have so far lost 8lbs in the last 3 weeks and I think my body fat % must down in the region of 14 or 15% now which I'm very happy with. I joined the gym at work and have just started doing intervals on the bikes there and lifting weights again. After last weeks monster ride confirming to me that my endurance is absolutely fine I will be concentrating on power and speed for the next month so I can taper down the miles towards the Torq Rough Ride.
April Stats
Distance: 463 mi
Elevation Gain: 31,854  ft
Time: 41:08:33
2013 Stats
Distance: 1065 mi
Elevation Gain: 63,632 ft
Time: 91:21:45