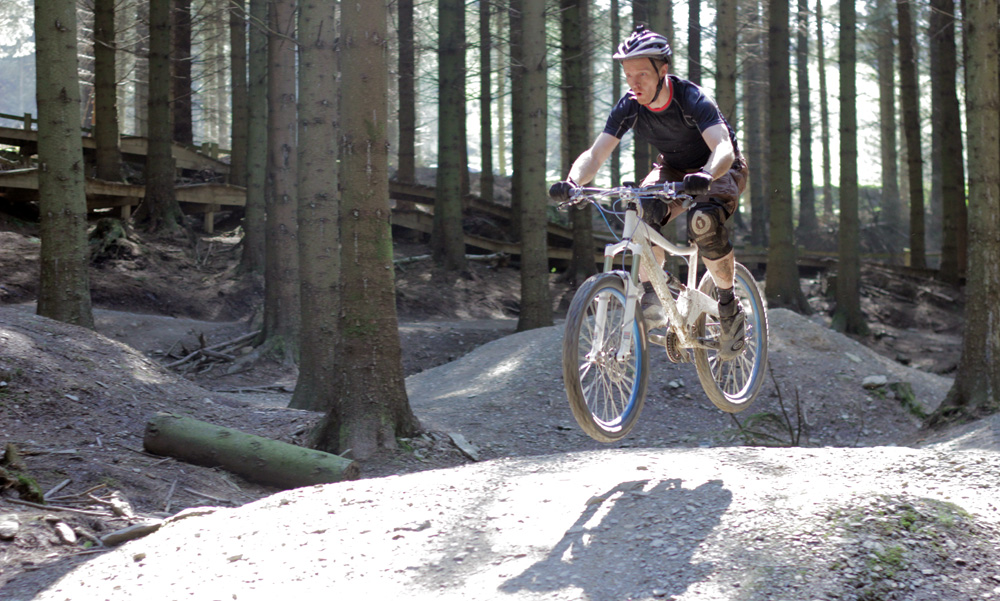 It was a another really good day's riding at Llandegla. Just Martin, myself and some great weather. My warranty replacement RCT3 damper arrived in the nick of time so I was able to take the Five again which made me smile. I stuck on the Chunky Monkey again as I was digging it so much last time but also I gave the smorgasbord a go on the back. This made for a fairly heavy tyre choice but the grip was awesome, even through some of the damp slippery stony sections in the woods.
The only real difference to last time in terms of where we rode was that we gave B-line a blast. The red section that leads to it was still closed but the exit to this red section has now been sign posted so you ride "backwards" along it (I think?) and up to the start of B-Line. I had a little crash leaving the first section of board walk. The exit was a bit steeper than I thought and I got the landing all wrong. I was going too fast to roll it and then didn't throw the front end out enough to land it properly. I ended up fighting an over the bars while rolling on the front wheel. This made it very difficult to steer and so instead of hitting the rapidly approaching tree head on I decide to bail into the bank. I think this was probably the best course of action as it only left me with a grazed shin and a sore buttock the next day. I don't tend to get loads of air while trail riding as my confidence is not huge on table tops but the lower section of B-line with all the step downs was loads of fun. I managed to clear the first one (almost by accident) which gave me a big boost to give the others a go. I did and was very happy with the results managing to clear them all and not case a single landing. Awesome!
At the end of the ride we had another play in the skills area on the jump lines. Once again I was pretty much clearing all the jumps on the small line landing way beyond on the landing ramps. I was mostly trying to practice taking shots of people jumping the large lines though. It wasn't particularity successful as action shots are hard good dam it but I got at least one OK one of Martin (below). Martin also obliged by getting a rare good one of me "hitting air" (above).