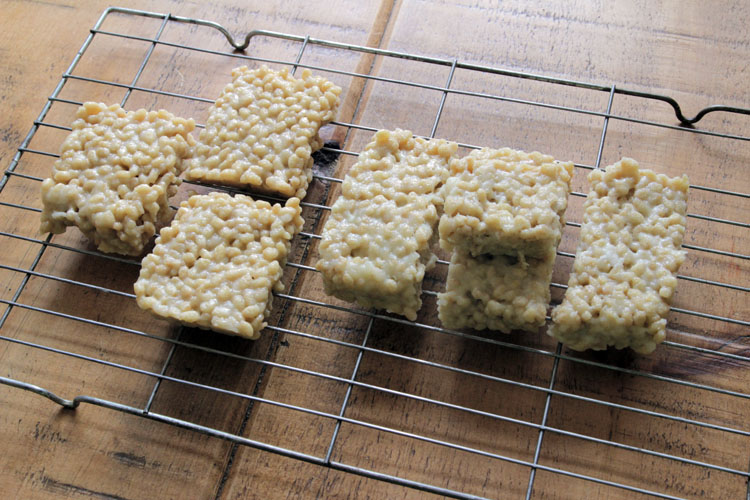 Mochiko Stickies (white chocolate/maple syrup)
Ingredients: 1/2 cup almond milk, 5g butter, 7tsp ggranulated sugar, 110g crisped rice cereal, 1/2 cup glutinous rice flour, 25g dark chocolate chips or 1tbsp maple syrup.
Method: Mix the milk, rice flour, butter, sugar in a pan over a low heat. Mix until melted and smoothish. Then mix in the crisped rice cereal. Divide the mixture in half and mix the white chocolate chips with one half and the maple syrup with the other half. Spread the mixtures into a baking tin and press it all down into either end to made a compacted brick. Leave to cool and once solid cut each brick into 4 pieces.
Nutrition (per serving): Calories – 143, Carbs 24g, Fat 4g, Protein 2g
This one is just a alternative flavouring of the Mochiko Krispiies from Feedzone portables. I tried letting them cool on the bench this time rather than the fridge but they didn't really firm up at all so I put them in the fridge again. I would say that this time they are even stickier and more moist. There were great out of the trail and provide a nice bit of something sweet in between the savoury rice cakes.