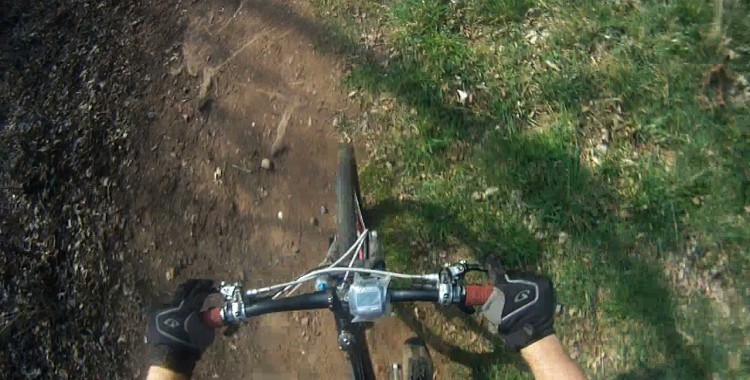 This month has not really been about riding my bike. A part from one visit to the Forest of Dean with Martin I haven't done any pleasure riding at all, with all my miles coming from commuting. This hasn't been an accident though, as I have been hitting the gym pretty hard which hasn't really left any energy or inclination to get out riding.
The trip to FOD was mixed. I had been to the FOD trail centre once before back in April and I had enjoyed it enough to make a trip back there again. It was a chilly day but nothing Baltic and the sun was out which made it a fairly typical winter days riding conditions. We headed off to the the blue route first which seemed less entertaining than the first time I rode it, to be honest I was just a bit bored by it. We then had a go at the red which I remembered being far more technical than it was this time. All I seemed to remember from my first trip there was how rooty that trail was, but this time round I had to keep asking myself If I was thinking about the same trail. Martin suggested maybe I was a better rider now… doubtful… 😉
So anyway after all that we took a blast at the FOD Enduro route from this year. It took a little while to get going as we spooned around for a bit trying to find the right trail. Once we were going though I actually really enjoyed it. There were some slightly more technical sections and it was pretty narrow in places, as well as having some more fast flowy bits, so there was something for every one. I was pretty surprised at how well the trail was holding up to the weather as there were hardly any muddy bits at all. In fact you would argue that it was in a far better condition than a lot of the man made sections on the Free Miners. I guess this is mostly due to the volume of riders though. Martin and I enjoyed it enough that that we might take a look at doing the Enduro race here in 2014.
I guess I should mention something about the gym work and my winter training plan but I did most of it in a previous blog. I suppose the only thing that has changed since writing that post, is my view of it. Towards the end of last week it all caught up with me a bit and I was feeling very tired. I was meant to be out on Saturday riding but I just couldn't face it at all. As such I'm taking a small break this week and I'm only going to do 1 session not the 4. I'm also committed to the BearBones Winter bivi trip this weekend so having something left in the tank for that would be great as well. Although I feel like I'm getting some benefit from all the strength work I'm looking forward to getting on the bike again in the new year. Only a few more weeks left now.
Looking forwards I'm hoping to do my last video of the year at the aforementioned BearBones bivi trip this weekend. The other guys have been primed and so there should be quite a few cameras on the go. This will either mean a lot of varied angles and shots to play with or just a massive edit job… or maybe both. It's been a few months since I have done one so lets hope we get something decent out the other end. I'm still thinking about entering the SPAM Winter Challenge on the 29th December but I'm not 100%. Plans for Christmas have changed now and I'm not sure how this will fit into the rest of life.
So with very little to say I have managed to pad this out a good deal further than I thought I would. I think this will be the last monthly update of the year as the December one will more than likely be the 2013 round up.  Happy Christmas all.
November Stats
Distance:  391.8mi
Elevation Gain:  22,952ft
Time: 33hours
2013 Stats (Feb – November)
Distance:  4,607mi
Elevation Gain: 303,392ft
Time: 376hours