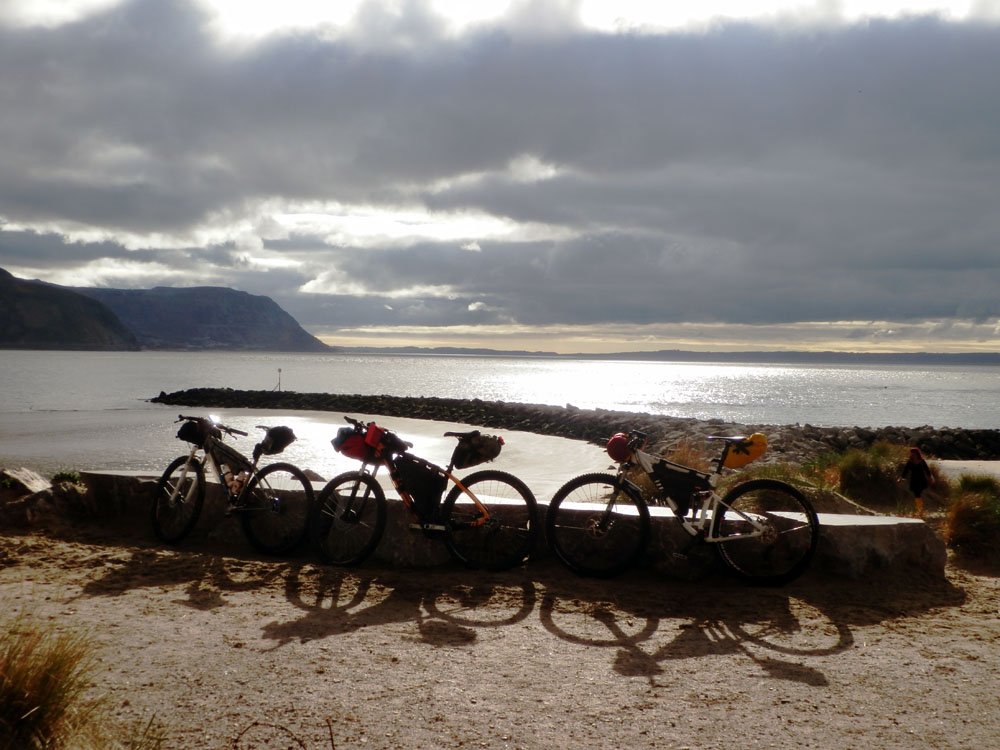 I should be writing the ride report for the Welsh Coast to Coast right now but unfortunately I'm writing the ride report for an attempt at the Welsh Coast to Coast, as we didn't actually make it. A combination of starting later than expected and riding into the wind for 3 days meant that we got behind schedule and we weren't going to get to Worms Head in time. It was a shame as we were really not that far behind, but sadly logistics dictated that certain trains had be caught to allow people to get to where they needed to be. Having said this though a great time was had by all and there is always later on the summer to have another go at it. In fact a drier, less type 2 fun attempt wouldn't go a miss at all.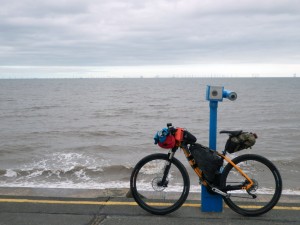 I jumped off the train at Flint on Friday afternoon and made my way along the north coast to meet with Andy at Llandudno. We then headed out to Great Orms Head where we would wait for Ian and Gian. Although this put an extra 40miles on my journey that day it was good to ride along the coast at a very sedate pace. I followed Sustrans route 5, stopping for a fish and chips at Prestatyn. As much as I really enjoy the feeling of isolation riding in the middle of no where in Wales, it is also nice to have some human interaction on a journey. One of the rules I tried to live by when travelling is "smile at people, say hello, engage in conversation". You never know where things might lead and what you might get to see and do. As there were quite a few people on this route is was nice to be able to do this and it made me realise how different the feeling of a ride can be and how much I have missed this on the last few trips.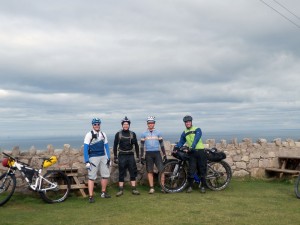 By 5pm we were riding from the cafe at Great Orms Head and heading south. This was to be the only good day of weather and the views we experienced over the evening certainly made use of it. There were quite a few technical descents which I found quite tiring on a 100mm hardtail. I'm not really used to long sections of technical terrain as we just don't have it locally. Generally speaking when I do ride that sort of trail I tend to be on my full suss bike and not be packed up for 3 days bikepacking, so it was hard going but rewarding to get down without any crashes. Most of these descents were proceeded by a tough hike a bike push up to a ridge line which again I was finding hard as there is just nothing locally I can't ride up. We made progress but due to the late start it was starting to get quite late and we rode into the dark for quite a while. I do enjoy a good night ride but I suspect we probably missed out on some good views at this point. The ground had to be covered though and so its just one of those things. We had discussions about if we might camp earlier than planned but personally I felt it was probably worth pushing on and getting to Penrhos Isaf bothy. I'm glad we did and after hitting a few sections of the trails at Coed-y-Brenin (at 1am!) we got to the bothy and were able to get some hot food down us. Before long we were all in our bags and drifting off to sleep.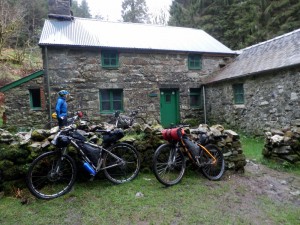 It rained quite heavily at times during the night but by the time we were leaving the next morning it was down to a drizzle. We headed south from Coed-y-Brenin, descending into Dolgellau, making a be line straight to Roberts Coffee Shop for breakfast. We tucked into a great cooked breakfast and several rounds of toast afterwards. It was the perfect way to start fuelling for another tough day. We were now starting to enter mid Wales, an area that I have ridden quite a lot over the last 6 months. I hadn't really ridden much of this area outside trail centres previously but after falling in love with the area I have returned at least once a month since last October. It is quite nice to turn corners and actually recognise where you are when so far from home. We resupplied in Machynlleth at the saviour of bikepackers every where; The Spar. Although there was a lot of climbing during the day I felt that actually this was probably the easiest day in terms of the types of trails ridden.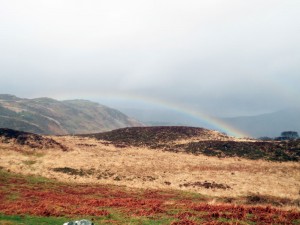 There was the odd technical descent but most of the climbs were on fire roads and actually I don't really remember any pushing at all. The planned route was to take the east track round Nant y Moch that I rode a few weeks ago but due to the time drifting on we took a lightly shorter route along the west track around the reservoir. I'm glad we did as this was new to me and always good to know what different tracks are like. I think this was the best section of riding for the day. Just rough enough to have to keep your wits about you but quick enough to make good time and it not be too tough on the upper body after a long day in the saddle. We finished the day with the final descent of the Nant-yr-Arian, stopping up for the night in one of the hikers huts. It's a really good place to spend a night being dry and easy but giving some variation on a bothy. Additionally there is a mains water supply only a few hundred yards away and I guess if you sleep in the next morning you could visit the cafe for breakfast.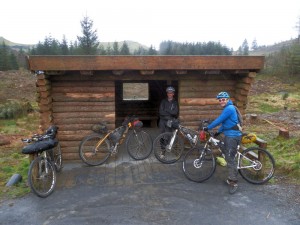 It was too early for us to go to the cafe so after a zip lock bag of porridge we headed out. I started the day feeling quite good. Legs were fine and I had felt like I had had a good nights sleep. I even managed a new PB on the Strata Florida climb but soon after this I was starting to feel very tired. I slipped off the back of the group on a few climbs and actually closed my eyes a number of times which is very unusual for me. Ian and I had been talking only the  day before about falling asleep on the bike and this was actually the first time I had ever experienced it. The weather wasn't helping either as it was pretty miserable for much of the day. The rain was incessant and the wind was gusting strongly often pushing you around on the trail. I was attempting to eat more and eventually I got past the lowest point but I never fully recovered properly after that. Unfortunately I think this did go on to effect the enjoyment of the rest of the riding for me.
Several  years ago I rode Doethie Valley and this should have been one of the highlights of the trip but unfortunately I really didn't enjoy it that much. I think a combination of the very greasy slippery conditions and lack of energy turned it into simply trying to stay upright and not really riding the trail.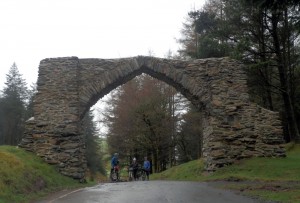 The last big challenge of the day and in fact the whole trip was the river crossing at Nant Henog just before you get to Llanwrtyd Wells. The bridge had been washed away and the river was running very high and fast. Stepping in to the river initially wasn't to bad but as you moved into the centre and water came up your thighs you really began to feel how strong the current was. It was pretty tricky trying to carry a loaded bike above the water and not got pushed over backwards. The first steps into the main flow were actually a little scary as I stumbled backwards but after regaining my balance I was able to shuffle a few steps to my right and I was through. Big thanks go to Gian who helped break the flow of the water and Ian for pulling the bike up on to the bank for me.
We had realised earlier in the day that we probably weren't going to make it down to Worms Head this trip. We weren't that far behind schedule but the time it would have taken for us to get back to Swansea after reaching the coast meant it was going to be difficult for people to catch the right train home. We were still able to get about 200 miles and 20 00ft of climbing done though which isn't bad for 3 days of some of the toughest terrain I have experienced in Wales. Stopping early did mean however that once we got to Llanwrtyd Wells we were able to get a pub dinner and have a bit of a relaxing few hours together to end the trip. We all stood around the fire drying out and reflecting on the 3 days of riding. After finishing off several courses of dinner we found a stealth spot in the village to crash for the night, so that we could get the early train the next morning.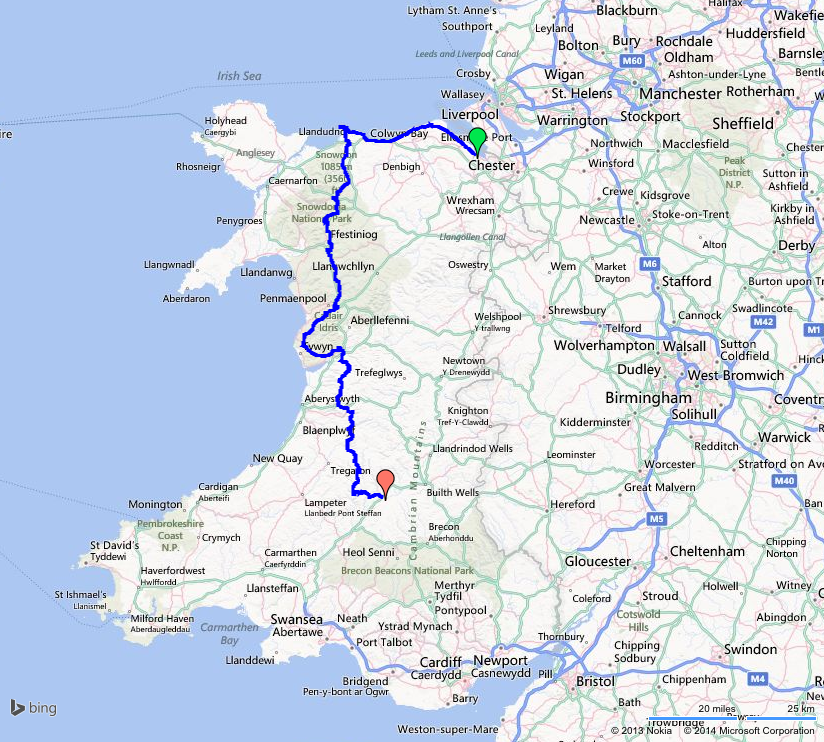 On the whole this was a good trip. I had some personal challenges on day 3 but ultimately got through them. It was nice to be challenged in a real sense and to get to my limit in terms of what I can currently cope with physically. It gives me something to move on from now in the same way as after I did my first endurance race.
These pictures really aren't my best. I think the combination of poor weather and not wanting to hang around to much meant that I didn't really take enough time over getting pictures.
So what did I learn from this trip?
The tougher terrain of this trip has taught me a few things about my gear set up for longer trips. The attritional nature of long trips is compounded by having a heavy weight of gear. What might be fine for 1 night out, becomes "a lot heavier" over 3 nights out. This kind of flies in the face of the logic that might dictate you needing more gear for a longer trip.
On less challenging terrain and climbs that are ridable the extra weight is not so much of a problem for me. The places I notice it are the climbs that are pushes, with my upper body getting tired much quicker than I expected, along with my calf's. The longer technical descents became much harder as the bike wasn't as easy to move around. Not being able to get the front wheel up and over things so easily then has a further knock on effect of making the ride a lot more tiring on the body generally. I'm going to try a slightly different set up next time by reducing some weight from the front roll. I might move my sleeping mat into my saddle pack, swapping my down jacket into the handle bar roll. The mat is a new one that is slightly heavier than my previous one so I'm still not sure of the best way to pack it.
The wet gear/dry gear concept for riding and sleeping works well. Although I have done this before it's the first time I have had to do it over multiple wet days. Sure pulling on wet socks in the morning isn't pleasant but it really only feels cold for 10-15mins. If you are more than likely to get wet again that day then you will be in this situation pretty quickly anyway so just suck it up from the start of the day safe in the knowledge that you have something warm to get changed into at night.
The Alpkit Hunka XL bivi bag is not really that water proof. It's fine if you are just protecting your matt and bag from damp ground, dirt or morning dew but when it comes to rain you really need to use a tarp to keep dry. It kept the rain off enough that it was only the outside of my sleeping bag that got wet but the fact that it got wet at all is clearly not a good situation. I was fortunate it was only the last night this happened so it didn't really adversely effect me.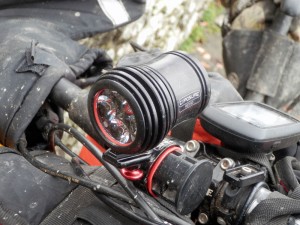 This was definitely the best run out so far for the Revo and the SP PD-8X Dynamo and I'm happier than ever with it. I feel I have probably used it enough now on enough different types of terrain to finally get a proper review written up in the next week or 2.
I think my pacing needs some work. My pacing for a single long stint or over 2 days is fairly good and I can leave myself enough in the tank. I may have the odd low point of half an hour or so but it's nothing that really concerns me. Gian asked me during my day 3 tribulations if I had been going hard at the climbs? I said no and I still believe that I wasn't going hard but I think that there were a number of times where I was still unnecessarily riding a climb no quicker than if I had been walking it. As I would have used a different muscle set and in all likely hood used less energy, it suggests that it would be a better way to approach the really steep climbs. After all if its not taking any longer to get to the top but I'm fresher when I get there that has to be a sensible plan for any trip not just racing.
This leads me onto how I might alter my training in future. I think my hike-a-bike is a weak area of my performance and has to be improved if I'm going to be able to implement the above. Quite simply I'm just not used to having to walk up climbs as locally there is nothing I can't ride up. I think I need to start running once a week to get used using my legs in that way and/or start pushing up steep hills that I wouldn't normally ride. There are a few steep footpaths near my local riding routes that I could use to do a few hill push repeats.