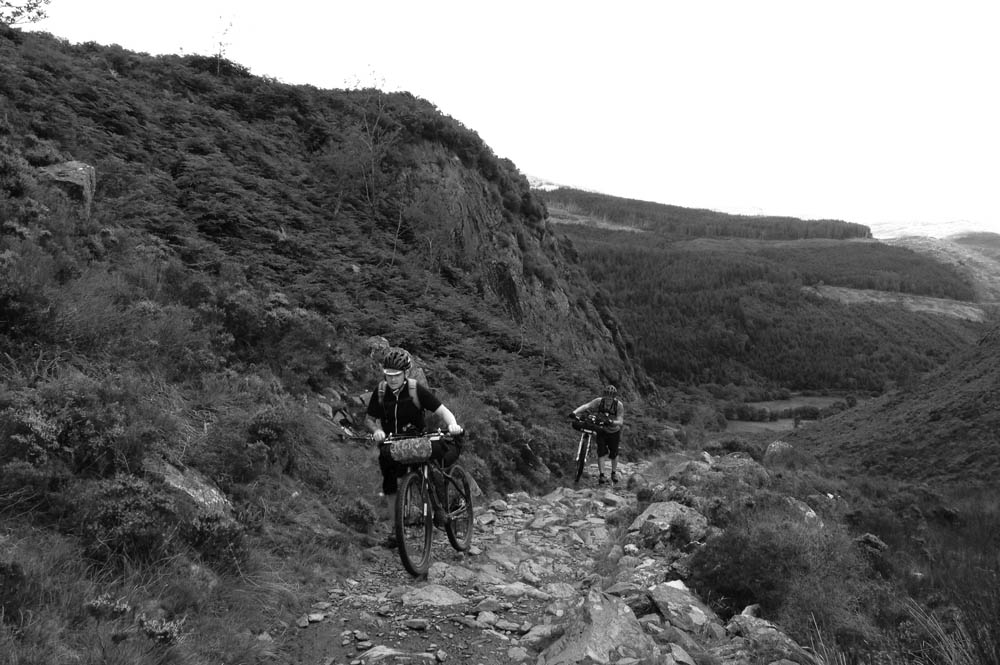 Although I have done a lot of trips this year it seems that for one reason or another when ever I plan a trip longer than 2 nights it just doesn't go to plan. Firstly there was the Gravel Grinder in Feb that got cut short to just one night due to a broken front door key and cat in need of feeding… Then you may also remember that I had a very wet and windy go at the Welsh Coast to Coast in April. Although that trip actually turned out to be very enjoyable, the rough weather made the going slow and there was just no way we were going to get to the planned end in time so we finished quite a few miles early. I was disappointed at not completing it so I vowed to have another go. After lots of talking about it, Nigel and Gabe stepped up to take on the challenge with me and a team of three was formed. Unfortunately we didn't make it again and this time we didn't have any weather to blame. We only made it as far as Machynlleth with one night out so this really was a disaster in terms of the plan. However the time that was spent out was enjoyable and not having the weather to moan about meant that at least we had some sun and the views were as epic as the route should have been.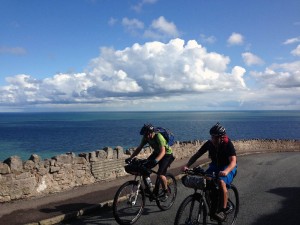 It all started well with the lads making their respective journeys to the West Midlands. We were using my house as the base camp as it's right in the middle of where we all live and a logical place to park cars. Often point to point rides can be logistically awkward but this simplified it considerably. We had a big pizza and beer dinner and got an early night in preparation for the morning's early start. We were up in plenty of time to cook a full English and we made it to the station to get the 7:24 to Llandudno. The journey went without any issues, although this train does seem to stop at every possible opportunity, so it wasn't until 3 hours later that we finally stepped off the train and rode up to Great Orms Head. It's a short but picturesque ride, with great views over Orms Bay.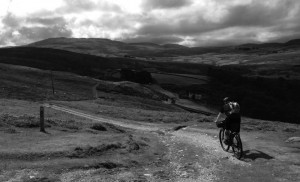 Once at the cafe we stopped for a quick coffee and to admire the view before setting off over Great Orm and descending into Conwy. We skirted along the back of the beach, past the castle and followed the bridle way up the side of Mynydd y Dref. This was new territory for me as we missed this section out last time. I enjoyed this climb up and once at the top we were treated some glorious views of the blooming heather. The mixture of greens and purples on the hill side lit up by the afternoon sun was stunning. We headed along the side of the Conwy Valley past the stone circle and later Cefn Maen Amor. It was around this point we stopped for lunch and took in the view for a while. I hadn't ridden this section either last time and in all honesty I'm not sure that we really missed anything. The whole section of trail is pretty much grass and it felt quite draggy and not particularly fun to ride. Although the views are nice they are no better than any of the other "big" views on this route. I think if I was doing a day ride in the area then it could be a nice couple of hours but in the context of a much larger multi day ride, I'm not convinced that it was worth it.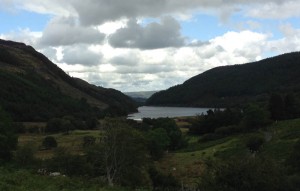 After descending to Cae Coche we jumped onto the main road, giving it some in an attempt to make up some time. Eventually we left the main road at Trefriw and followed the small winding road along the side of the valley. The views towards Llyn Grafnant reservoir are beautiful. This was certainly one of my favourite places on the last trip and indeed one of my favourite places in Wales. There is just something magical about the atmosphere in this valley that really appeals me. There was a scout camp going on slightly lower down the valley. It reminded me of being a kid, hanging the sod cloth every morning on those bastard heavy canvas A-frame relics. The off road climb up to the saddle at the end of the road is a steep push but it's definitely worth it. Once over the top you are treated to one of the best descents in Wales in my opinion. The trail is rocky, technical and doesn't fail to keep you on your toes and put a smile on your face. There is pretty much always a choice of lines and you really have to be looking ahead to make sure you take the right one.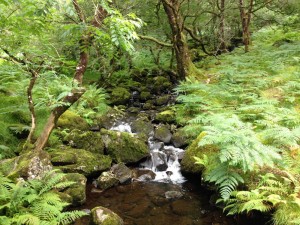 At Capel Curig we stopped for a quick break and then pressed on over the hills towards Dolwyddelan. Instead of turning right towards Blaenau Feestiniog we turned left, quickly leaving the road and climbing out of the valley, south towards Penmachno. The climb up through the forest on the fire road was beautiful and I commented at the time that I don't understand people who complain about riding fire road with rewards like this. Although I was aware of the single track here I have never ridden around this area at all. The sections of trail we rode here were fairly rough and lose and a lot less manicured than most trail centres. In places it reminded me of the Marin trail for this reason. It was while riding here that I punctured, the tubeless would just not seal for some reason even though it was only a thorn. Just something about the exact shape of it I guess. Anyway I put in a tube, got the tyre pumped back up only to hear the dreaded the hiss as this tube punctured as well. It would appear that I missed one of the thorns stuck in the tyre. It's one issue with tubeless that you can build up a huge amount of debris in the tyre over time and when rushing to get a tube in you only need to miss one thorn and you have another puncture. The midges were pretty thick here and although they weren't bothering me so much Gabe was particularly happy to get rolling again.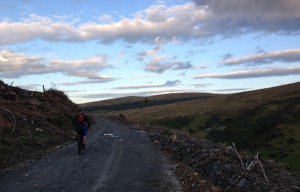 Once leaving the forest we should have gone through the old quarry, but it was getting late and after looking at the map we decided that blasting down the road was going to be quicker. It was getting dark enough for lights at this stage and we really didn't want to take all night getting to the bothy. We were acutely aware of the knock effect it would have the next day if we got there too late. With this in mind we used the road all the way to the turn off at the north end of Coed y Brenin. It was a shame to ignore a large section of off road like this but as it was totally dark by now it's not like we missed the view. The descent into the trail centre was unimpeded with there being no tree strewn assault course this time round. The route through was a lot easier than last time as well with only a couple of very short steep pushes. There was only one slight navigational incident which was more to do with a mistake in my route planning than taking the wrong turn. Eventually we popped out on to the fire road opposite the bothy to see a couple of cars parked up. This undoubtedly meant that there were people at Penrhos Isaf already, but who drives to a bothy I thought? This became clear when we made out way inside and we saw that the small rooms were full of tools and fresh wood. Clearly there was a work party on this weekend but luckily enough there was one room upstairs that was empty. After getting some food down us we all took to our beds and it wasn't long before we were in the land of nod. It had been long day and we had reached our goal at least 3-4 hours later than expected.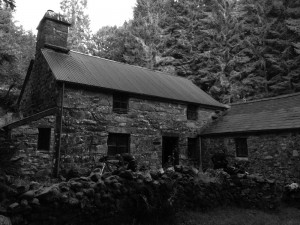 The next morning we met the guys that had been there when we arrived the previous evening and indeed they were a work party. We chatted for a while and it turns out that the snug was riddled with dry rot and they would be there all weekend replacing the wood. We eat our breakfast and pushed off. It's a fast descent from here to Dolgellau and in no time at all we were stopped at the Spar refuelling for the day ahead. The climb out of the village is a steep one that culminates in a stiff grassy push with views of the valley behind and Cadair Idris to the left. From the summit there is a very technical rocky descent that is fun but with a loaded bike really takes it out of you. It's tough to de-weight the front end as much as you would like and hitting every rock that little bit harder is tough on the arms. It's fun though and not to be missed, being worth every step of the push to get to.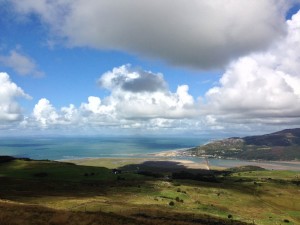 The long off road climb along the valley side has incredible views over the estuary towards Barmouth. However if your legs are tired it can be a bit of grind. It was around this point that I began to notice that Nigel wasn't have a good time of it. It seemed like he hadn't really warmed up yet and his legs were still stiff from the day before. He began to fall behind a little and I started to wonder if the pace we were maintaining was going to be enough to get us to our destination. Once we found ourselves at the top we breezed through the fast double track descent towards the coast.
We decided to take the main road towards Tywyn as it's almost flat in comparison to the planned off road route. In Tywyn we stopped for 5mins and I put it to the guys that I didn't think we were going to make it to Worms Head. The pace we were going at might get us there by Monday night but certainly not early enough to get back to Swansea to get trains home. I suggested that maybe we should forgot about our original goal and think about doing something else. I didn't see the point in trying to struggle on regardless; the trip was meant to be fun after all. Nigel and Gabe agreed and we made a plan to continue to Machynlleth where we would give ourselves an hour to have lunch and look at the maps. I quite enjoyed the ride Machynlleth. The sun had come out and I felt that the pressure of trying to get to our end destination had now been released. I was able to pootle along in the warm sun and enjoy the view. Sadly Nigel clearly wasn't enjoying it and it seems that his legs had simply deserted him. It happens to the best of us and I know from personal experience what it's like to unexpectedly have nothing left in the tank.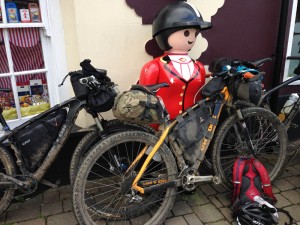 Once in Machynlleth we stopped at the fish and chip shop on the High Street. We took a seat outside and watched the world go by as we discussed what we might do now. It was obvious that Nigel wasn't really up for any more and it seemed he felt a bit bad about it. He didn't say this of course but it wasn't that difficult to read form his demeanour. Given how he was feeling and that the main goal was now unobtainable I was kind of done with the trip as well. My legs felt fine and generally I was in good shape but I had had a few twinges in my knee over the morning. Earlier in the year I was of the the bike for 10 weeks through a knee injury so I was a bit sensitive to it. If everyone else had been feeling fine I would have gone on and given it at least until the following morning as it wasn't that bad and the sensation had come and gone. Sense did tell me though that not going on would be the best way to make sure that the sensation didn't become pain. I suggested that as there was a train to Birmingham leaving in a few hours, why don't we call it a day here. We could have a takeaway and a few beers at mine and finish the trip all relatively happy. This is what we did.
As I write this now I'm having mixed feelings about the weekend. The time we had was on the whole good and so I shouldn't be too down on it. It's just very frustrating that I have now failed to do this route twice this year. The WC2C has been on my "list" for a good while now and I had thought that this would be the year. As I mentioned previously all of my longer trips this year haven't really come off as planned and I'm now running out of time before the winter will be here and I won't want to spend multiple days out in the cold and rain. Oh well it was was it was and I should be thankful that I was able to get out there at all.