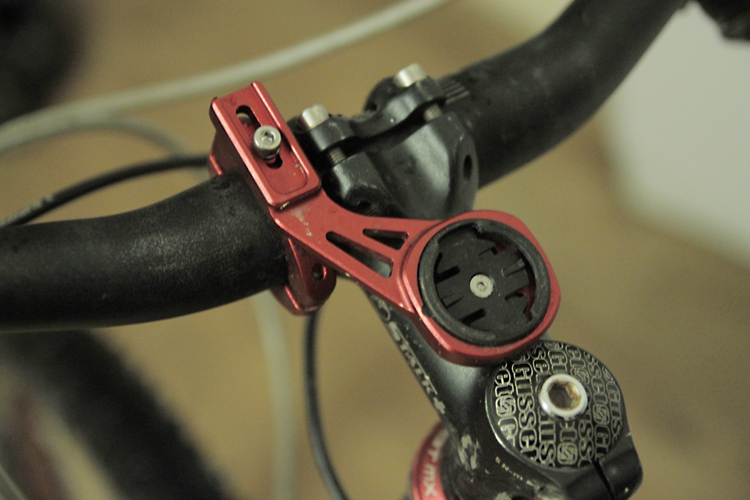 Since I got a bar mounted GPS unit I have been a fan of the rubber band attached 'Quarter turn' Garmin mounts that come supplied with the likes of the Garmin Edge 500/800. I had used them on some pretty rough trails without them coming off and generally battered them about a bit without the mount or device breaking. Then out of the blue both mounts I had failed within 2 days each other. When I say failed I mean the elastic bands snapped. The first was realised at home when I went to go out for a ride so thankfully just a minor inconvenience. The second time however though was when I was already having a bad day and I was following a new 'off piste' route around Cannock Chase. Navigation became a right pain in the arse as I had to keep stopping and checking the GPS and I may as well have been using a paper map. I had a bit of a hissy fit that day, coming home early and deciding I was going to buy a screw down mount and never darken my bars again with this rubber band farse!
Just the week before I had noticed that Superstar had started doing there own CNC machined version of the "out front" mount so I went for it and picked up a couple. Unfortunately they sold out of the black (which I would have got for the Lurcher) so I got a blue and a red to match the Five and the P7 respectively. I have now got my hands on a black one for the Lurcher so each bike has it's own colour matched mount now. I acknowledged this is total decadence but I really can't be arsed with swapping the mount over from bike to bike on a regular basis.
I didn't want to run mine 'out front' as I don't like the idea of the Garmin being the first thing to hit in a head on collision. I wanted to have the unit in a similar position to how I had it previously, over the stem. Unfortunately using the mount as intended this wouldn't be possible without having the screen angled away from me. As such I have had to flip the clamp and reverse the mount arm so that it's orientated from the top of the handle bar rather than the bottom. Although it doesn't look quite so slick, once the screw is tightened it appears to be just as sturdy.
I have used them for a few weeks now and have no complaints what so ever. The Edge 800 sits very firmly in the quarter turn clip and the clamp has stayed tight on the bars. At £10.99 it is considerably cheaper than either the Bar Fly, K-Edge or Garmin equivalent mounts.