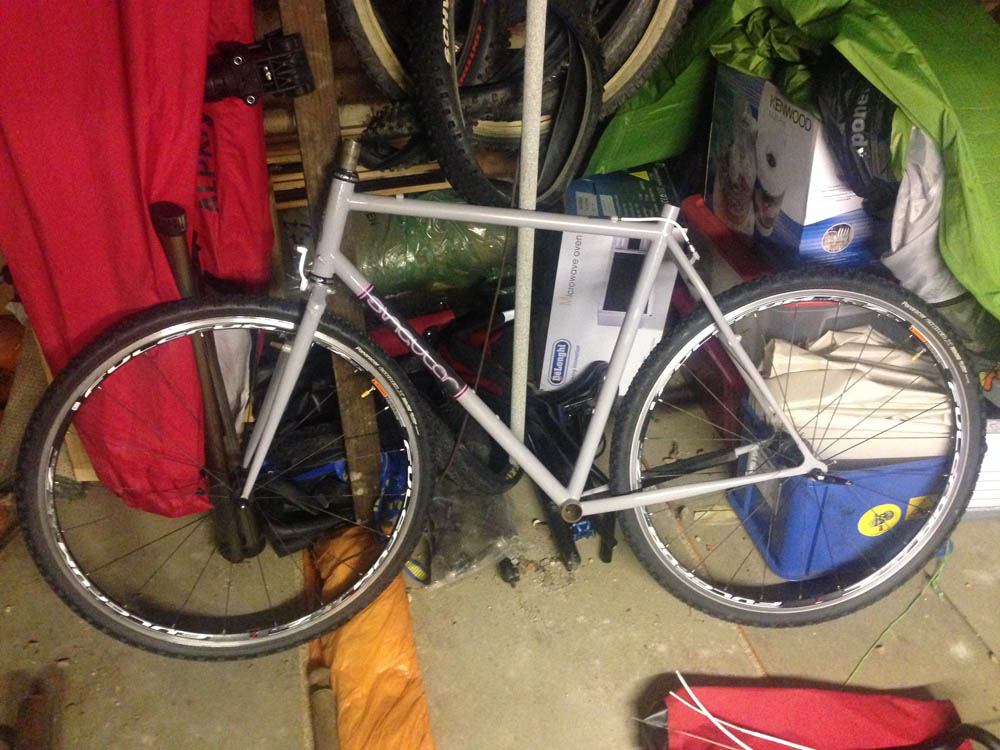 I recently picked up a second hand "rolling chassis" of a Singular Kite from my mate Ian. I took a pair of Fulcrum 7 CX race wheels and a Chris King headset off his hands, along with some Salsa Wood Chipper bars and the all the cabling. I hadn't been looking to get this sort of bike until maybe Feb/March next year but the Kite is a really nice frame and I thought I may as well take the opportunity while it presented itself. I could have taken the full bike off him but he had built it a little more boutique than I was willing to pay for. Additionally he was running it 1×8 with bar end shifters and as I want to STI's I thought I would leave the whole drive train and pick up a 9 speed group set.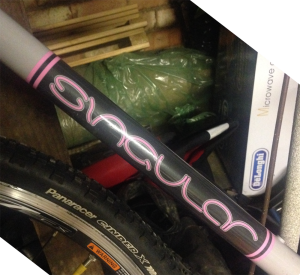 I'm intending to use this bike for a number of things. Although I don't really mind getting muddy per se, hosing yourself self down 3 times a week over the winter starts to get tiresome after a couple of months. It would be nice to have a bike that is aimed a bit more at road riding so I don't have to reach that stage. Having a crosser also gives you the option of some light off road in these rides. I think it's quite likely that I will ride in areas on a bike like this that might have bridle ways or ROWs that I wouldn't bother going to on the mountain bike. Additionally as I spend a lot of time riding in Wales, it's during the winter that the bog hopping is at it's worst. As Wales has a big network of gravel roads it would be great to have a bike that I can bikepack on and not feel like it's over kill just using these fire roads and the inevitable linking that would need to be done on tarmac.
I think I should be able to use my Wild Cat harness on the bars as the Wood Chippers have a big enough flare to still fit a reasonably sized dry bag between the drops. My current top tube bag should be fine for the power stuff. Ian has a Wild Cat custom made frame bag that I will probably have off him early next year which just leaves the saddle pack. Time will tell if there is enough seat tube showing to fit my Bikepack.eu saddle bag. I'm not convinced at this point there will be enough space above the back wheel so I might end up having to go for something smaller. I will probably look into strapping a Gorilla Cage (or 2) to the fork legs as well.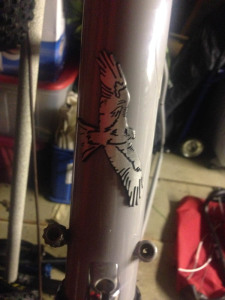 The frame is double butted 4130 steel and it has a lugged steel fork. There is clearance for 42mm tyres but it is currently running 35mm Panaracer Cinder X tyres. I like the look of the On One gravel tyres but I'll give these a go to start and see how I like them. In terms of build this is going to be done quite cheaply. I'm going to go with a Sora Group set with compact chain set, 34-50. I will sell the rear mech that comes with that as I have been able to pick up a second hand XT mech from a mate that will give me a whole lot more options with the size of cassette that I can use. Although I will certainly use the 11-27 that will come with the group set I can see myself getting something like an 11-32 in the future. I imagine that I will also build a dynamo wheel for this bike at some point. I'm probably going to use it for commuting so it would be good to get some more use out of my Revo dynamo light. I think I would like to go for a 90mm, 25-30 degree rise stem to make sure the front end isn't to low but I might just try the stem off my P7 to start which is 90mm, 6 degree rise. I reckon I might go with dark grey bar tape and if I can find the right ones some pink bar ends to pick up on the pink in the logo. I have to confess I was a little unsure at first with the pink but on second look decided that it actually really works in the colour scheme and I'm totally comfortable with my own masculinity to not feel out of place riding it. 😉