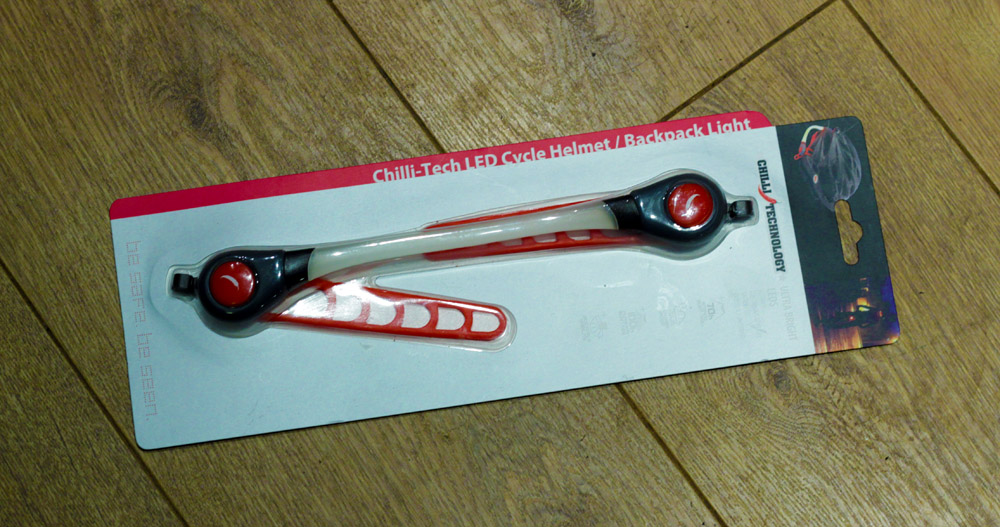 I seem to go through rear lights at a pretty alarming rate. Occasionally one will fill with water but generally speaking it's because they fall off my back pack or saddle bag. As I tend to buy a job lot of £3 ones I have just persevered with this less than ideal situation. Rewind to the BearBones200 last year where I lost the last new one in my spares box and I was desperate to not get on this merry go around again. I had looked at getting the Exposure rear light that would plug into my Revo dynamo light but I was hoping for something that I could use with my non dynamo equipped bikes.
Up steps a post on the bearbones forum with a 2 for 1 deal on the new Chilli Technology LED Universal Cycle Light. This meant for £19.99 I got 2 of their new LED light.
I decided to give it a go for 2 reasons.
There is quite a large surface area that can be seen from lots of angles. I found when my back pack wasn't fully packed the light would flop downwards on the attachment loop on the bag.  This often made it more difficult to see the light as it would be pointing at the road.
The attachment clips look supremely universal and would attach to anything.
It was a pre-order so I knew I would be waiting a little longer. The communication from Chilli Tech. was great though, keeping me constantly updated with info regarding when I might receive the order. Batteries were included so as soon as it arrived I was able to clip it on my helmet and be away.
The light is made up of 2 separate LED's at either end of the unit with 2 buttons. You can select both LEDs to be continuous, flashing or one of each if that's your thing. The light strip can indeed been seen from any angle (as shown by the pics below) so as long as you can see the unit you can pretty much see the light which greatly increases where it can be mounted.
The attachment straps are really good and can be used on loads of different things. As you can see in the pictures I tried it out on a range of things and they have all remained secure. I reckon it would probably even attach to a dog collar if needed. Every where I tried to attach it the straps could go tight enough that there wasn't any danger of it falling off.
The biggest worry I had about this light was how well it was sealed and this is really the only complaint that I have. I have used it some pretty bad weather and although there was no visible filling up with water, it would appear that some water was able to get into the one of the LED housings. You can see in the picture to the right that there is a small area of corrosion on the board housing. It only seems like a really small patch of damage though and I was surprised that this should effect it. I noticed the problem because on two occasions I experienced some issues when switching it on.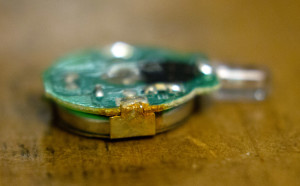 Now I really don't want to over play the problem though as in all fairness this only happened twice and both times I was able to rectify it by just tweaking the plastic housing a little. However there certainly was a problem.
Often in these situations the problem can either be very quickly forgiven or massively compounded by the way in which the company reacts to a warranty replacement request. My initial email was answered within a few days and there was quick agreement that was a problem and that a replacement part would be sent out to me. 11 days later and I still hadn't received anything so I dropped them another email. I waited another week, not getting any response at all, so understandably I was a little disappointed. I was just about to email again when I received the replacement part.
It was very easy to replace, in fact it's pretty much the exact same operation as when you need to replace a battery. When changing the part I was quite surprised that water got in as it seems quite well sealed but maybe it was just a perfect storm. So in the end I have a working light, which was obviously the goal but I feel it took a little longer to resolve than it could/should have done.
After writing that I can't really go on to unreservedly recommend this light but on the other hand I do think it's a decent product and at this point I would probably buy one again. Time will tell though if it was just a one off or a sealing design flaw.