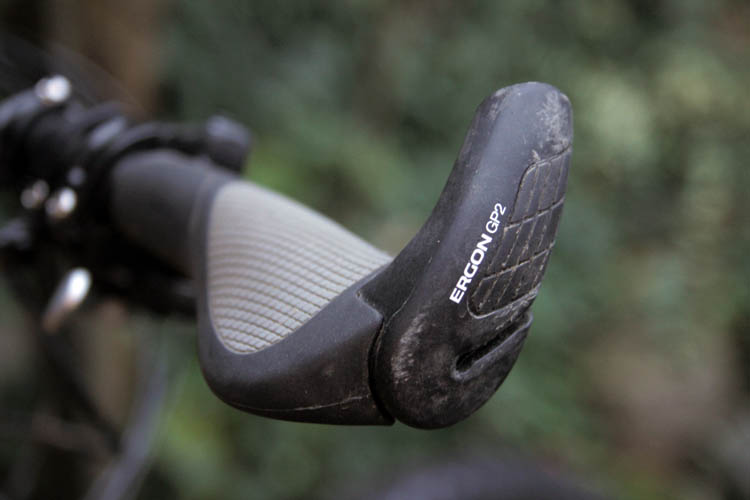 Having had such success with using Cane Creek Ergo Grip II Bar Ends it was a no brainer for me to go for more bar ends on my new Lurcher build. I wasn't sure what I wanted in terms of grips but having heard from a friend who liked the Ergon grips, I put them on the list of options. When I was in The Isle of Man we popped into my mates LBS and by chance they had some of the Ergon GP2 on the shelf. I wrapped my hand round the grip and thought it felt very comfortable, as did the integrated bar end. This sealed the deal and I bought a pair. As this grip is available without the bar end, the GP1, and for the purpose of the review I'm going to split this into 2 sections covering each bit separately.
The Grip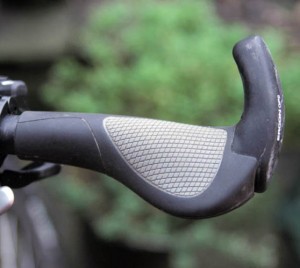 The grip it's self is harder than the grips I'm normally used to. It's not overly hard though and still soft enough to allow a good grip and feel even when wet. I think this might help with the longevity of how long the grip lasts. All of the softer rubber grips I have used in the past have worn quite quickly. The ergonomic design provides extra support in the palm area and I was surprised at just how much difference it makes to the comfort level over long rides. It really does work to support your wrist better. I think the weight distribution is more even, over the whole of your hand rather than just at the base of you fingers. It took some tweaking to get the position exactly right but as there is only one bolt in the lock on it makes for easy adjustments. The bar end part is separately adjustable. I can imagine that for riders who get airborne a lot and if you need to twist your hand round the grip a lot then these grips may not be for you as you might find them a little restrictive. I'm using them on a 29er mile muncher so this isn't a problem for me. I would have no reservation in recommending these to anyone who is in the market for new grips. Additionally I think that if you have any problems with wrist or hand pain then these would certainly be worth a shot.
The Bar End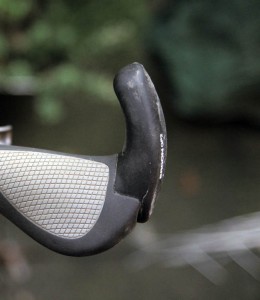 Unfortunately I haven't had as much joy with the bars ends. I think the main problem is that they are just too small. The Cane Creek ones are small compared to most but these are micro. I just can't get them in a position that is comfortable for both sat down riding and stand up peddle mashing. In fact I just don't find them comfortable enough for sit down riding at all. They don't support the palm enough being so thin and I have nothing to wrap my little finger around as I do with the Cane Creeks. I do find them quite comfortable for stand up peddling as they allow my thumb and index finger to rotate around them very easily while throwing the bike side to side. This is only half a job though and on the whole I'm a little disappointed with them. Another area that doesn't endear them to me is the hard carbon finish. There is no rubberised top layer which you might expect as there is on the main grip. The Cane Creek's are far superior in every department in my opinion.
Moving forwards I may switch these grips over to my commuter/hack bike which currently have the Cane Creek bar ends on. I won't be in need of the alternative hand positions so much now that I have a new bike for the big miles. I will try to match those bar ends with the Ergon GP1 and see how that goes in future.