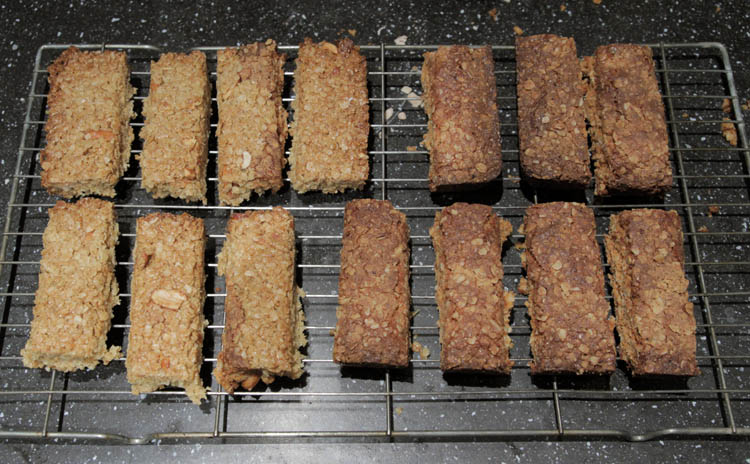 I made some variations on my flapjacks this weekend to give some variety and because I wanted to try out making a more protein rich versions. I started off with the same basic recipe but made a small batch (see below), then halved the mixture and added some extra flavor to each.
In one half (on the left in the picture above) I added a couple of handfuls of roughly crushed honey roasted peanuts. These mixed in very easily and tasted great. I was surprised how much the flavor of the honey roasting spread through the whole bar. I think next time I would add a few more as there wasn't quite a high enough density of peanuts.
In the other half I added a couple of scoops of raspberry flavored protein powder. This really dried the mixture out and I thought at first I had put too much in. I kept stirring it though for a while and eventually it seemed to mix. The powder had an interesting effect in that it made the flapjacks rise which I wasn't expecting. The resulting bar had a really strong flavor and a slightly more doughy texture. I think they are better as a snack with a cup of tea than a trail snack though as they were a bit drier than normal which meant having to drink water with it when I was out riding. I would do these again but I think add less powder next time.
Ingredients: Butter 100g, oats 200g, Demerea sugar 100g, Golden Syrup 2 tbs.