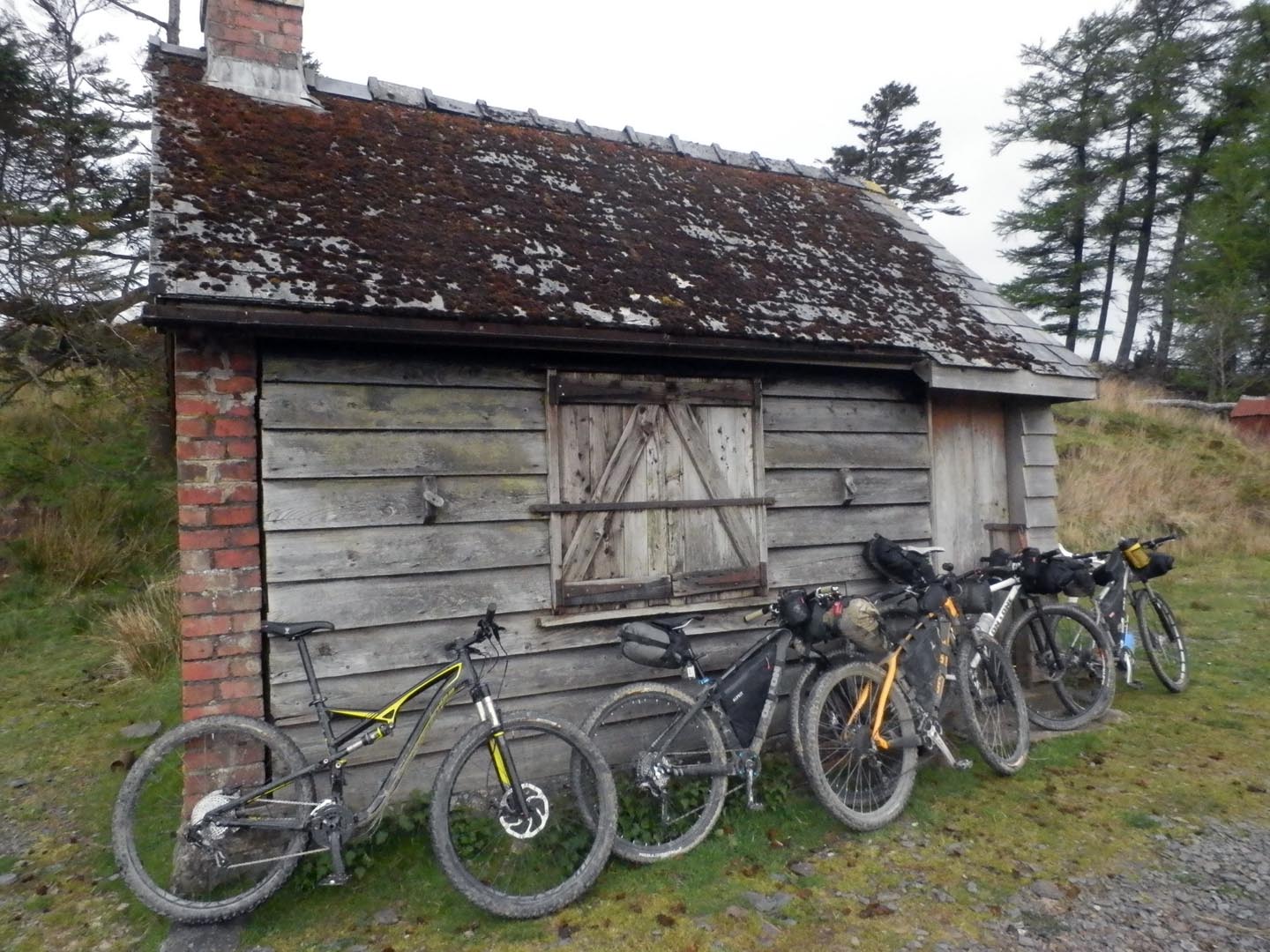 The Welsh Ride Thing (WRT) is pretty much the UK's only bikepacking event that isn't race orientated. It's non elitist and there are options for everybody, no matter your fitness level or experience with bivi craft. Indeed this year there was even the "lonely hearts club" that Chew, one of the more experienced members of the BearBones community, took out a group of riders to help them through their first bikepacking experience. Traditionally the event has always been 2 nights out in the wild but this year there was a WRT Lite option for those who couldn't commit to the full event. Roughly a month before the event participants receive a list of grid references. These are generally points of good or "challenging" riding that Stu in his infinite wisdom has chosen to highlight. You then create a route passing through as many or as few as you see fit.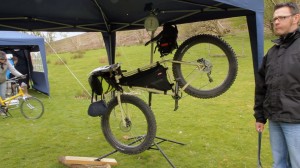 Dee and Stu once again excelled themselves in all departments to put on great weekend for the 150 or so who made their way to mid Wales. Taylor's weigh in generated the most interest with a seemingly never ending queue of people waiting to put their gear on the scales. Personally my own kit weighted in at 49lbs, including 1.5litres of water. I was fairly happy with this but it might be nice to drop 5-6lbs from this in future. The tarp challenge didn't quite take off as intended but watching Stu do it blind folded was suitably impressive. There were quite a few UK manufacturers showing off their bikepacking gear such as Wildcat and Alpkit. There was also a few nice bikes on show from Stu's own "Proper Shopper" to the beautifully finished Stooge Cycles Punkrock 29er+. The Bear Bones Bivi Gear shop was also open for business and I took the opportunity to grab one of the 22g meths stoves for a bargain price. Stu even threw in an extra meths bottle; what a total gent. I spent a lot of time walking around with the camera getting footage for a video I'm making.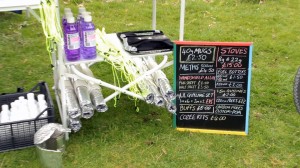 While mincing about I bumped into many of the forum regulars that I hadn't met before and it was great to put faces to names and shake some hands. There was also the customary prize draw which seemed to go on forever. Dee kept disappearing into the gazebo and coming back with yet more prizes. I was even lucky enough to win something myself. A very nice hand made wallet created from recycled inner tubes. BeerBabe who makes this stuff has a full range of products made from old bike parts and her site www.beerbabe.co.uk is well worth checking out.
The weather played ball with it being warm but not searingly hot and the rain stayed away. We were promised tea and cake at the end and boy did we get it. It was a veritable smorgasbord of tasty, type2 diabetes inducing loveliness. I think there was at least 6 different cakes on offer along with 3 types of flapjack to satisfy even the most discerning of cake monsters. The only problem with the end was it came a day early for me. I had a rather painful resurgence of the knee problems I talked about in my April Cycle Update. I have started the process at the doctors so hopefully I can get some answers soon. Having spent much of last week on crutches though, I'm fearing the worst at the moment; that I could be off the bike for quite some time.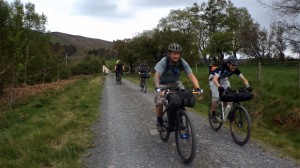 For me this sort of event would normally have meant several days pounding the miles and getting to every check point. I had decided however that this time round I fancied a weekend that was just a bit more social. Fortunately a number of others agreed, and before long a group of 5 was assembled. I planned out a route that took in quite a few good spots I was already aware of and threw in a few new ones that I had been curious about. As check points weren't really a worry to us we pretty much set off in exactly the opposite direction of every one else. We headed west through Esgair Geulan to the bottom of Foel Fadian. We did the fairly significant climb up the road passing the look out point and branching right at the summit onto the gravel road. We stopped here for a while waiting to re-group, shooting the breeze and enjoying the spring afternoon.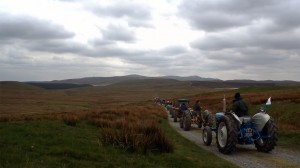 While waiting I noticed a few tractors coming along the tarmac road from the south, to my surprise the lead tractor turned off the tarmac and onto the gravel road. We then sat slightly bemused (and amused) watching a procession of tractors pass us for what seemed like an age. There were all sorts from modern looking  massive work horses though to lovingly restored and maintained old classics. It was quite a sight and one of the most unexpected things I have ever witnessed on a bikepacking trip. The drivers all seemed to be enjoying themselves waving and smiling at us as they passed.
Eventually the tractors disappeared over the horizon and we got under way. We turned left passing the old mines and joining Glyndwr's Way. We dropped into Stay Little, turning south and making for Hafren Forest. We pasued for a break at the crossing over the River Severn filling up our water bottles and refuelling on flapjack.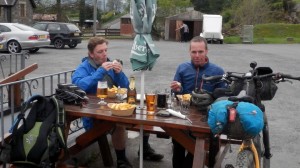 We pushed on into the forest which involved a fair amount of climbing. It was soon afterwards that Burt really started to flag. He had been struggling most of the day and he had clearly felt bad about making the rest of us wait even though it really wasn't a problem. You can understand how he felt though and when Nigel suggested that we ride on to the bivi spot and they would meet us there, we thought it might be for the best. We past the fallen tree that I encountered in February (I thought it would have been sorted out by now) and headed down to the A-road. We had hoped there maybe a shop open in the village that we could grab a bottle of tipple from but unfortunately there was only a Post Office and that was closed anyway. I put it to Gabe and Andy that a pint cider at the pub was in order and they agreed. We sat outside and waited for Nigel and Burt.
We once again regrouped and after a pint and a bowl of chips we headed out towards where we were planning to pitch up for the evening. The route had included a small loop out to the west of the wind farm but as my knee had started to hurt and time was drifting on we cut off this part of the route and pretty much headed straight for the bivi spot.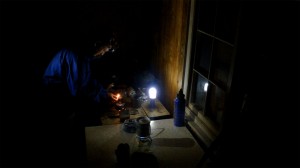 It's a pretty steep push up to Drysgol and my knee was starting to really complain by now. It was all bit speculative as none of us had been up there before so I was hoping that we didn't have to go to far across the top to find a suitable place to camp. We drifted off the bridle way by mistake following the service road and in the failing light noticed a chimney shaped silhouette. As we got closer we could see a small building, the windows were boarded up and the front door locked. There was a side door that was also locked and the moment of raised spirits that we had had with the thought of a night in a bothy was suddenly extinguished. Nigel however investigated further and after finding it was only a large nail which kept the front door closed, we realised that we had struck gold. We had stumbled upon some sort of old shepherds hut. It has clearly been used recently and contained chairs and few tables.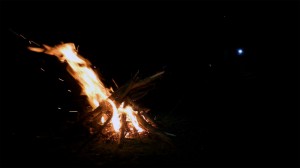 There was even a burner but not knowing the condition of the chimney we decided against using it and built a small fire outside instead.
The hut was probably big enough to sleep the five of us but after a discussion regarding who snores Andy and I decided to sleep outside. We both also had some kit we wanted to test out so it really wasn't a difficult decision. The slightly wooded area next to the cabin yielded plenty of dead wood and we quickly built a small fire to sit round. We sat chatting and passing around Gabe's hip flask of home made vodka until about midnight. I decided to turn in and fell asleep with the sound of the fire crackling in the still night.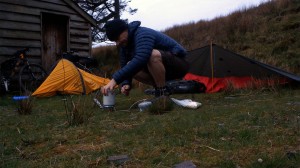 Waking the next morning I felt refreshed and had slept quite well. Unfortunately my knee was still hurting a lot and although I delayed making a decision it was pretty inevitable what I was going to end up doing that day. I had some porridge, made some coffee and announced that I was going to go back to the base camp with Nigel and Burt rather than continue on with Gabe and Andy as planned. It was certainly disappointing as I had wanted to check out the route that I had planned and I had been enjoying the company but as it turns out this was definitely the most sensible thing to do.
We followed the bridle way north across the top of the hills, there was certainly more on the map than there was on the ground but it wasn't to bad. After 10mins of tussocky hike-a-bike the track appeared and we descended into the valley. There were some dramatic views looking down the valley with the hills soaring steeply on either side of us. From this point we followed the back lanes to where they joined the B4518 and we said our good byes. Our routes diverged with Gabe and Andy heading south and Nigel, Burt and myself heading north. The road to Llanidloes was very quiet and before long we were sat outside the Spar having a coffee and enjoying a quick snack. I lost count of the number of groups of other riders we saw at this point. Either this was just a popular spot or there was some kind of bikepacking event on…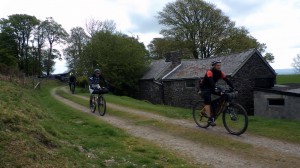 We checked the map a few times here and decided to take Glyndwr's Way again and ride the switch back descent to the old lead mines. It was nice to get a little bit of off road in before we got back to the cars as the route was predominately road. We passed a couple of riders doing the climb up and seeing them huffing and puffing sealed it that we made the right choice; ride up the road and down the off road. 🙂 The goal was now to skirt around the western edge of Llyn Clywedog reservoir and cut through Hafren. There were quite a few big road climbs between us and that goal and it seemed to take a long time to cover the distance but eventually we got there, cruising past the holiday makers fishing and picnicking along the reservoir.  After this it wasn't long before we were starting the final road descent from Stay Little into Pennant. Nigel and I were trying to out do each other on the descent, tucking in and trying to free wheel our way to escape velocity.  After so much climbing it was a fun way to end the day.
After putting the bikes in the cars and getting changed we headed up to the farm house. Stu and Dee greeted us with tea and cake and we stood around for quite a while chatting and soaking up the hospitality. It was a real shame the weekend ended in the way it did with me limping around in a lot of pain but over all I had had a great time.
To see this map cookies and javascript must be enabled. If you are still having trouble after having checked both of these please contact us using the link at the top of the page
What did I learn from this trip?
I was using a few new bits of kit this trip and learnt a few things about them.
It was the first time I was using my new Sinewave Revolution USB interface with the SP Dynamo Hub. It started out all good, I was charging the battery which in turn was charging my GPS unit but unfortunately some where along the line on the first day I broke the plug that I made for it. I mentioned briefly in my April update what I had done to make it. It was entirely my own fault as I forgot to finish it off properly and didn't have the final layer of heat shrink and a tape that would have protected the area where the wires joined the plug. The concept was proved though which I'm happy with, I just need to do a better job on the workmanship.
It was the first outing for the Rig3.5 tarp. Although I had a go at a number of different configurations in the garden I think I made a mistake with what poles I took with me. Due to the ground that we had to pitch on (it was very stony and tough to get the pegs in) I didn't quite have enough room to stretch out the back of the tarp properly. If I had taken the full length of poles with me then it could have been taller at the front and given me more room. Arguably I could have re-pitched it else where but I was sort of backed into a small space because of where we built the camp fire and not realising that the ground was so hard.
At the last minute I picked up a Karrimor X Lite air mattress which is pretty light weight and packs down very small. It's not insulated so won't be any good for the winter but it's a great mat for the summer. It took a while to blow up but it was very comfortable. The one strange thing about it though was that it felt a bit narrow even though it is actually the same dimensions as my other mat. I guess its maybe something to do with the material being a bit slippery and the cut of the air tubes. For £25 though I'm very happy with it.
In a major departure from my normal set up I was trying out my new Montane Bat Pack. This is not a bum bag. Hydration belt… lumber pack… waist bag… whatever you will but it's definitely not a bum bag. 🙂 I have wanted to get the weight off my back for ages now but I have been so locked into using a standard hydration pack that I have just not been able to get out of the habit. The bag has a large main pocket with a smaller 2nd pocket and 2 holsters for 750ml water bottles. I left my feed bag at home this time and went with all my on the bike food in the main compartment. Additionally I had a few bits and bobs in the packets along with some camera gear. I also had 2 full bottles of water in the holsters and used the belt loop of my camera case to attach that to the waist strap.
Generally speaking the function of the bag was very good. The main goal of moving the weight was achieved in 2 ways. Firstly you just can't carry as much so there is less weight anyway. Secondly the weight is on your hips (which is far less noticeable) and not in the middle of your back or on the straps over your shoulders. I'm not sure I would run 2 full bottles again as over rougher ground it did seem to move around a bit. Once I had emptied one of the bottles this didn't bother me again so in future I may use my feed bag for a bottle. It was great to be able to get into your bag without having to take it off like you do with a back pack. I was able to quickly slide the bag round and access the pockets very conveniently. I wouldn't say I'm sold yet on this being a permanent replacement for my normal pack whilst bikepacking but it's certainly a contender. I will give it a few more run outs before writing a proper review and passing final judgement.